This guide to supercharged smoothies for beginners will make mastering the balance between nutrient-dense and deliciously satisfying a no-brainer. 
More often than not, smoothies can either be nutritious but unsatisfying, or delicious but full of sugar. If you're lost on how to get started making one that is tasty, nourishing, healthy, and filling, this smoothie guide has you covered.
Start With a Base
The first step to making a supercharged smoothie is choosing your liquid. Adding the liquid to the blender first makes sure that everything else you add gets blended fully. Start with something protein-rich, such as a cup of low-fat or nonfat dairy milk or unsweetened soy milk. Protein is filling and is also important for muscle building and maintenance. If you want something on the lighter side, you can also use water or coconut water.
Confused about what type of milk to use? Here's a comparison of milk and milk alternatives.
Add Some Veggies
One of the best things about supercharged smoothies is the fact that you can easily add in a serving of veggies or more without even noticing. Using a half cup of frozen vegetables like riced cauliflower or cubed butternut squash helps to make your smoothies cold and creamy. Fresh leafy greens, like baby spinach and kale, easily blend into just about any smoothie, which can be a game-changing way for salad haters to get in their greens. 
When building your smoothie, add either frozen vegetables or leafy greens last to assure they blend evenly. If using fresh, chopped vegetables, you can add these after you add your liquid.
Going green is made easy with this Pear and Pomegranate Green Smoothie.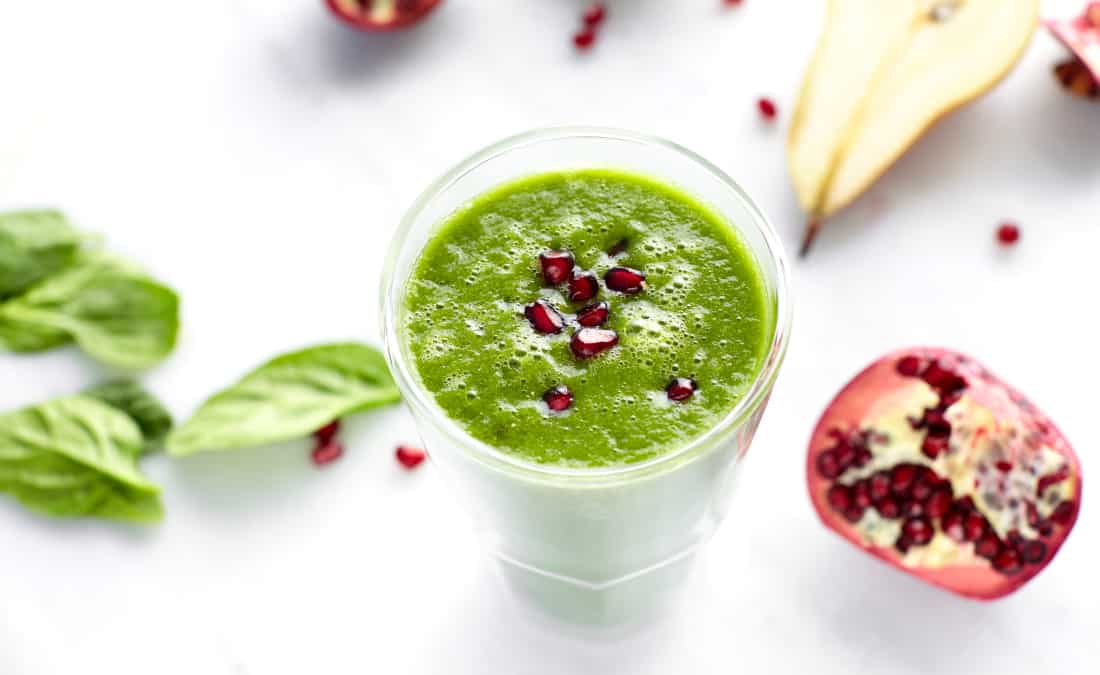 Sweeten with Fruit
No added sweeteners or sugars should be needed in your smoothies — make use of fruit instead! The diverse types of fruit can offer a boost of natural sweetness, fiber, vitamins, and minerals that your body thrives on. Plus, using a cup of frozen fruit means you can skip the ice, and still have an icy cold smoothie that's not prone to tasting watered down (usually with a little bit of money saved too!).
If you have bananas that are getting overly ripe, cut them up into pieces and save them for later in the freezer. After all, bananas are one of the easiest fruits to use to make your supercharged smoothie even sweeter and creamier. If you aren't a big banana fan or don't have any on hand, any fruit you love is a good option – even grapes! Don't forget you can also use dried fruit like dates, figs, or prunes, which naturally pack in a sweet punch.
If using frozen fruit, layer it in last with your frozen veggies or leafy greens. If you're using fresh or dried fruit, add it in after your liquids along with any fresh vegetables you're adding in as well. A handful of ice is recommended when using fresh or dried fruit to make your smoothie refreshingly cold.
Satisfy your sweet tooth with some frozen blueberries and banana in this Chocolate Chunk Blueberry Smoothie.

Give it a Nutrient Boost
One of my favorite tips for making supercharged smoothies for beginners is to add in a nutrient boost with a mix-in like chia seeds, hemp seeds, spirulina powder, ground flax, oats, or buckwheat groats. Start with a teaspoon, and increase the serving to your liking. Adding these ingredients is an easy way to give your smoothies a boost of protein, fiber, healthy fats, and phytonutrients. Add them anytime after you've added your liquid since they can easily be incorporated. If a smoothie bowl appeals to you more than a regular smoothie, try topping your blended ingredients with chia seeds, hemp seeds, and toasted buckwheat groats instead for a change in texture. 
Love the idea of using chia seeds for an easy boost? You can use them for a quick snack or breakfast too with this Orange Cream Pie Chia Seed Pudding.
Add Something Fun
The final (and optional) tip for making supercharged smoothies for beginners is to add something fun! This can be a scoop of cocoa powder for chocolate lovers, your favorite nut butter, Greek yogurt for extra protein, or a sprinkle of cinnamon. Experimenting with different ingredients gives you the opportunity to find new flavor combinations, and to find your very own favorite mix.  These can be added after the liquid portion is added to your blender. 
Enjoy a better for you dessert with this Creamy Chocolate, Cannellini Bean, and Cinnamon Smoothie.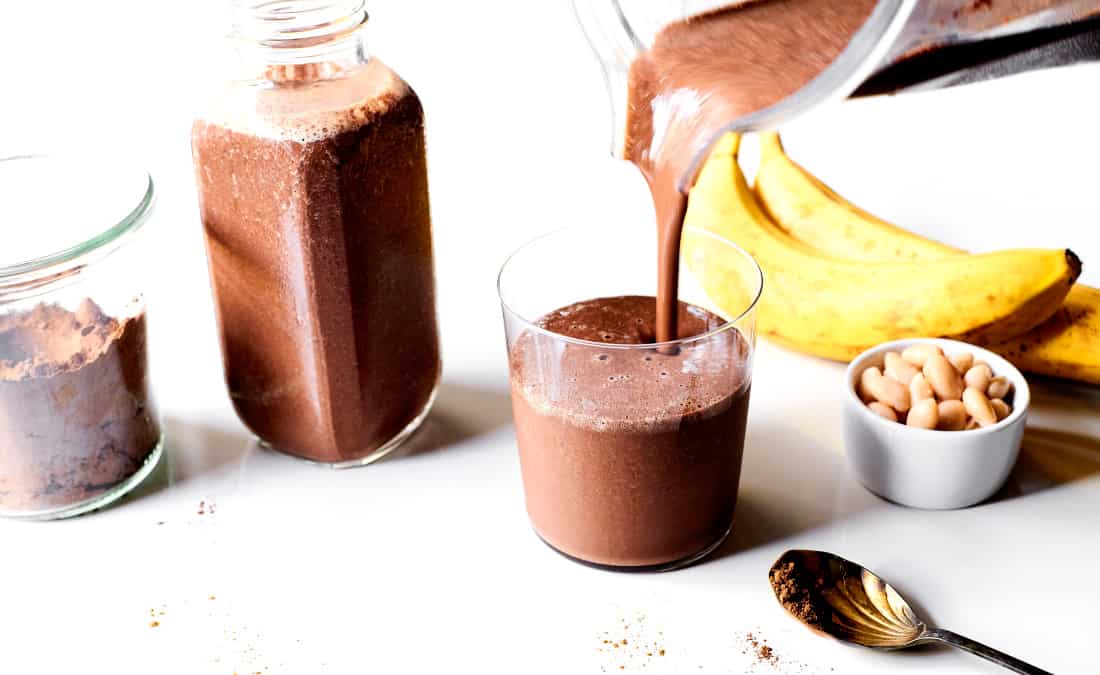 Key Takeaways for Making Supercharged Smoothies for Beginners:
Add liquids first — soy and dairy milks are highest in protein.
Add fresh or dried fruits and veggies next — roughly chop them to help blending.
Follow with nutrient boosters and fun ingredients — experiment with different combinations of seeds, nut butter, grains, and spices to find your favorite.
Top with frozen ingredients or greens last — add any frozen fruits, vegetables, ice, or leafy greens to your blender last before mixing. 
What's your favorite kind of smoothie?