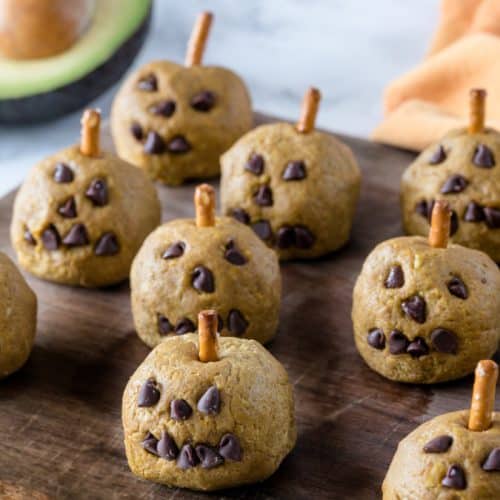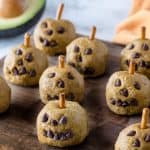 Ingredients
1 cup raw rolled oats
1 ripe fresh, Hass Avocado halved, pitted, peeled
1/4 cup 100% pumpkin puree
1/4 cup peanut butter
1 1/2 teaspoons ground cinnamon
1 pinch sea salt
2 tablespoons mini chocolate chips
12 mini pretzel sticks
Directions
In a food processor, process the oats until coarse flour. Add avocado, and pumpkin puree, process until blended. Scrape sides with a spatula and add peanut butter, cinnamon and salt and process until all is well blended. The mixture will be soft and sticky.

Place in a container in the freezer for 30 minutes. This is to allow time for flavors to incorporate.

Remove from the freezer and roll into 12 bite-sized balls using your palms. Place on a tray lined with parchment paper and place back in the freezer for another 15 minutes. This will help hold their shape.

Remove from the freezer and decorate with mini chocolate morsels and pretzel sticks. Serve within an hour or store in the fridge for up to three days.

Recipe and image courtesy of Love One Today.
Nutrition
Calories: 90kcal | Carbohydrates: 9g | Protein: 3g | Fat: 6g | Saturated Fat: 1g | Cholesterol: 0mg | Sodium: 40mg | Fiber: 2g