These avocado Halloween pumpkin balls are just as delicious as they are cute! Enjoy this nutritious treat with only 8 ingredients.
These pumpkin balls are a great snack to serve to your little ones, or for a festive addition to a holiday spread with your friends and family. They're made with the addition of avocado for an extra creamy and nutritious bite. 
Nutrition Benefits of This Pumpkin Snack
These balls are just as nutritious as they are cute. Here are a few nutrient highlights:
Pumpkin puree: Vitamins A, K, and E, fiber for gut health, copper, iron, and magnesium
Avocado: folate for neurotransmitters, magnesium to reduce anxiety, healthy fats for hormones and brain health, fiber for gut health
Peanut Butter: healthy fats, protein, magnesium, B vitamins
Oats: fiber, resistant starch for gut health, protein
Cinnamon: antioxidants
How to Make Pumpkin Balls
This recipe is very easy to make, and adds a lot of festive flair. Start by mixing all of the ingredients other than the chocolate chips and pretzels in a food processor. Let chill for 30 minutes in the fridge. Roll into balls, add your finishing design touches, and enjoy! It's that easy.
Enjoy These Pumpkin Balls Year Round
If it isn't quite time for Halloween, don't pass up this delicious recipe! Instead, get creative with your final design. 
Roll the pumpkin balls in the chocolate chips instead of making a jack-o-lantern face.
Crush the pretzels into smaller pieces and roll the balls in the crumbles for an added salty crunch.
---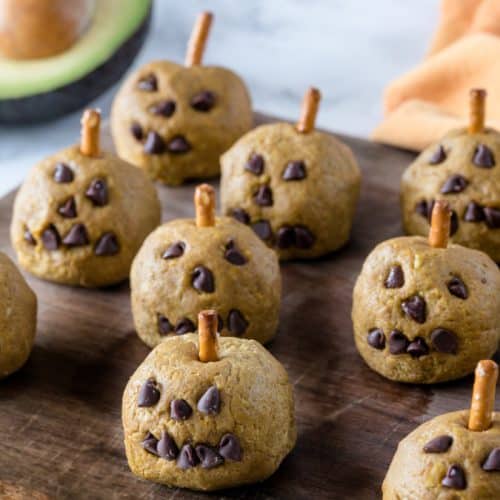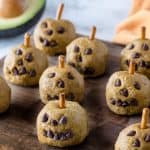 Ingredients
1 cup raw rolled oats
1 ripe fresh, Hass Avocado halved, pitted, peeled
1/4 cup 100% pumpkin puree
1/4 cup peanut butter
1 1/2 teaspoons ground cinnamon
1 pinch sea salt
2 tablespoons mini chocolate chips
12 mini pretzel sticks
Directions
In a food processor, process the oats until coarse flour. Add avocado, and pumpkin puree, process until blended. Scrape sides with a spatula and add peanut butter, cinnamon and salt and process until all is well blended. The mixture will be soft and sticky.

Place in a container in the freezer for 30 minutes. This is to allow time for flavors to incorporate.

Remove from the freezer and roll into 12 bite-sized balls using your palms. Place on a tray lined with parchment paper and place back in the freezer for another 15 minutes. This will help hold their shape.

Remove from the freezer and decorate with mini chocolate morsels and pretzel sticks. Serve within an hour or store in the fridge for up to three days.

Recipe and image courtesy of Love One Today.
Nutrition
Calories: 90kcal | Carbohydrates: 9g | Protein: 3g | Fat: 6g | Saturated Fat: 1g | Cholesterol: 0mg | Sodium: 40mg | Fiber: 2g
More Festive Recipes