Whip up these plant-based pumpkin spice waffles on a chilly fall morning for a positive start to your day. They're vegan, gluten-free, and require fewer than 10 ingredients.
Fall always seems to appear in the blink of an eye and takes over the warm summer days that hold fond memories. Having an unlimited list of fall activities and recipes makes the transition exciting and nostalgic of years past. This pumpkin spice waffle recipe can be enjoyed all throughout the fall and holiday season. Plus, these waffles are naturally lower in sugar than many of the options you'll find in the store.
Flour for Gluten-Free Pumpkin Waffles
This recipe uses a gluten-free all-purpose flour, but you could also experiment with other popular gluten-free flours such as almond flour, oat flour, chickpea flour, and coconut flour. Just make sure to look up the proper amounts for your substitute.
Freezing or Refrigerating Waffles for Later
If you're making this recipe for 1 or 2 people or are doubling it for a bigger crowd, no need to waste the leftovers. Here are general guidelines for refrigerating or freezing your waffles.
Refrigerator: These gluten-free pumpkin waffles can be stored in the fridge for up to 3 days in an airtight container.
Freezer: Add the waffles to an airtight container or wrap them in smaller bundles so that you can easily heat up a few at a time. They can keep in the freezer for up to 2 months.
Waffle Topping Options
There's nothing like getting creative with fresh produce during fall. Wander to your local farmers market and find seasonal fruit like figs, pears, or apples, and either chop them up and add them as fresh fruit on top of your waffles or heat them up with syrup to create an even richer flavor.
Add more texture with your toppings by sprinkling on some chopped pecans, walnuts, or pumpkin seeds. These add a dose of healthy fats and protein to make your meal more balanced. And of course, don't forget a final dash of cinnamon!
---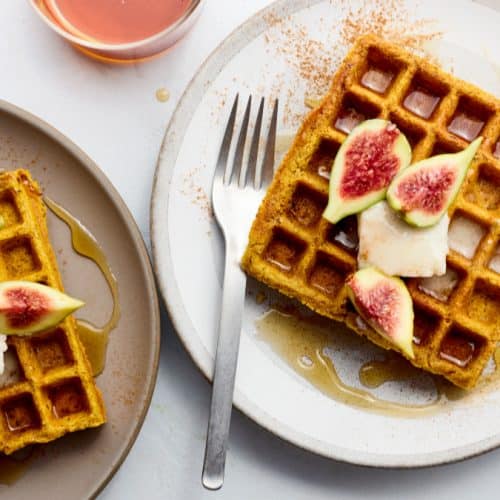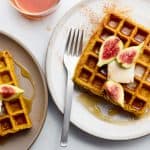 Ingredients
1 1/4 cups oat milk
3 tablespoons ground flax meal
2 1/4 cups gluten-free, all-purpose baking flour, such as Bob's Red Mill
1 tablespoon baking powder
1 1/2 teaspoons ground cinnamon
1/2 cup pumpkin puree (or ripe mashed banana)
1/4 cup extra virgin olive oil (or avocado oil), plus more for waffle iron
1 tablespoon vanilla extract
1 teaspoon apple cider vinegar
Directions
Stir together the oat milk and ground flax meal in a large bowl and set aside for 10 minutes to slightly thicken.

Preheat the waffle iron to medium heat. Meanwhile, in a medium bowl whisk together the flour, baking powder, and cinnamon; set aside.

To the flax mixture, add the mashed pumpkin (or banana). Stir in the oil, vanilla, and cider vinegar and mix well. Add the dry ingredients to the wet ingredients and fold with a rubber spatula just until combined.

Brush the waffle iron with oil and scoop about a ½ cup batter onto the iron. (The exact amount will depend on the waffle iron you are using). Cook until golden, about 5 to 7 minutes. Remove the waffles and serve immediately with your favorite toppings. Repeat with the remaining batter.

Notes: To store waffles, transfer to an airtight container and refrigerate for up to 3 days or freeze for up to 2 months. Batter keeps well in an airtight container in the refrigerator for up to 2 days. 
Nutrition
Calories: 420kcal | Carbohydrates: 59g | Protein: 9g | Fat: 19g | Saturated Fat: 2g | Cholesterol: 0mg | Sodium: 30mg | Fiber: 10g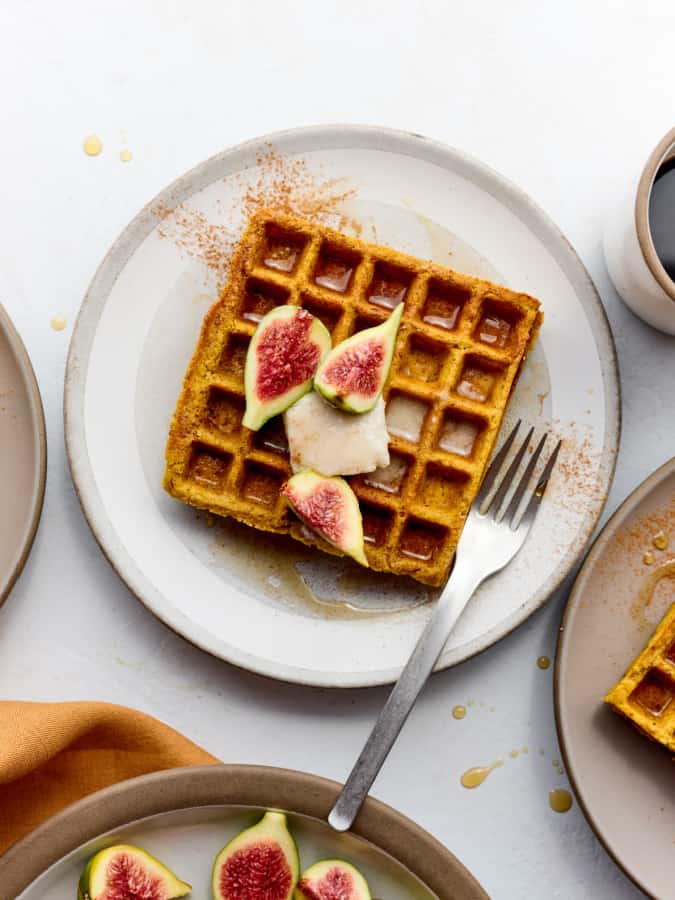 Enjoying your warm fall mornings and want to spend more time in the kitchen? Try some of these other recipes: