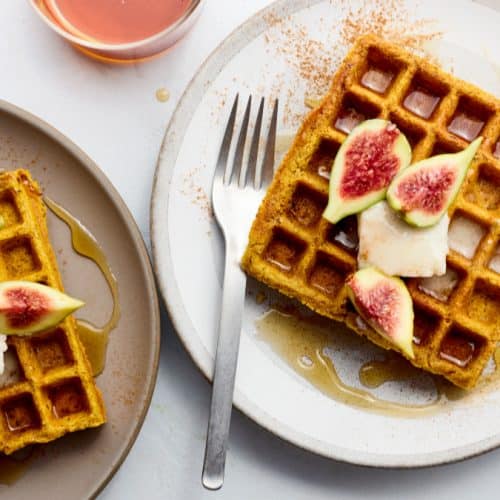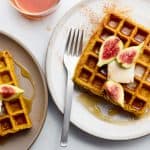 Ingredients
1 1/4 cups oat milk
3 tablespoons ground flax meal
2 1/4 cups gluten-free, all-purpose baking flour, such as Bob's Red Mill
1 tablespoon baking powder
1 1/2 teaspoons ground cinnamon
1/2 cup pumpkin puree (or ripe mashed banana)
1/4 cup extra virgin olive oil (or avocado oil), plus more for waffle iron
1 tablespoon vanilla extract
1 teaspoon apple cider vinegar
Directions
Stir together the oat milk and ground flax meal in a large bowl and set aside for 10 minutes to slightly thicken.

Preheat the waffle iron to medium heat. Meanwhile, in a medium bowl whisk together the flour, baking powder, and cinnamon; set aside.

To the flax mixture, add the mashed pumpkin (or banana). Stir in the oil, vanilla, and cider vinegar and mix well. Add the dry ingredients to the wet ingredients and fold with a rubber spatula just until combined.

Brush the waffle iron with oil and scoop about a ½ cup batter onto the iron. (The exact amount will depend on the waffle iron you are using). Cook until golden, about 5 to 7 minutes. Remove the waffles and serve immediately with your favorite toppings. Repeat with the remaining batter.

Notes: To store waffles, transfer to an airtight container and refrigerate for up to 3 days or freeze for up to 2 months. Batter keeps well in an airtight container in the refrigerator for up to 2 days. 
Nutrition
Calories: 420kcal | Carbohydrates: 59g | Protein: 9g | Fat: 19g | Saturated Fat: 2g | Cholesterol: 0mg | Sodium: 30mg | Fiber: 10g