This gluten-free "banoffee" (banana + coffee) breakfast cookie recipe is healthy enough to enjoy for breakfast or an anytime treat.
You may have heard about banoffee pie, but did you ever think to use the combination of bananas and coffee for cookies? This banoffee recipe is perfectly sweet without a lot of added sugar due to the natural sweetness of the banana. 
What is Banoffee?
Banoffee refers to the combination of banana and coffee. In this recipe, espresso powder and mashed bananas are mixed into the cookie batter. Then, the cookies are topped with an icing that contains hot espresso or coffee.
How do Banoffee Cookies Differ from Banoffee Pie?
Banoffee cookies have a very different taste and texture from banoffee pie. While they both contain bananas and coffee, banoffee pie has more of a focus on sliced bananas, cream, and caramel sauce. These banoffee cookies are a healthier choice with bananas, almond flour, and oats as the key ingredients. 
How Ripe Should the Bananas Be for Banoffee Cookies?
As with most baked goods, using very ripe bananas works best since the ripening increases their natural sugar content. This also makes it easier to mash them before mixing them into the cookie batter.
How to Make Banoffee Cookies?
The process of making banoffee cookies is quite different than a banoffee pie. As with most cookie recipes, you will first mix together the dry ingredients, then the wet ingredients, and then mix them all together. Fold in the banana and optional walnuts and raisins, make into cookie rounds, then heat in an oven.
While the cookies are cooking, make the espresso icing. Once the cookies are out of the oven, drizzle the icing over the cookies, and enjoy!
---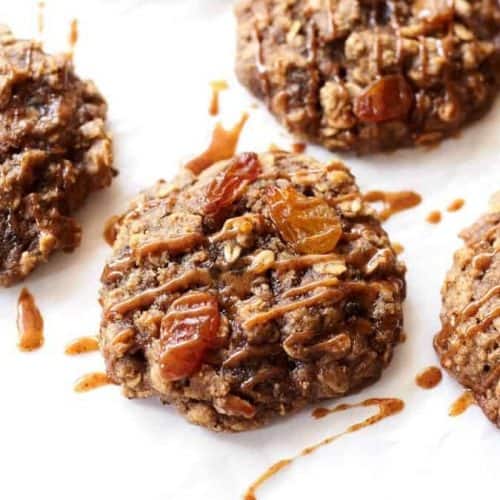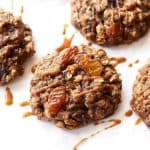 Ingredients
Cookies
1 cup rolled oats
3/4 cup almond flour
1 teaspoon ground espresso powder
1/2 teaspoon ground cinnamon
1/2 teaspoon baking soda
1/4 teaspoon kosher salt
1 large egg
1/4 cup extra-virgin olive oil
2 tablespoons turbinado sugar
2 bananas, 1 mashed and 1 sliced
Espresso Almond Butter Icing
2 tablespoons smooth almond butter
2 tablespoons hot espresso or strong hot coffee
2 tablespoons turbinado sugar
Directions
Preheat the oven to 350°F. Line a large baking sheet with parchment paper.

In a large mixing bowl, combine the oats, almond flour, espresso powder, cinnamon, baking soda, and salt. In a smaller mixing bowl, whisk the egg lightly. To the egg, add the oil, sugar, 1 mashed banana, almond butter, and vanilla extract, whisking until they are well combined. Pour the liquid ingredients into the dry, and whisk just until blended. Fold in 1 sliced banana, the walnuts (optional), and the raisins (optional).

Drop the batter in heaping tablespoons onto the prepared baking sheet to make eight large cookies. Space the cookies 2 inches apart and use your fingers to shape into rounds.

Bake the cookies for 13 to 15 minutes, until they are cinnamon brown. Let the cookies sit on the baking sheet for 5 minutes, then transfer them a wire rack to cool completely.

Make the icing: In a small mixing bowl, combine the almond butter, hot espresso or coffee, and sugar, whisking until smooth. Transfer the mixture to a plastic sandwich bag and cut off a small tip from one of the corners to make a piping bag. Drizzle the icing over the cookies.

Cookies will keep in an airtight container for 1 day, or in the refrigerator for up to 3 days.
Nutrition
Calories: 290kcal | Carbohydrates: 27g | Protein: 7g | Fat: 19g | Saturated Fat: 2g | Cholesterol: 25mg | Sodium: 160mg | Fiber: 4g
More Breakfast Baked Good Recipes
If you like these breakfast cookies, you may enjoy these other cookies and breakfast recipes: