This gluten free "banoffee" (banana + coffee) cookie recipe is reduced sugar and healthy enough to enjoy for breakfast or an anytime treat.
---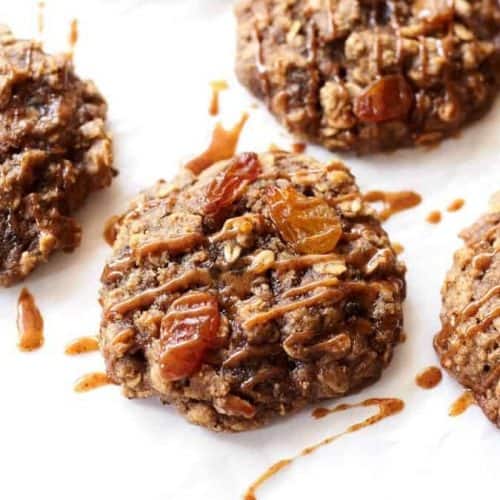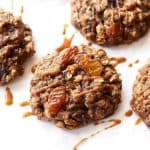 Ingredients
Cookies
1 cup rolled oats
3/4 cup almond flour
1 teaspoon ground espresso powder
1/2 teaspoon ground cinnamon
1/2 teaspoon baking soda
1/4 teaspoon kosher salt
1 large egg
1/4 cup extra-virgin olive oil
1 tablespoon Stevia In The Raw Bakers Bag
1 tablespoon Sugar In The Raw Organic White
2 bananas, 1 mashed and 1 sliced
Espresso Almond Butter Icing
2 tablespoons smooth almond butter
2 tablespoons hot espresso or strong hot coffee
1 tablespoon Stevia In The Raw Bakers Bag
1 tablespoon Sugar In The Raw Organic White
Directions
Preheat the oven to 350°F. Line a large baking sheet with parchment paper.

In a large mixing bowl, combine the oats, almond flour, espresso powder, cinnamon, baking soda, and salt. In a smaller mixing bowl, whisk the egg lightly. To the egg, add the oil, sugars, 1 mashed banana, almond butter, and vanilla extract, whisking until they are well combined. Pour the liquid ingredients into the dry, and whisk just until blended. Fold in 1 sliced banana, the walnuts (optional), and the raisins (optional).

Drop the batter in heaping tablespoons onto the prepared baking sheet to make eight large cookies. Space the cookies 2 inches apart and use your fingers to shape into rounds.

Bake the cookies for 13 to 15 minutes, until they are cinnamon brown. Let the cookies sit on the baking sheet for 5 minutes, then transfer them a wire rack to cool completely.

Make the icing: In a small mixing bowl, combine the almond butter, hot espresso or coffee, and both sugars, whisking until smooth. Transfer the mixture to a plastic sandwich bag and cut off a small tip from one of the corners to make a piping bag. Drizzle the icing over the cookies.

Cookies will keep in an airtight container for 1 day, or in the refrigerator for up to 3 days.

Note: If you prefer not to use stevia, simply double the sugar amount in the cookies (to 2 tablespoons sugar) and in the icing (to 2 tablespoons sugar).
Nutrition
Calories: 280kcal | Carbohydrates: 24g | Protein: 7g | Fat: 19g | Saturated Fat: 2g | Cholesterol: 25mg | Sodium: 160mg | Fiber: 4g | Sugar: 10g