| Photo Credit: Jennifer Chong |
Recipe excerpt from my book, From Burnout to Balance: 60+ Healing Recipes & Simple Strategies to Boost Mood, Immunity, Focus & Sleep, copyright © 2022 by Patricia Bannan. Recipe used by permission of Rodale Books, an imprint of Random House, a division of Penguin Random House, LLC, New York. All rights reserved. Order your copy today!

These soft bedtime cookies even smell soothing. The key is to avoid overbaking them. Almonds are a natural source of magnesium, an essential mineral that helps the body relax. And these cookies celebrate almonds in three ways—with almond flour, sliced almonds, and almond extract. Chamomile is an herb that contains the flavonoid apigenin, which is thought to help calm the body and induce sleep. And oats are rich in melatonin, a hormone that helps regulate circadian rhythm. But most important, these cookies are much tastier than a sleeping pill.

Tips:
If you don't have loose-leaf chamomile tea, simply use the tea leaves emptied from 3 chamomile tea bags.
Cookies will actually appear underbaked when you remove them from the oven but will firm up afterward.
To make vegan: 
Substitute 3 tablespoons water and 1 tablespoon chia seeds or ground flaxseed for 1 egg; substitute vegan butter or coconut oil for butter.
This recipe is:
Vegetarian
Gluten-Free (choose certified gluten-free oats)
Dairy-Free
Kid-Friendly


---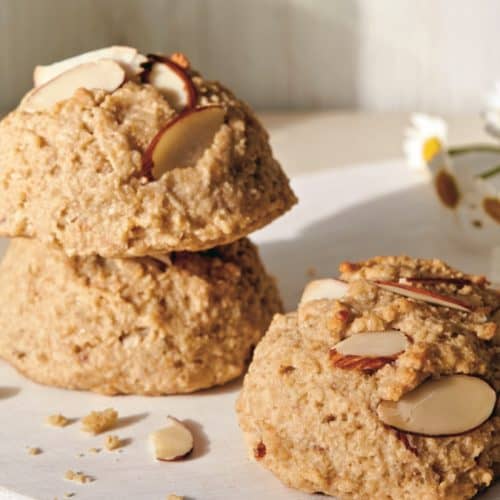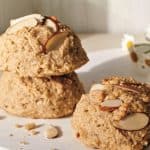 Prep Time 20 minutes
Cook Time 14 minutes
Ingredients
2 1/2 cups old-fashioned rolled oats
1 1/2 cups almond flour
2 tablespoons dry loose-leaf chamomile tea
1/2 teaspoon sea salt
1/2 cup honey
6 tablespoons unsalted butter, softened, or vegan butter alternative
1 large egg
3/4 teaspoon pure almond extract
1/3 cup plus 2 tablespoons sliced natural almonds, divided
Supercharger: 1/3 cup dried cranberries, chopped (optional)
Directions
Preheat the oven to 350°F and line a large baking sheet with parchment paper.

Process the oats in a food processor and on high speed until a finely ground oat flour form. Add the almond flour, chamomile tea, and salt and pulse to incorporate. Add the honey, butter, egg, and almond extract and process on low speed until the mixture just forms a dough. Transfer to a bowl and fold in 1 ⁄3 cup of the almonds and the cranberries (if using).

Scoop then roll the dough by hand into 16 balls,about 2 rounded tablespoons each. (Hint: Wipe hands clean throughout with a damp paper towel.) Arrange the balls on the prepared baking sheet, spaced about 1 inch apart. Press the remaining sliced almonds on top, about 3 or 4 pieces per ball.

Bake for 10 to 11 minutes; cookies will appear undercooked but will firm up when they cool. (The cookies are meant to be soft; if you overbake them, they will become dry and biscotti-like.) Let cookies cool on the baking sheet on arack for at least 20 minutes. They're best enjoyed at room temperature the day they are made or store them in an airtight container in the fridge for up to 1 week.
Nutrition
Calories: 200kcal | Carbohydrates: 20g | Fat: 12g | Saturated Fat: 3.5g | Cholesterol: 25mg | Sodium: 80mg | Fiber: 3g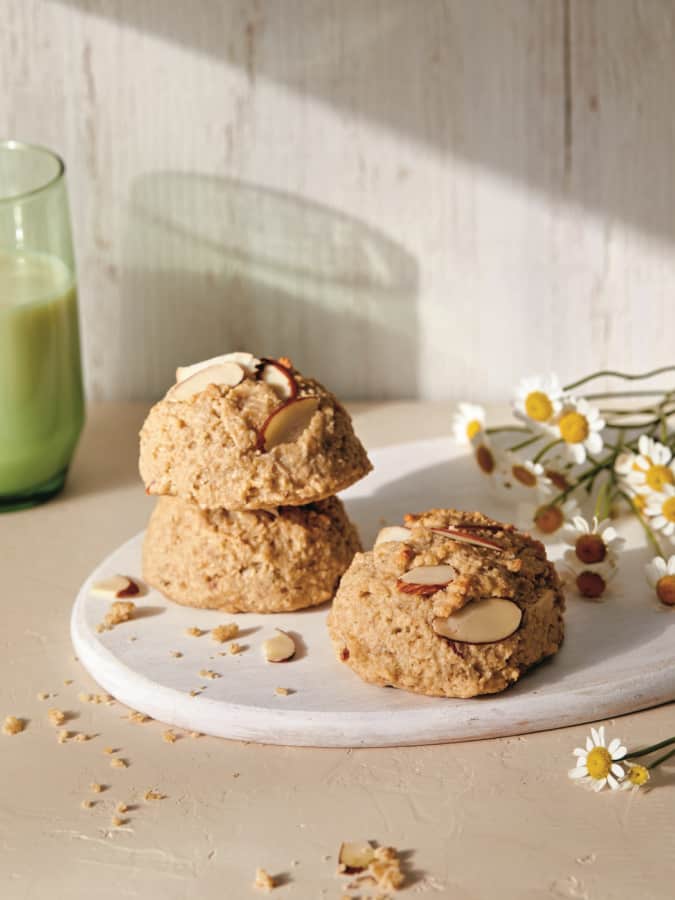 | Photo Credit: Jennifer Chong |

For more recipe excerpts from my book, From Burnout to Balance: 6o+ Healing Recipes & Simple Strategies to Boost Mood, Immunity, Focus & Sleep, check out my: