| Photo Credit: Jennifer Chong |
Recipe excerpt from my book, From Burnout to Balance: 60+ Healing Recipes & Simple Strategies to Boost Mood, Immunity, Focus & Sleep, copyright © 2022 by Patricia Bannan. Recipe used by permission of Rodale Books, an imprint of Random House, a division of Penguin Random House, LLC, New York. All rights reserved. Order your copy today!
You'll love kicking off your day with this fun flavor explosion. You'll also love getting in a serving of veggies first thing in the morning. Simply bake the sweet potato the night before. Not only is this breakfast dish pleasing to your eyes, it's good for your eyes, too, since sweet potato provides a boost of beta-carotene, an eye friendly nutrient.
Time saver:
If you don't have cooked sweet potato on hand, top a large slice of whole-grain sourdough bread.
This recipe is:
Vegetarian
Gluten-Free
Nut-Free
Dairy-Free
No Added Sugar
Kid-Friendly
15 Minutes or Less
---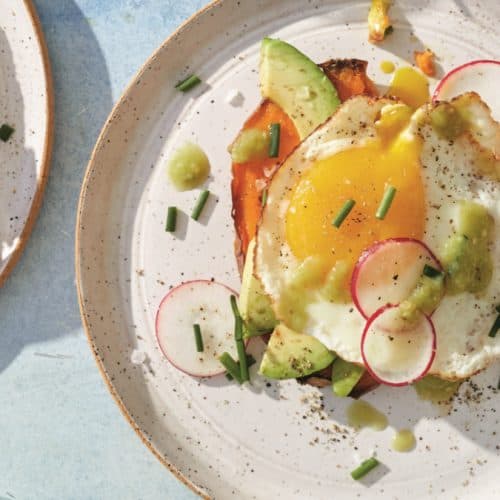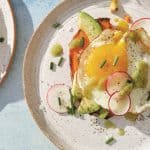 Prep Time 10 minutes
Cook Time 5 minutes
Ingredients
2 lengthwise slices (about 1 ⁄3-inch thick) baked sweet potato with peel
2 teaspoons avocado oil or sunflower oil
2 large eggs
1/2 medium avocado, sliced
1/4 teaspoon flaked sea salt
3 tablespoons store-bought salsa verde
2 tablespoons minced chives or chopped cilantro
Freshly ground black pepper
Supercharger: 2 small radishes, sliced extra-thin (optional)
Directions
Heat the sweet potato slices in a toaster or toaster oven, or broil in the oven, until heated through and slightly crisped (cooking time varies).

Meanwhile, heat the oil in a large stick-resistant skillet over high heat. Crack in the eggs and fry until they reach the desired doneness.

Top each sweet potato toast with the avocado and sprinkle with salt. Then top each toast with a fried egg, salsa verde, chives, and radish slices (if using), and season with several grinds of pepper.
Nutrition
Calories: 260kcal | Carbohydrates: 23g | Protein: 9g | Fat: 15g | Saturated Fat: 2.5g | Cholesterol: 185mg | Sodium: 530mg | Fiber: 6g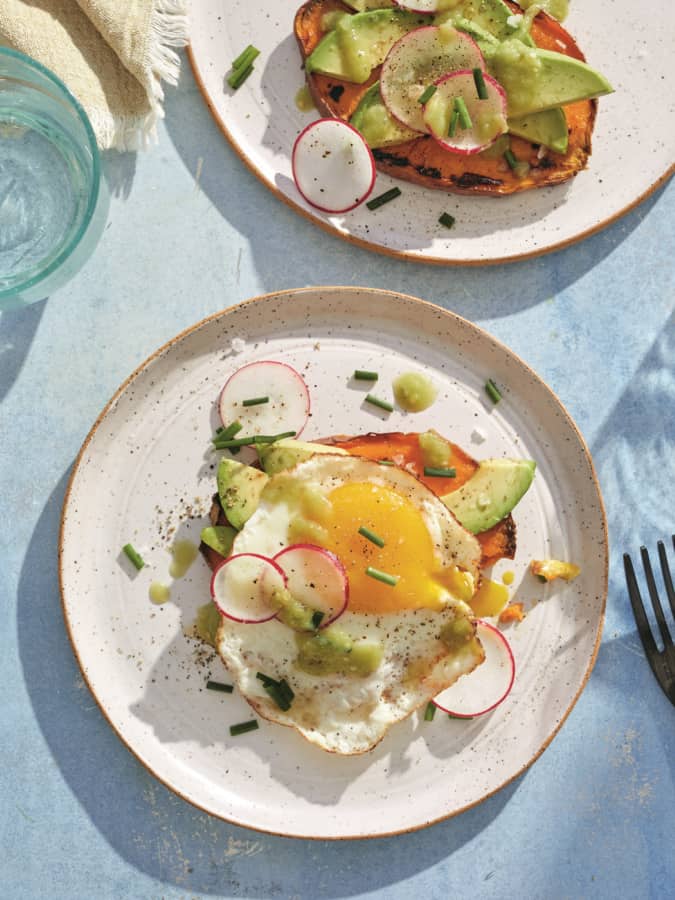 | Photo Credit: Jennifer Chong |

For more recipe excerpts from my book, From Burnout to Balance: 6o+ Healing Recipes & Simple Strategies to Boost Mood, Immunity, Focus & Sleep, check out my: