| Photo Credit: Jennifer Chong |
Recipe excerpt from my book, From Burnout to Balance: 60+ Healing Recipes & Simple Strategies to Boost Mood, Immunity, Focus & Sleep, copyright © 2022 by Patricia Bannan. Recipe used by permission of Rodale Books, an imprint of Random House, a division of Penguin Random House, LLC, New York. All rights reserved. Order your copy today!
These hearty, full-flavored tacos are far from an Americanized version. Avocado offers luxuriousness along with its heart-healthy fats and fiber. Portobellos provide plenty of meatiness without the meat. Poblanos lend pepperiness in a mild way. And the creamy chipotle yogurt sauce makes these nice and spicy. These tacos aren't just delicious—they're fun to prepare, too, which makes them perfect for a weeknight meal or a date night cooking session with your partner.
Time saver:
Use a bottled organic or natural chipotle ranch dressing in place of the Chipotle Yogurt Sauce.
This recipe is:
Vegetarian
Gluten-Free
Nut-Free
No Added Sugar
Kid-Friendly
Great for Leftovers (taco filling)
---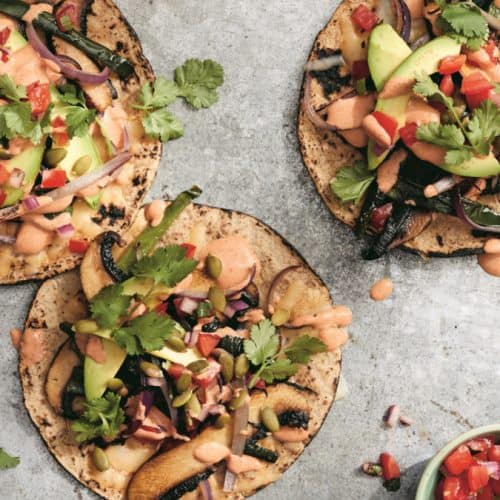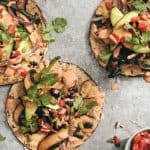 Prep Time 25 minutes
Cook Time 14 minutes
Ingredients
Chipotle Yogurt Sauce
1/2 cup 2% fat Greek yogurt
1 tablespoon minced jarred or canned chipotle chilis (or teaspoon chipotle powder)
1 teaspoon freshly squeezed lime juice
1/4 teaspoon ground cumin
1/4 teaspoon sea salt
Tacos
8 (5 to 5 ½ inch) corn tortillas
4 ounces shredded Monterey jack or pepper jack cheese (about 1 cup)
1 tablespoon avocado oil or sunflower oil
1/2 medium red onion, sliced
2 medium poblano or Anaheim chilis, cored, seeded, and cut into long, thin strips
2 large (6-inch) Portobello mushrooms, stemmed and cut into ¼ inch-thick slices
1/2 teaspoon sea salt
1 medium avocado, very thinly sliced
1/2 cup fresh cilantro leaves with tender stems
3/4 cup fresh store-bought salsa fresca (Pico de Gallo), for serving
Supercharger: 1 ½ tablespoons salted roasted pepitas (optional)
Directions
Make the sauce: In a small bowl, whisk to combine the yogurt, chopped chipotle, lime juice, cumin, and salt until smooth and set aside. (Makes rounded ½ cup.)

Make the tacos: Place the tortillas on one full or two half sheet pans. Sprinkle with the cheese and set aside. Preheat the broiler.

Heat the oil in a large, deep cast-iron or other stick-resistant skillet over medium-high heat. When the oil shimmers, add the onion and chilis and cook, stirring occasionally, until the onion is softened, about 5 minutes. Add the mushrooms and cook, stirring occasionally, until the mushrooms are lightly browned, about 5 minutes. Season with the salt. Turn off the heat.

Broil the tortillas until the cheese is bubbling and melted, about 2 minutes. Remove from the oven and top each tortilla with the poblano mushroom filling, avocado, and chipotle yogurt sauce. Sprinkle with the pepitas (if using), and cilantro and serve immediately with the salsa fresca on the side.

The taco filling keeps well covered in the fridge for up to 4 days.
Nutrition
Calories: 400kcal | Carbohydrates: 40g | Protein: 16g | Fat: 21g | Saturated Fat: 7g | Cholesterol: 30mg | Sodium: 740mg | Fiber: 8g