These blueberry lemon ginger jam scones are the perfect bite-sized treat with a delicious jam filling.
These homemade jam scones are a fun twist on a normal scone. With a whole-grain and nut base, and a thumbprint cookie-like appearance, they're a fantastic addition to your go-to baking recipes.
Scones are a less-sweet version of a cookie, which makes them an appealing breakfast or afternoon treat. This version uses the scone base with a jam topping, making these jam scones delicious and moist with every bite.
Nutrient Benefits of These Blueberry Ginger Jam Scones
The base of this jam scones recipe is whole grain spelt flour and toasted pecans.
Spelt flour is a whole grain that contains fiber, protein, magnesium, and iron.
Pecans provide fiber, and a range of nutrients such as protein, fiber, some B vitamins, and magnesium. They have also shown to help stabilize blood sugar.
How to Make Jam Scones
Start by making the homemade jam. This version is a blueberry ginger jam, made by combining blueberries, maple syrup, ginger, and lemon juice.
Then for your scones, mix together the dry ingredients. Rub the butter into the dry mixture. Then mix together the wet and dry mixtures. Pat the dough and flatten, gather back into a ball, and repeat two to three times.
Create 16 balls, then with a spoon covered in flour, press into the balls to make your imprints. Add the homemade jam, then refrigerate for two hours to let the pastries set. Brush with the egg wash and sprinkle with sugar, then bake at 375 on parchment paper.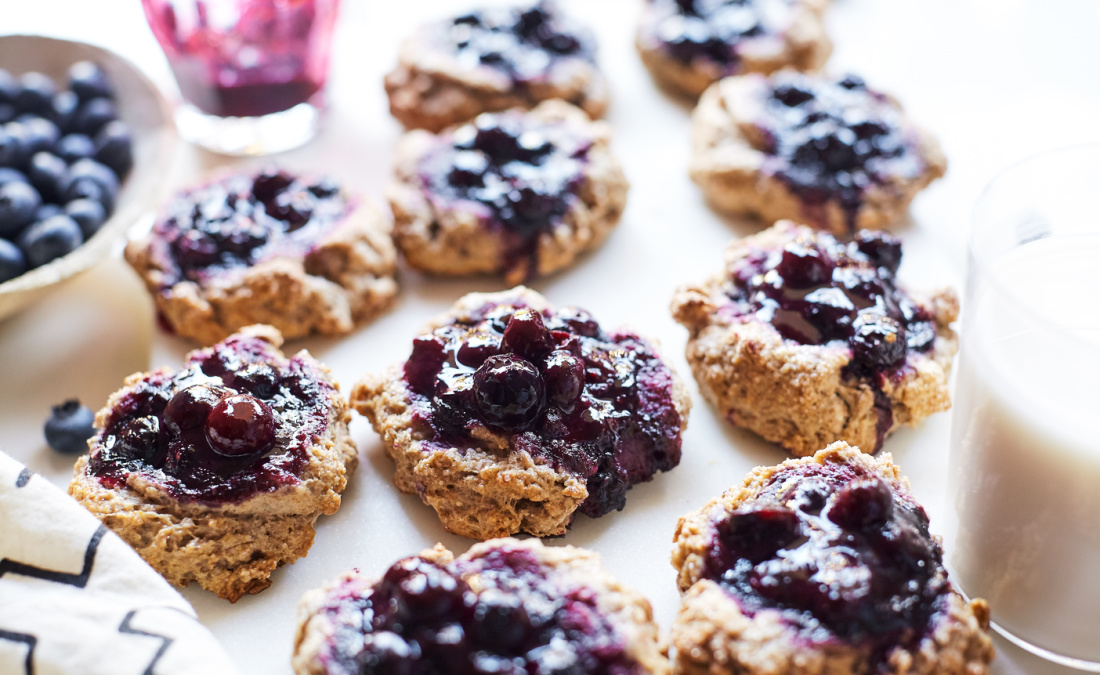 ---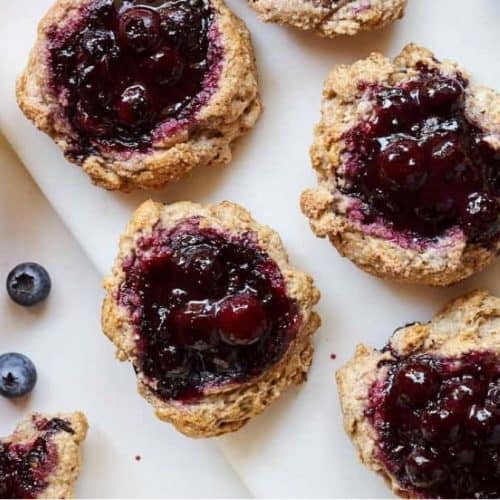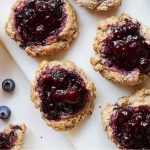 Ingredients
Blueberry Ginger Jam
3 ½ cups fresh (or frozen) blueberries
¼ cup maple syrup
3-inch piece fresh ginger (about 2 tablespoons finely grated)
1 tablespoon lemon juice
Scones
¾ cup toasted pecans, ground into flour
1 ½ cups all-purpose flour
1 cup whole-grain spelt flour
2 tablespoons sugar, plus 1 tablespoon for topping
4 teaspoons baking powder
1 teaspoon cinnamon
1 teaspoon kosher salt
¾ cup cold low-fat buttermilk
¼ cup cold unsweetened applesauce
⅓ cup cold unsalted butter, cut into ½-inch cubes
1 egg, for egg wash
Directions
Blueberry Ginger Jam
To a medium saucepan, add 2 cups of blueberries and maple syrup and cook over medium-high heat. Grate the ginger into the mixture. Cook for 8 minutes, letting the mixture come to a light boil. Once the fruit has cooked down and the jam has thickened, add the remaining 1½ cups blueberries and stir in the lemon juice. Remove from heat and transfer to a bowl. Chill covered in refrigerator until ready to use.
Jam Scones
In a large bowl, whisk the ground pecans, flours, sugar, baking powder, cinnamon and salt. Set aside. In a medium bowl, combine the buttermilk and applesauce and whisk until smooth. Set aside. Add the cubed butter to the dry mixture. Using your hands, gently rub the butter into the flour until pea-sized pieces form. Pour half of the wet mixture over the dry mixture and gently combine, incorporating more of the wet mixture with the second addition. Pat the dough to quickly flatten and then gather it back into a mound and repeat. After two or three repetitions, the dough should be well formed.

Form each scone by packing 4 tablespoons of dough, spoonful by spoonful, to form 16 balls. Transfer to two large plates. Dip the back of a 1-tablespoon measuring spoon in flour and press into each ball to form a well for the jam. Scoop 2 heaping tablespoons of the jam into each well. Freeze the prepared scones for at least two hours before baking to let the pastries set.

Preheat the oven to 375° F and line two large baking sheets with parchment paper. For the egg wash, beat an egg with a splash of water in a small bowl and set aside. Remove the scones from the freezer and evenly space them over the sheet pans, at least 2-inches apart. Brush the outer rims of the dough with the egg wash and sprinkle with the remaining tablespoon of sugar. Bake from frozen until cooked and lightly browned, about 30 minutes.
Nutrition
Calories: 180kcal | Carbohydrates: 25g | Protein: 3g | Fat: 8g | Saturated Fat: 3g | Cholesterol: 10mg | Sodium: 260mg | Fiber: 3g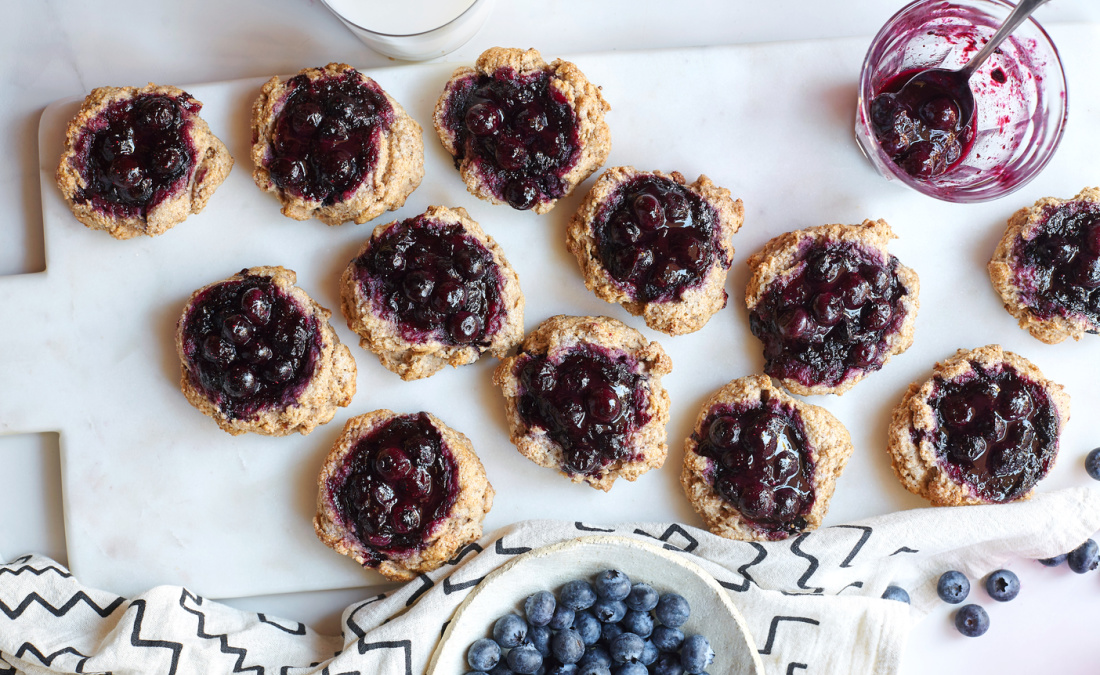 More Healthy Baked Good Recipes