These baked avocado fries are a fun and healthy twist to your normal football parties and tailgates. Make them once and your guests will never let you host again without them!
French fries are almost always made by frying sliced potatoes in a bat of hot oil to make the outside perfectly crispy and the inside optimally soft. While French fries are delicious and have their place at the table at times, why not also have a healthy and flavorful alternative?
Benefits of Healthy Baked Avocado Fries
Instead of the typical potato base for fries, healthy baked avocado fries use exactly what you'd guess – pieces of sliced avocado. And if you're like most people, you're probably already trying to find more ways to add avocado into your mix of foods because it's that good.
These fries are a healthy snack because they contain:
Potassium
B vitamins
Healthy fats
6g of fiber per serving
6g of protein per serving
Much lower levels of oil for cooking than usual fries
Can You Cook Avocado?
Yes, and I highly recommend trying more recipes than only this one! Baking avocado doesn't change its texture. While there are many savory recipes to bake avocado, it's also a great substitution for butter and other fats in baked goods.
How to Make Baked Avocado Fries with Panko Breadcrumbs
These breaded avocado fries are simple to make. Start by slicing your avocado into even pieces, about ¾" thick. Add each piece to the seasoned flour, egg wash, and panko crumbs to fully coat. This will give each fry a nice crunchy texture. Once the breaded avocado slices are coated evenly, add to your oven at 425°F on a lined sheet pan. After 12 minutes, they're ready to eat!
Baked Avocado Fries Dipping Sauce
While these avocado fries would taste good with a wide range of dipping sauces, you can't go wrong with this Chipotle Ranch Dip. It is the perfect amount of smoky and creamy. If you have a big party of people, feel free to add some of your other favorite dipping sauces to the mix as well.
---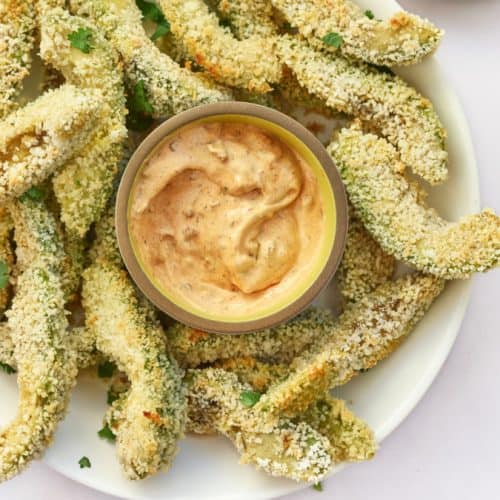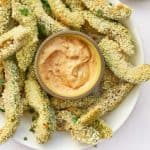 Prep Time 10 minutes
Cook Time 12 minutes
Ingredients
avocado fries
3 medium ripe (but still firm) avocados
1 lime
2 large eggs
1 cup panko bread crumbs
1/3 cup all-purpose flour 
1/2 teaspoon garlic powder
1/2 teaspoon onion powder
1/2 teaspoon black pepper
vegetable cooking spray
1/4 teaspoon sea salt
chipotle ranch dip
1/2 cup nonfat Greek yogurt
1/4 cup mayonnaise
2 chipotle peppers in adobo sauce, finely chopped + 2 teaspoons sauce from the can
1 1/2 teaspoons apple cider vinegar
1/2 teaspoon garlic powder
1/2 teaspoon onion powder
1/2 teaspoon dried dill
1/4 teaspoon sea salt
Directions
Preheat the oven to 425°F and line a sheet pan with parchment paper.

Cut the avocados into quarters lengthwise, then slice each quarter in half lengthwise. (Each should be about ¾-inch thick; there will be roughly 24 wedges total). Place the avocado slices on a plate and squeeze with the juice from 1 lime.

In a small bowl, add the eggs and 2 tablespoons of water and whisk to create an egg wash. Set aside.

Add the panko bread crumbs and flour to separate plates. Season the flour with garlic powder, onion powder, and black pepper.

One at a time, dredge each avocado slice first in the seasoned flour, then into the egg wash, and then in the panko crumbs until each is fully coated.

Place the coated avocado slices on the lined sheet pan. Spray generously with cooking oil spray and bake for 12 minutes until golden brown. Remove from the oven and immediately season fries with sea salt.

To make the chipotle ranch, whisk to combine all of the ingredients until smooth. Serve the avocado fries right away while still hot alongside the chipotle ranch dipping sauce.

Best enjoyed warm from the oven. The chipotle ranch will keep well in an airtight container in the refrigerator for up to 1 week.
Nutrition
Calories: 250kcal | Carbohydrates: 19g | Protein: 6g | Fat: 18g | Saturated Fat: 3g | Cholesterol: 50mg | Sodium: 200mg | Fiber: 6g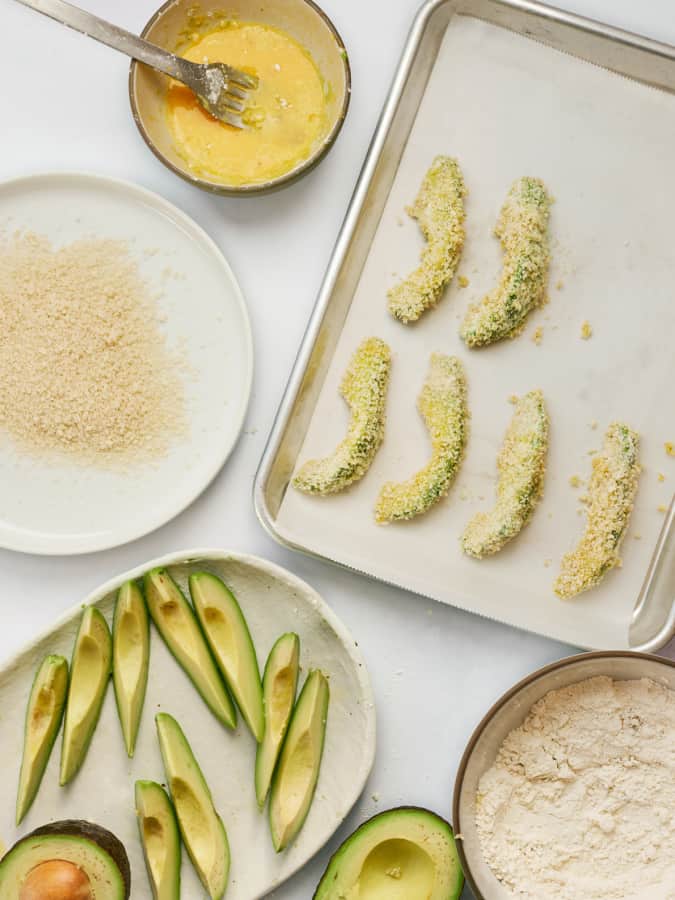 Other Recipes with Cooked Avocado