While the grill is fired up, why not add some avocados? These grilled avocados are sure to wow, and they take less than 15 minutes to make.
Fire up some coals and sear some ripe fresh avocados for an unexpected grilled treat during a summer cookout. These grilled avocados are a party pleaser and a pleasant addition to the BBQ menu that your guests may not expect. They are a great side dish that pairs well with any other protein you are cooking. Plus, fresh avocados provide naturally good fats and fiber for heart health. They are also low in saturated fat as well as cholesterol and sodium free.
How to Grill Avocado
To grill these beauties you simply follow the following steps:
Cut the avocado in half.
Remove the seed.
Drizzle with fresh lemon or lime juice.
Lightly brush with olive oil.
Place cut side down on the grill for 2-3 minutes.
Fill with fresh chopped veggies or your favorite salsa.
Delicious Dishes to Serve with Grilled Avocados
While this grilled avocado recipe may not be the center of your meal, it can add flavor and color to any of your other usual BBQ choices. When it's time to grill on a warm evening this summer, mix and match your avocados with any of the items below:
---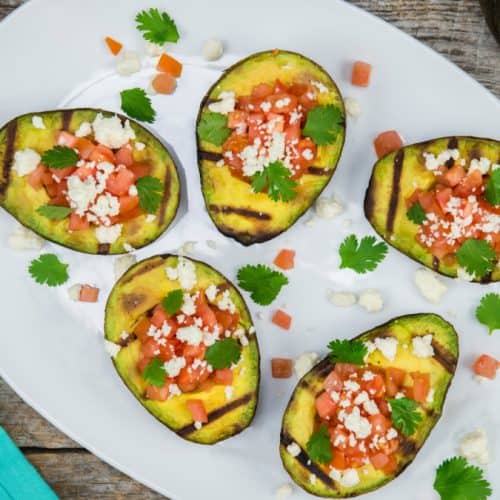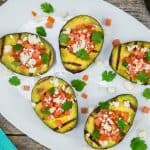 Prep Time 15 minutes
Total Time 15 minutes
Ingredients
2 ripe  fresh avocados, halved, pitted and peeled
2 tablespoons fresh lime or lemon juice
olive oil or cooking spray
sea salt (to taste)
fresh ground pepper (to taste)
optional toppings
1/2 cup freshly chopped tomatoes or pico de gallo or your favorite salsa
sliced buffalo mozzarella or crumbled feta cheese
fresh diced basil or cilantro as garnish
Directions
Cut avocado in half and remove seed with a spoon. Drizzle with fresh lime or lemon juice and brush lightly with olive oil. Gently place cut side down on grill over hot coals for 2-3 minutes. Season with salt and pepper to taste.

To serve, fill with fresh chopped veggies or your favorite salsa, if desired.

Recipe and image courtesy of Love One Today.
Nutrition
Calories: 130kcal | Carbohydrates: 7g | Protein: 2g | Fat: 12g | Saturated Fat: 2g | Cholesterol: 0mg | Sodium: 5mg | Fiber: 5g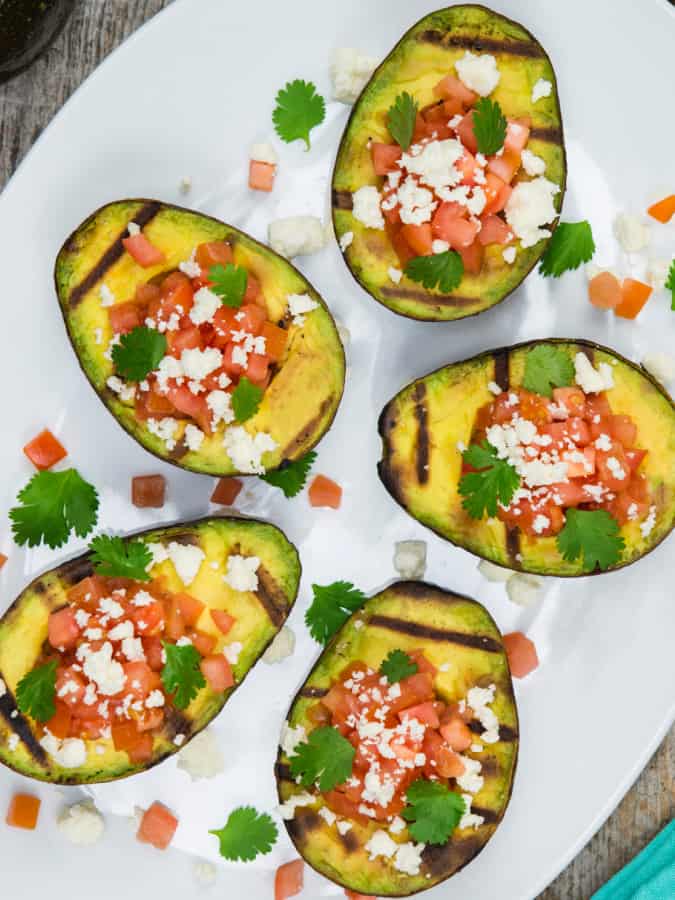 Next, try these other delicious ways to enjoy avocado: