Liven up your usual chicken fajitas by adding portobello mushrooms to the mix with this delicious dish! Protein-packed and full of nutrients, these fajitas won't disappoint.
These grilled chicken and mushroom fajitas are an easy, customizable, and crowd-pleasing dish! No matter how many people you have to serve, you can easily adjust the recipe to have enough for everyone.
To make it easy (and tasty), a mild chunky salsa serves as the chicken breast marinade and fajita seasoning flavors the portobello mushroom caps. This recipe is full of flavor, and packed with powerful nutrients from the plant-based foods including salsa, olive oil, mushrooms, red bell peppers, yellow onion, and corn or flour tortillas. The list is endless – especially if you want to add even more colorful toppings to the mix.
These healthy fajitas can be assembled to guests' unique preferences upon serving. Suggested toppings include salsa, cilantro, guacamole, shredded cheese, lettuce, and lime wedges. 
---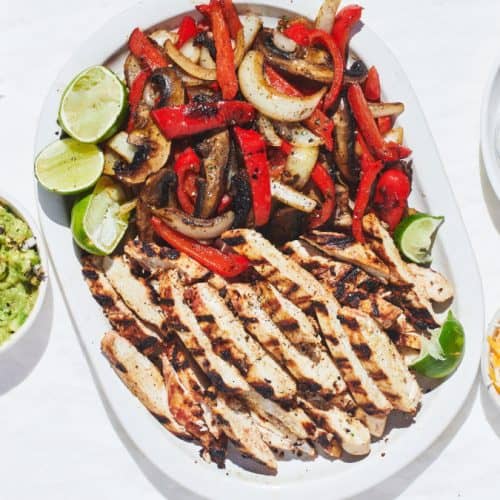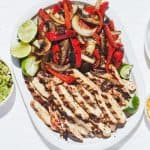 Ingredients
1 pound boneless, skinless chicken breast
1/2 cup mild chunky salsa
1/4 cup extra-virgin olive oil, divided
6 portobello mushroom caps, stems removed and sliced
1 tablespoon fajita seasoning
3 medium red bell peppers, sliced
1 large yellow onion, sliced
8 (8-inch) tortillas, flour or corn
Suggested toppings: shredded cheese, guacamole, lettuce, salsa, cilantro, lime wedges (not included in Nutrition Facts)
Directions
Preheat the grill to 400°F.

Prep the chicken: Using a meat tenderizer or rolling pin, pound the chicken breasts until they have reached an even thickness. In a large dish, add the salsa, 3 tablespoons of the olive oil, and the chicken breasts. Let marinate for 30 minutes. 

Prep the vegetables: Meanwhile, brush the mushroom caps, sliced peppers and onions with the remaining olive oil. Toss with fajita seasonings and set aside.

Add the peppers and onions to a grill basket or wrap them in aluminum foil. Grill for 10-15 minutes, or until tender with charred edges. Add the chicken breasts to the grill for about 4-5 minutes per side, until the meat is fully white and opaque with dark charred grill marks. Grill the mushrooms for 2-3 minutes per side, until tender. In the last few minutes of grilling, add the tortillas, wrapped in aluminum foil, to serve soft and warm. 

For serving, allow guests to customize their fajitas to their preferences by layering their tortillas with chicken, mushrooms, peppers, and optional toppings of cheese, guacamole, salsa, and lettuce.
Nutrition
Calories: 370kcal | Carbohydrates: 25g | Protein: 31g | Fat: 18g | Saturated Fat: 2g | Cholesterol: 75mg | Sodium: 590mg | Fiber: 5g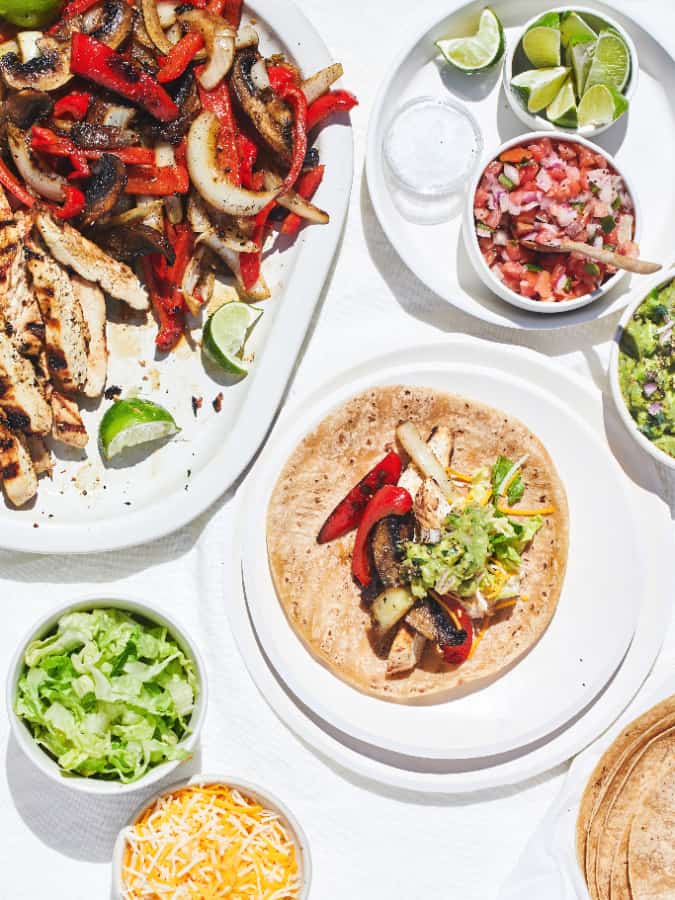 Looking for other tasty "handheld food" ideas like these healthy chicken fajitas? Try these fan favorites: