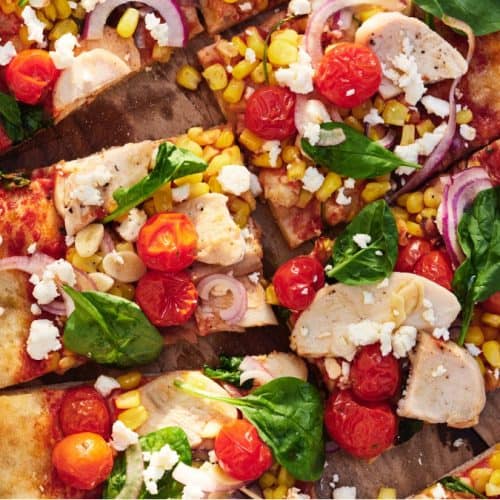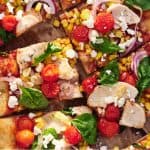 Ingredients
SAUCE
3/4 cup Sun Harvest Tomato Sauce*
1 tablespoon Sun Harvest Extra Virgin Olive Oil*
1/4 teaspoon sea salt
PIZZA
1 (14-ounce) package prepared 100% whole wheat pizza dough 
2 cup Sun Harvest Organic Frozen Corn*
2 cups cherry tomatoes
4 garlic cloves, thinly sliced
1/4 cup red onion, thinly sliced
1 cooked chicken breast, sliced crosswise (optional)
1/4 teaspoon sea salt
1/2 teaspoon freshly ground black pepper
1 cup baby spinach
2 ounces feta cheese, crumbled
1 tablespoon Sun Harvest Extra Virgin Olive Oil* (for drizzling)
* Available at Smart & Final grocery & warehouse stores
Directions
Preheat oven to 500°F. If using a store-bought crust preheat oven to suggested temperature on package directions.

Make the sauce: In a medium bowl, stir to combine the tomato sauce, olive oil, and salt. Set aside.

Make the pizza: Using the back of your hands, stretch the dough into a 10 x14-inch rectangle and transfer to a large parchment lined baking sheet. If using a store-bought crust, place on parchment paper.

Spread the sauce evenly across the dough, leaving a 1-inch border. Scatter the corn, cherry tomatoes, sliced garlic, and remaining red onion slices. Arrange chicken slices over top, if desired, and season with salt and pepper. Bake for 12 to 14 minutes until the rim is golden brown and the bottom of the pizza is crisp. 

Transfer the pizza to a cutting board, top with baby spinach, remaining slices of red onion, crumbled feta, and drizzle with olive oil. Cut into 10 square slices and enjoy.

Note: Flatbread can be stored in an airtight container in the refrigerator for up to 3 days.
Nutrition
Calories: 340kcal | Carbohydrates: 51g | Protein: 14g | Fat: 11g | Saturated Fat: 6g | Cholesterol: 25mg | Sodium: 950mg | Fiber: 5g