Flatbread pizza is simple to make at home, and the toppings can be customizable to your liking. This flatbread has chicken and feta for added protein and a colorful mixture of vegetables for fiber and flavor.
Pizza is always a family favorite. It's great for parents and kids alike because each person can customize the taste to their own preferences. To add chicken, or to not add chicken, that is the question! Crafting your own delicious flatbread pizza has never been easier, and with the freedom to personalize each slice, it can be a culinary adventure.
Time-Saving Ways to Customize Homemade Flatbread Pizza
This has all the taste of a homemade pizza with time-savers like using store-bought pizza dough and frozen corn. Plus, this is a great "cook once, eat twice" recipe as the pizza is a great, kid-friendly leftover in lunch the next day!
Nutrient Benefits of Flatbread Pizza
This flatbread recipe is packed with protein-rich chicken and creamy feta. It also uses a whole-grain crust and a medley of colorful vegetables to infuse every bite with fiber, vitamins, and a vibrant palette of tastes. Each serving provides 14g of protein and 5g of fiber.
---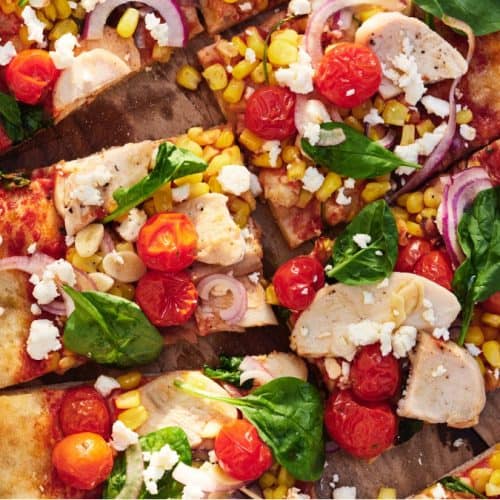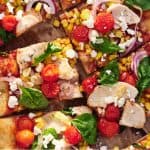 Ingredients
SAUCE
3/4 cup store-bought tomato sauce
1 tablespoon extra virgin olive oil
1/4 teaspoon sea salt
PIZZA
1 (14-ounce) package prepared 100% whole wheat pizza dough 
2 cup frozen corn
2 cups cherry tomatoes
4 garlic cloves, thinly sliced
1/4 cup red onion, thinly sliced
1 cooked chicken breast, sliced crosswise (optional)
1/4 teaspoon sea salt
1/2 teaspoon freshly ground black pepper
1 cup baby spinach
2 ounces feta cheese, crumbled
1 tablespoon extra virgin olive oil (for drizzling)
Directions
Preheat oven to 500°F. If using a store-bought crust preheat oven to suggested temperature on package directions.

Make the sauce: In a medium bowl, stir to combine the tomato sauce, olive oil, and salt. Set aside.

Make the pizza: Using the back of your hands, stretch the dough into a 10 x14-inch rectangle and transfer to a large parchment lined baking sheet. If using a store-bought crust, place on parchment paper.

Spread the sauce evenly across the dough, leaving a 1-inch border. Scatter the corn, cherry tomatoes, sliced garlic, and remaining red onion slices. Arrange chicken slices over top, if desired, and season with salt and pepper. Bake for 12 to 14 minutes until the rim is golden brown and the bottom of the pizza is crisp. 

Transfer the pizza to a cutting board, top with baby spinach, remaining slices of red onion, crumbled feta, and drizzle with olive oil. Cut into 10 square slices and enjoy.

Note: Flatbread can be stored in an airtight container in the refrigerator for up to 3 days.
Nutrition
Calories: 340kcal | Carbohydrates: 51g | Protein: 14g | Fat: 11g | Saturated Fat: 6g | Cholesterol: 25mg | Sodium: 950mg | Fiber: 5g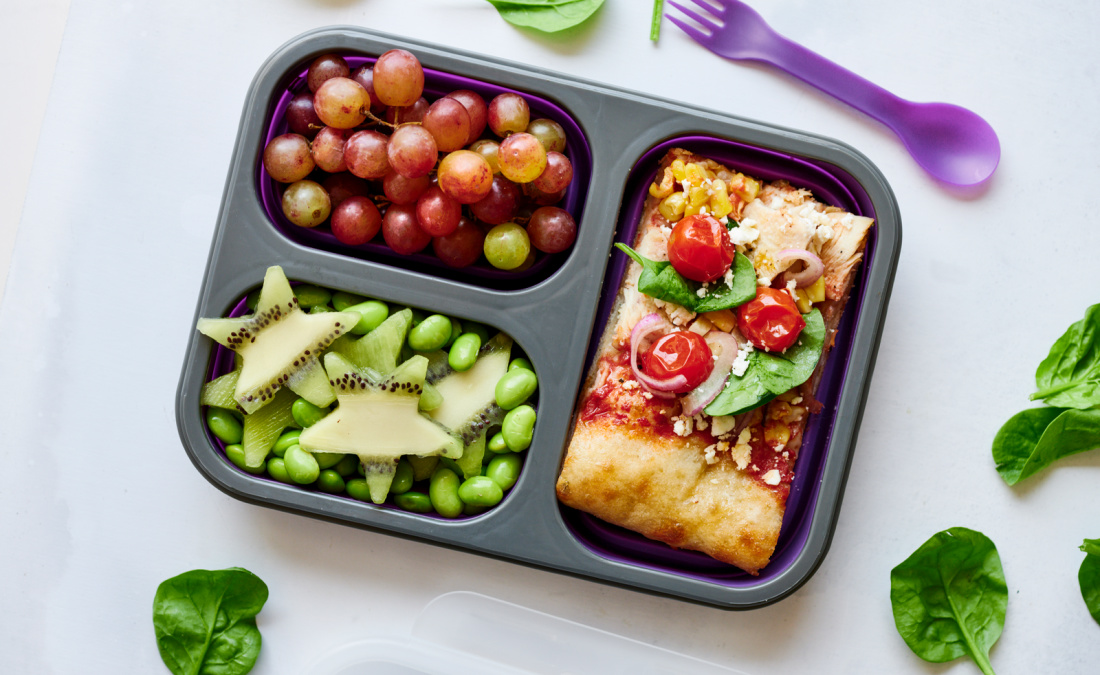 Explore More Recipes
Looking for more family-favorites to enjoy? Try these balanced, flavorful, and colorful dishes.