This vegan butternut squash mac and cheese adds all the comfort of the real thing with an added boost of nutrition and an extra vibrant color.
The creamy vegan sauce for this vegan butternut squash mac and cheese is made with a base of roasted butternut squash blended with garlic, olive oil, cashews, nutritional yeast, and seasonings. 
It is packed with good-for-you ingredients that you likely already have on hand. Add this to your recipe rotation this Fall for a newcomer you won't want to say goodbye to!
What Makes This Vegan Mac and Cheese Special
Besides the substitution of common ingredients like milk and cheese, this recipe also incorporates nutrient-packed spinach. Lightly cooked spinach is tossed in with the pasta for a boost of nutrition and color, and the dish is finished with a crispy breadcrumb topping. 
Benefits of Adding Spinach & Butternut Squash
Leafy greens and squash support a healthy immune system with their mix of vitamins, minerals, fiber, and phytonutrients. Spinach is particularly rich in Vitamins A, C and K, as well as iron and calcium.
How to Make Butternut Squash Mac & Cheese Vegan
With just a few substitutes, your mac and cheese can be vegan without sacrificing any flavor. This creamy vegan sauce is made with the following ingredients:
Olive oil
Onion
Garlic
Cashews
Cooked squash
Almond milk
Mustard
Nutritional yeast
Soy sauce
Onion powder
Salt
Pepper
This blend provides the perfect yellow/orange hue for mac and cheese, but with an abundance of natural flavors and nutrients. 
What to Eat with Mac and Cheese
While this dish can be served as your main meal on it's own, these flavors go well with many other dishes. Here are a few to pair it with!
---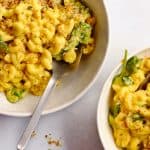 Ingredients
macaroni and "cheese"
2 tablespoons tablespoons extra-virgin olive oil
3 large garlic cloves, minced
1/2 large yellow onion, diced
1/3 cup unsalted cashews
1 1/2 cups cooked butternut squash, cubed
1 1/2 cups unsweetened almond milk
1 teaspoon yellow mustard
1/2 cup nutritional yeast 
5 teaspoons low-sodium soy sauce or tamari
2 teaspoons onion powder
1 teaspoon sea salt
1 teaspoon freshly ground black pepper
1 pound dry elbow macaroni
6 cups fresh spinach (or frozen spinach, thawed)
for topping
2 tablespoons extra-virgin olive oil
1 cup panko bread crumbs
1/4 teaspoon sea salt
1/4 teaspoon freshly ground black pepper
Directions
Bring a large pot of salted water to a boil over high heat.

Heat a skillet over medium heat, once hot; add the olive oil, onion, and garlic and cook, stirring, until the onions are soft and tender, about 8 minutes.

Remove from heat and transfer to a high-powered blender. To the blender, add the cashews, cooked squash, almond milk, mustard, nutritional yeast, soy sauce, onion powder, salt and pepper. Blend the squash mixture on high until very creamy and smooth, about 2 minutes, scraping the sides as needed. Set aside. 

Make the panko topping: Return to the same skillet and add the olive oil over medium-high heat. Stir in the panko crumbs, salt, and pepper, and toast until golden brown, about 5 minutes. Set aside.

Cook the pasta according to package instructions until al dente. (Reserve 1½ to 2 cups pasta cooking water.) Drain the pasta and set aside.

To the same pot used to cook the pasta, stir in the creamy butternut squash sauce and cook until the sauce is hot, about 5 to 6 minutes. Add the cooked pasta with 1 cup of the reserved pasta water and mix with sauce. Fold in the spinach and adjust for seasonings. (Hint: The sauce and pasta will thicken significantly as it sits; if desired, stir in more of the remaining reserved pasta water to loosen.)

Top with the toasted breadcrumbs and serve immediately.
Nutrition
Calories: 420kcal | Carbohydrates: 67g | Protein: 15g | Fat: 11g | Saturated Fat: 1.5g | Cholesterol: 0mg | Sodium: 530mg | Fiber: 6g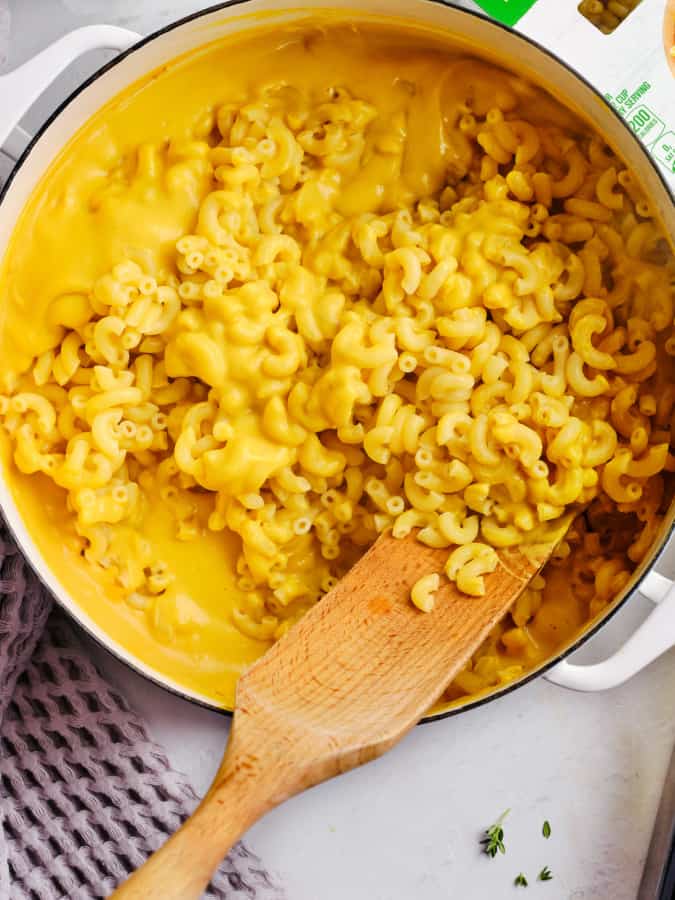 More Fall Recipes You'll Love