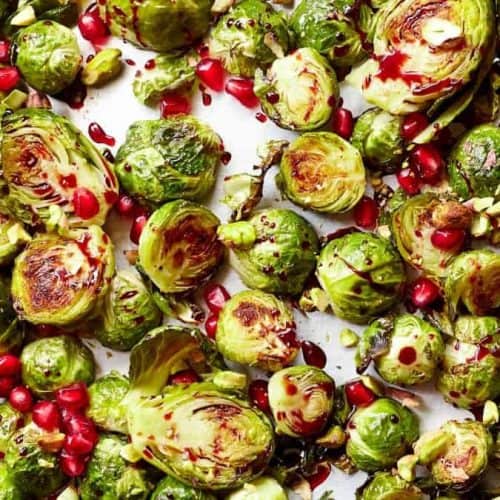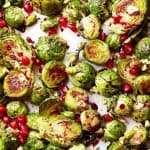 Ingredients
Pomegranate Glaze
3/4 cup 100% pomegranate juice
2 tablespoons lime juice
2 tablespoons maple syrup
Brussel Sprouts
1 1/2 pounds Brussel sprouts
1/4 cup extra-virgin olive oil
1 teaspoon kosher salt
1/2 teaspoon ground black pepper
3/4 cup pomegranate arils
1/4 cup pistachios, removed from shells and chopped
Directions
Make the glaze: Combine the pomegranate juice, lime juice, and maple syrup in a small saucepan and bring to a simmer. Reduce the mixture by half over medium heat until a very thick syrup forms, about 15 minutes. The syrup should coat the back of a spoon. Cool to room temperature and set aside. 

Preheat the oven to 400°F.

Trim bottom of brussels sprouts, and slice each in half top to bottom. Mix them in a bowl with the olive oil, salt, and pepper. Pour them on a sheet pan and roast for 20 to 25 minutes, until crisp on the outside and tender on the inside. Shake the pan from time to time to brown the sprouts evenly.

Remove from oven and drizzle immediately with pomegranate glaze. Top with pomegranate arils and chopped pistachios. Serve warm.

Note: For an added kick, top with sweet chili flavored pistachios.
Nutrition
Calories: 195kcal | Carbohydrates: 22g | Protein: 5g | Fat: 12g | Saturated Fat: 1.5g | Cholesterol: 0mg | Sodium: 410mg | Fiber: 6g