Brussels sprouts with pomegranate arils and pistachios are a combination you don't want to miss! The pomegranate glaze also provides the perfect touch of sweetness.
Nothing says it's time for the holidays like a fun and flavorful red and green dish. This brussels sprouts topped with pistachios recipe is a healthy spin on the classic brussels sprouts topped with bacon recipe, providing a similar savory crunch, but with a plant-based protein source that's more eco-friendly!
How to Cut Brussels Sprouts
Did you know that brussels sprouts grow on a stalk? If you're able to find them still attached to their stalk at the store, once you're ready to cook them, start by cutting each one where they meet the main stalk. It may be easiest to trim the brussels sprouts with kitchen scissors or a sharp knife.
Brussels sprouts also often come removed from the stalk in a bag or in the bulk vegetable section. Cut them in half by cutting through the part where they were originally attached to the stalk.
How Long Do Brussels Sprouts Last?
Whole, uncooked brussels sprouts can last about 1-2 weeks in the fridge. You will start to see black spots, brown edges on the leaves, or notice an off smell as they go bad.
A cooked side dish like this recipe can last about 3-4 days in the fridge in an air-tight container. Though, it'll likely be such a hit that you won't even have leftovers to worry about storing!
Roasted Brussels Sprouts and Pomegranate Arils Recipe Nutrition
Roasted brussels sprouts offer a lot of nutrients such as vitamin K, vitamin C, vitamin A, folate, and manganese. The pistachios not only add an extra hint of holiday green, they also provide healthy fats, fiber, plant-based protein, and antioxidants. Similar to brussels sprouts, pomegranate arils contain vitamin C and vitamin K for immune support and bone health.
The combination of roasted brussels sprouts with pistachios and pomegranate offers a perfect balance of savory and sweet. It's a holiday side dish you'll want to make again and again!
---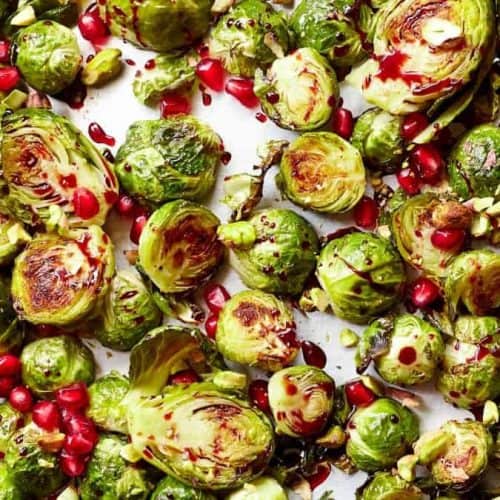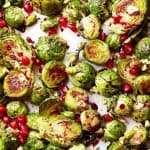 Ingredients
Pomegranate Glaze
3/4 cup 100% pomegranate juice
2 tablespoons lime juice
2 tablespoons maple syrup
Brussel Sprouts
1 1/2 pounds Brussel sprouts
1/4 cup extra-virgin olive oil
1 teaspoon kosher salt
1/2 teaspoon ground black pepper
3/4 cup pomegranate arils
1/4 cup pistachios, removed from shells and chopped
Directions
Make the glaze: Combine the pomegranate juice, lime juice, and maple syrup in a small saucepan and bring to a simmer. Reduce the mixture by half over medium heat until a very thick syrup forms, about 15 minutes. The syrup should coat the back of a spoon. Cool to room temperature and set aside. 

Preheat the oven to 400°F.

Trim bottom of brussels sprouts, and slice each in half top to bottom. Mix them in a bowl with the olive oil, salt, and pepper. Pour them on a sheet pan and roast for 20 to 25 minutes, until crisp on the outside and tender on the inside. Shake the pan from time to time to brown the sprouts evenly.

Remove from oven and drizzle immediately with pomegranate glaze. Top with pomegranate arils and chopped pistachios. Serve warm.

Note: For an added kick, top with sweet chili flavored pistachios.
Nutrition
Calories: 195kcal | Carbohydrates: 22g | Protein: 5g | Fat: 12g | Saturated Fat: 1.5g | Cholesterol: 0mg | Sodium: 410mg | Fiber: 6g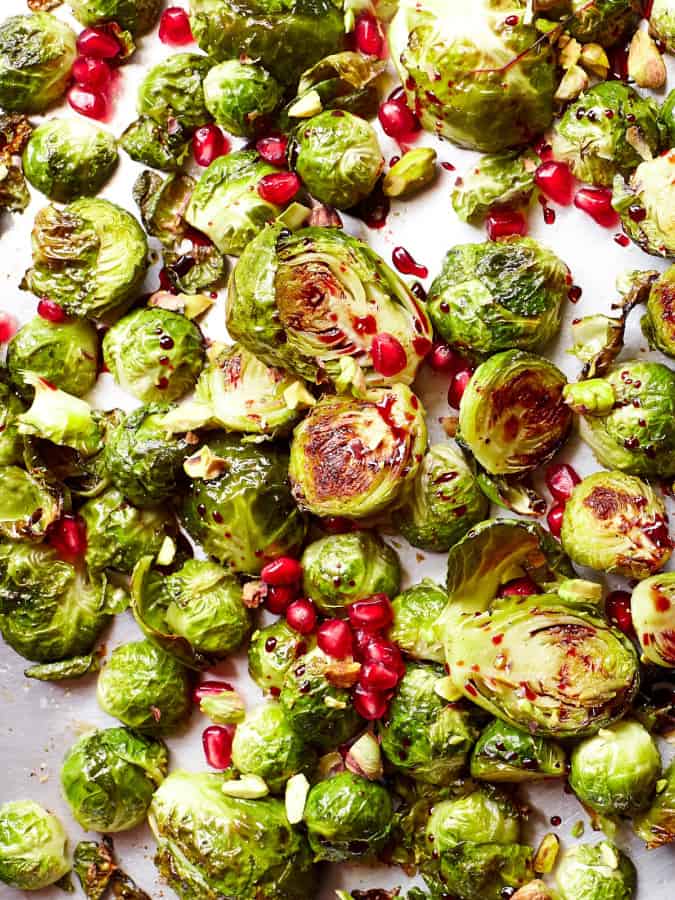 Explore Other Festive Recipes
If you're interested in other festive and colorful holiday recipes, explore these other delicious options: