This harvest salad transforms the traditional Thanksgiving roasted Brussels sprouts and bacon side dish into a colorful fall salad.
The salad includes harvest fruits and vegetables including shaved Brussels sprouts, tart green apples, and cubed and baked sweet potatoes. It's topped with walnuts and shaved Parmesan. The salad is then tossed in a seasonal dressing made from tahini, Dijon mustard, and a touch of maple syrup.
---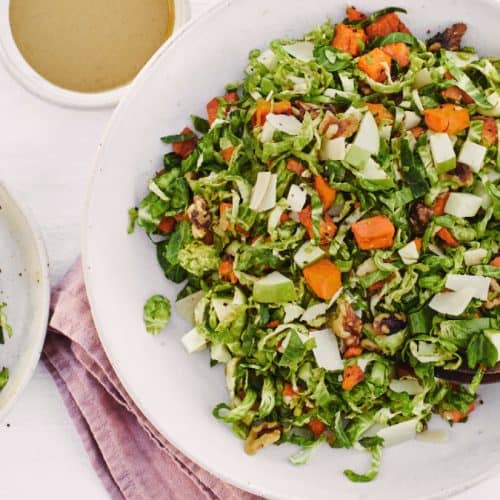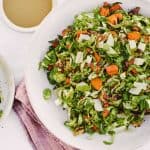 This shaved brussels sprouts harvest salad is full of flavor, colorful fruits and vegetables, and healthy fats.
Prep Time 20 minutes
Total Time 20 minutes
Ingredients
DRESSING
1/4 cup tahini
1 tablespoon Dijon mustard
2 tablespoons pure maple syrups
1 teaspoon garlic powder
Water to thin, as needed
SALAD
1 pound fresh Brussels sprouts
1 medium green apple, cored and cubed
2 medium sweet potatoes, baked and cubed
1/4 cup walnut halves, toasted
1/2 cup shaved Parmesan cheese
Directions
Make the dressing: Combine all dressing ingredients in a small bowl and whisk to combine. Adjust the amount of water until the desired consistency is reached. Set aside.

Make the salad: To shred the Brussels sprouts, trim the ends and remove tough outer leaves. Then, slice lengthwise into several small circles and gently separate the leaves. (Alternatively, you can use a food processor or mandoline slicer). Add shaved Brussels sprouts to a large serving bowl along with the apple and sweet potatoes. Top with toasted walnuts and Parmesan. Add dressing just before serving.

Notes: Dressing will last well in an airtight container in the fridge for up to 4 days. Dressing will thicken when left in the fridge. Add additional water to achieve desired consistency before serving.
Nutrition
Calories: 210kcal | Carbohydrates: 27g | Protein: 7g | Fat: 10g | Saturated Fat: 2g | Sodium: 180mg | Fiber: 6g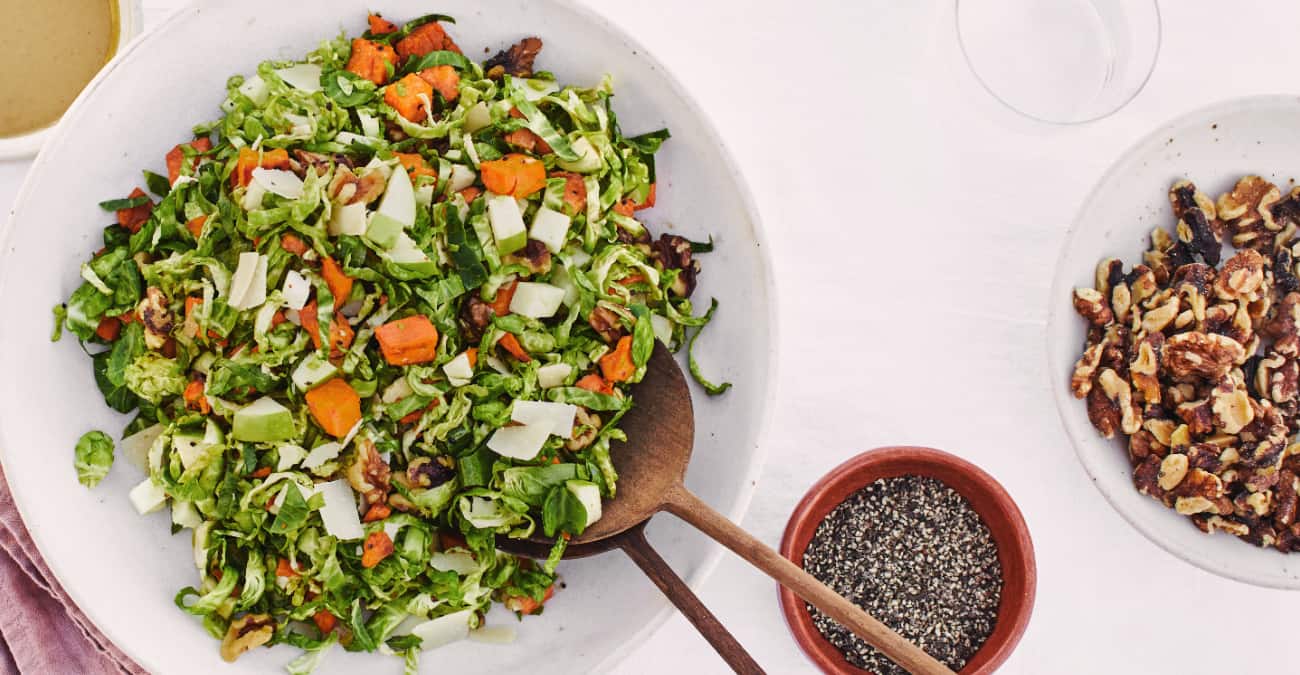 For more fall and winter salad ideas with seasonal ingredients, check out some of these favorites:
Orange Quinoa Salad with Pomegranate and Tangy Turmeric Dressing
Winter Tabbouleh Salad with Buckwheat, Roasted Carrots, and Orange Yogurt Sauce
Red Kuri Squash and Quinoa Salad with Maple Dijon Dressing