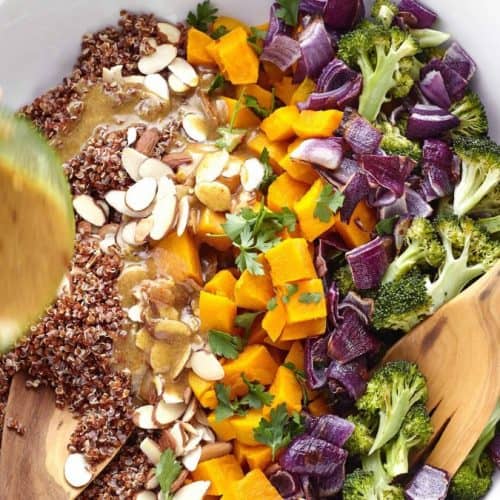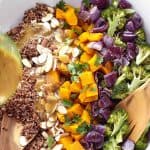 Ingredients
Salad
3 cups red kuri squash, cut into 1-inch cubes (may substitute with other squash such as butternut, acorn, etc.)
2 heads broccoli, cut into florets
1 red onion, peeled, and cut into 1-inch pieces
½ teaspoon kosher salt
1 cup dry red quinoa, rinsed and drained
2 ½ cups low sodium vegetable broth
½ cup sliced almonds
½ bunch flat leaf parsley, roughly chopped
Maple Dijon Dressing
3 tablespoons extra virgin olive oil
2 tablespoons lemon juice
2 tablespoons Dijon mustard
2 tablespoons maple syrup
½ teaspoon kosher salt
¼ teaspoon chili pepper flakes (optional)
¼ teaspoon ground cinnamon (optional)
Directions
Preheat the oven to 400°F and line two sheet pans with parchment paper.

Toss together the squash and onions on one pan and the broccoli on the other. Drizzle the vegetables with the olive oil and season with salt. Roast for 30 minutes, until the squash and onions are tender and the broccoli is bright green.

Meanwhile cook the quinoa: in a saucepot, combine the quinoa and vegetable stock and bring to a boil. Lower the heat to a simmer until cooked through but still al dente, about 20 minutes. Drain and set aside to cool slightly.

To make the dressing: whisk to combine the olive oil, lemon juice, mustard, maple syrup, salt, chili flakes, and cinnamon.

To serve, assemble the quinoa and vegetables in layers across a large serving bowl. Add the sliced almonds and herbs to top and just before serving pour over the maple Dijon vinaigrette. Toss until evenly distributed, transfer to plates, and enjoy warm or cold.
Nutrition
Calories: 280kcal | Carbohydrates: 36g | Protein: 10g | Fat: 13g | Saturated Fat: 2.5g | Cholesterol: 0mg | Sodium: 430mg | Fiber: 7g