Salads aren't just for summer! This red kuri squash and quinoa salad is loaded with plant-based protein and fiber, and tossed with a fall-inspired maple dijon dressing.
Whether it's the heat of summer, the crisp of fall, or the frigid temps of winter, it can always be a good time for a bright, colorful, and flavorful salad! This quinoa salad with red kuri squash makes the most of the hearty squashes of the fall and winter, with a sweetly spiced maple dijon dressing that packs even more fall flavor into every bite.
Red Kuri Squash Nutrition
The word "kuri" is a Japanese word that translates into "chestnut", which is fitting for this nutty-flavored squash. Its bright orange color is an appropriate attribute since it is a relative to the pumpkin and other gourds. Much like other winter and hearty squashes, red kuri squash is a natural source of vitamins A & C, and dietary fiber. Generally, 1 cup of cooked red kuri squash contains about 40 calories.
How to Bake Red Kuri Squash
Baking this vegetable brings out its natural sweetness and nutty flavor. You'll want to peel your squash with a sturdy vegetable peeler as the skin can be tough. You can then slice your squash in half, scoop out the seeds, and cut into cubes before tossing with olive oil, salt, and pepper on a jelly roll pan, or on a baking sheet with raised edges. Bake in a 400°F oven for about 30 minutes, or until tender.
Alternatively, you can simply slice your squash in half, scoop out the seeds, and drizzle each cut side with olive oil. Then sprinkle with salt and pepper before roasting on a sheet pan cut side down in a 400°F oven for 20-30 minutes, or until tender. Let the squash rest on the baking sheet until cool to touch before scooping out of the skin.
---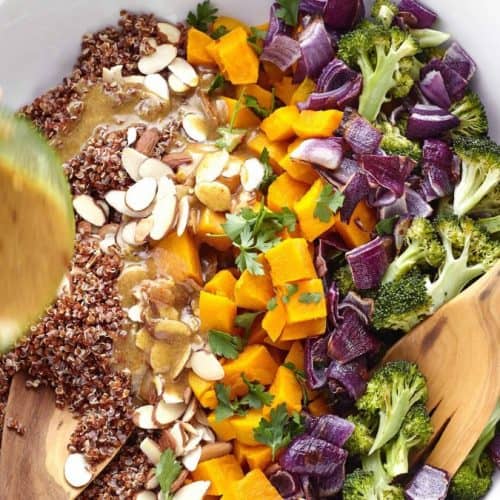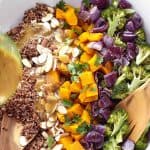 Ingredients
Salad
3 cups red kuri squash, peeled and cut into 1-inch cubes (may substitute with other squash such as butternut, acorn, etc.)
2 heads broccoli, cut into florets
1 red onion, peeled, and cut into 1-inch pieces
½ teaspoon kosher salt
1 cup dry red quinoa, rinsed and drained
2 ½ cups low sodium vegetable broth
½ cup sliced almonds
½ bunch flat leaf parsley, roughly chopped
Maple Dijon Dressing
3 tablespoons extra virgin olive oil
2 tablespoons lemon juice
2 tablespoons Dijon mustard
2 tablespoons maple syrup
½ teaspoon kosher salt
¼ teaspoon chili pepper flakes (optional)
¼ teaspoon ground cinnamon (optional)
Directions
Preheat the oven to 400°F and line two sheet pans with parchment paper.

Toss together the squash and onions on one pan and the broccoli on the other. Drizzle the vegetables with the olive oil and season with salt. Roast for 30 minutes, until the squash and onions are tender and the broccoli is bright green.

Meanwhile cook the quinoa: in a saucepot, combine the quinoa and vegetable stock and bring to a boil. Lower the heat to a simmer until cooked through but still al dente, about 20 minutes. Drain and set aside to cool slightly.

To make the dressing: whisk to combine the olive oil, lemon juice, mustard, maple syrup, salt, chili flakes, and cinnamon.

To serve, assemble the quinoa and vegetables in layers across a large serving bowl. Add the sliced almonds and herbs to top and just before serving pour over the maple Dijon vinaigrette. Toss until evenly distributed, transfer to plates, and enjoy warm or cold.
Nutrition
Calories: 280kcal | Carbohydrates: 36g | Protein: 10g | Fat: 13g | Saturated Fat: 2.5g | Cholesterol: 0mg | Sodium: 430mg | Fiber: 7g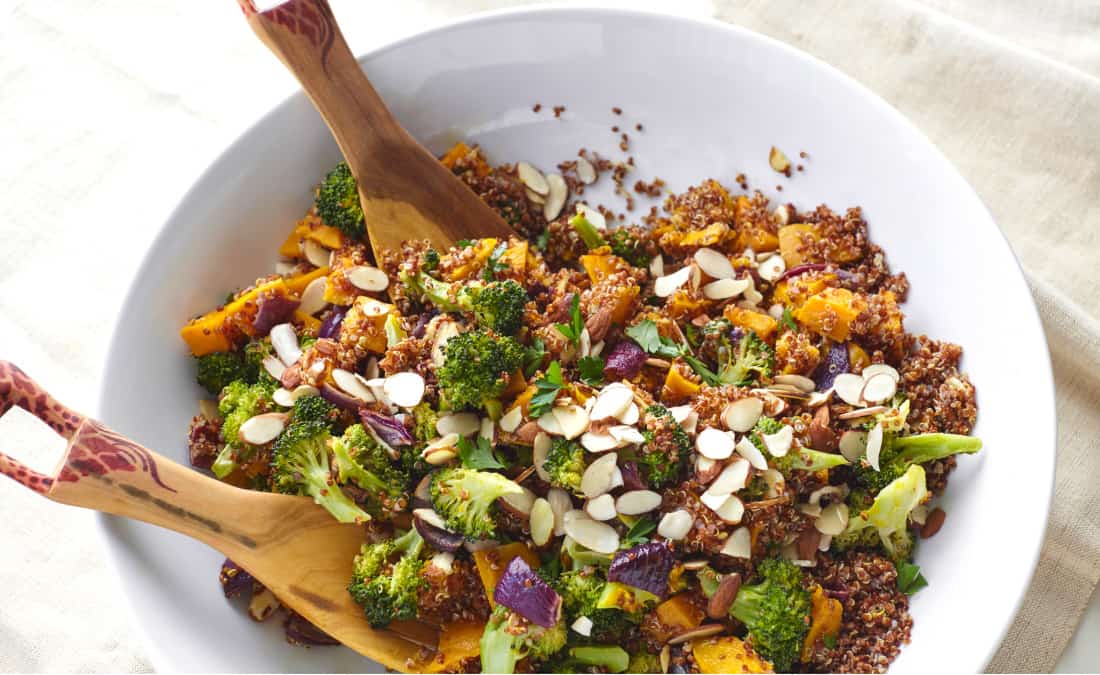 Different varieties of squash and root vegetables can be great additions to dishes for the fiber and high quality carbohydrates. Try some of these easy ways to incorporate them in your meals: