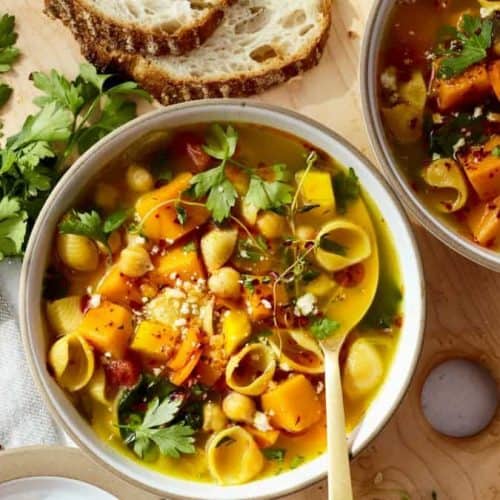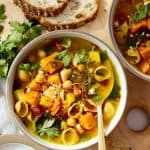 Ingredients
Soup
2 tablespoons extra-virgin olive oil
1 large yellow onion, chopped
6 large garlic cloves, minced
2 bay leaves
1-inch piece fresh turmeric, peeled
6 sprigs fresh thyme
1 teaspoon dried oregano
½ teaspoon ground coriander
½ teaspoon cayenne pepper
1 teaspoon sea salt
1 teaspoon ground black pepper
2 medium carrots, peeled, cut into ¼-inch thick ovals
3 cups butternut squash, peeled, cut into 1-inch cubes
1 small yellow beet, peeled, cut into ¼-inch cubes
1 cup canned chickpeas, drained
5 to 6 cups purified water
1 ½ cups Tropicana Pure Premium orange juice
18 ounce jarred whole peeled tomatoes, drained, cut into medium pieces
1 bunch golden or rainbow chard, stemmed and chopped
8 ounce small macaroni or shells, cooked until al dente
For Serving
A few splashes of Tropicana Pure Premium orange juice
Chives, parsley, or cilantro
3 ounces shaved Parmesan cheese (optional)
2 tablespoons extra-virgin olive oil
Red pepper flakes, such as Aleppo pepper
Directions
In a large soup pot, heat the oil over medium-high heat. Add the onion and garlic, and cook, stirring occasionally, until softened slightly, 4-5 minutes. Add the bay leaves, turmeric, thyme, and seasoning and cook another 3 minutes, and then add the carrots, butternut squash, beets, chickpeas, water, and orange juice to cover the vegetables.

Bring to a boil, and then reduce the heat to a simmer and cook, partially covered, until the vegetables are tender but still holding their shape, about 20 minutes.

Stir in the tomatoes, chopped chard, and a few more splashes of orange juice. Taste to adjust for seasoning and discard the thyme sprigs before serving.

Divide the pasta amongst bowls, ladle in soup, and serve with chopped fresh herbs. Top with shaved Parmesan and red pepper flakes, drizzle lightly with olive oil, and serve with crusty bread with if desired.

Note: The soup and pasta can be stored separately, in airtight containers, refrigerated overnight, for up to 4 days.
Nutrition
Calories: 300kcal | Carbohydrates: 39g | Protein: 12g | Fat: 12g | Saturated Fat: 3g | Cholesterol: 10mg | Sodium: 700mg | Fiber: 9g