Give your veggie soup a color and flavor boost with this vegetable minestrone soup recipe that you'll want to make again and again.
While this vegetable minestrone soup is an orange goddess soup with all of the orange produce, it can also hold up to the name over-the-rainbow minestrone with the colorful vegetables, herbs, and spices.
Vegetables in Minestrone Soup
This minestrone soup is packed with nutritious vegetables, including onions, carrots, garlic, squash, yellow beets, tomatoes, and rainbow chard. No wonder people call this soup over the rainbow minestrone! You can find nearly every color of the rainbow in this dish.
What's Minestrone Soup Made Of?
The word "minestrone" actually means "thick vegetable soup." There are many varieties, but most typically include vegetables, beans, and pasta as the base. Some minestrone soups also contain meat. This is a version suitable for both vegans and vegetarians.
What is the Difference Between Minestrone and Vegetable Soup?
While the two can be very similar in flavor, minestrone soup has a bit more to it with the addition of pasta and a legume. In this recipe, chickpeas and pasta shells are added.
Health Benefits of Minestrone Soup
The mix of orange foods and spices in this soup provide carotenoids, powerful plant compounds that can help prevent disease. The vegetables, chickpeas, and pasta also contain fiber which is valuable for gut health. To top it off, the parmesan, pasta, and chickpeas provide protein to help with satiety.
How to Make Minestrone Soup
Start by sautéing the onion and garlic, then add the herbs and spices. After a few minutes, add in your veggies, chickpeas, and liquids and bring to a boil – excluding the tomatoes, chopped chard, and a few splashes of orange juice. Then reduce to a simmer until the vegetables are tender.
Stir in the remaining ingredients. Divide among bowls and add in the cooked pasta. Then top with chopped fresh herbs, shaved Parmesan, and red pepper flakes, and drizzle with olive oil. Serve with crusty bread, if desired.
---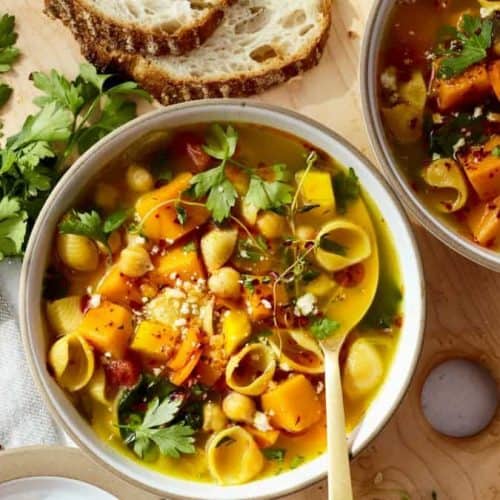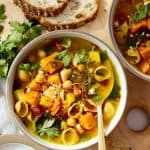 Ingredients
Soup
2 tablespoons extra-virgin olive oil
1 large yellow onion, chopped
6 large garlic cloves, minced
2 bay leaves
1-inch piece fresh turmeric, peeled
6 sprigs fresh thyme
1 teaspoon dried oregano
½ teaspoon ground coriander
½ teaspoon cayenne pepper
1 teaspoon sea salt
1 teaspoon ground black pepper
2 medium carrots, peeled, cut into ¼-inch thick ovals
3 cups butternut squash, peeled, cut into 1-inch cubes
1 small yellow beet, peeled, cut into ¼-inch cubes
1 cup canned chickpeas, drained
5 to 6 cups purified water
1 ½ cups 100% orange juice (or freshly squeezed)
18 ounce jarred whole peeled tomatoes, drained, cut into medium pieces
1 bunch golden or rainbow chard, stemmed and chopped
8 ounce small macaroni or shells, cooked until al dente
For Serving
A few splashes of 100% orange juice (or freshly squeezed)
Chives, parsley, or cilantro
3 ounces shaved Parmesan cheese (optional)
2 tablespoons extra-virgin olive oil
Red pepper flakes, such as Aleppo pepper
Directions
In a large soup pot, heat the oil over medium-high heat. Add the onion and garlic, and cook, stirring occasionally, until softened slightly, 4-5 minutes. Add the bay leaves, turmeric, thyme, and seasoning and cook another 3 minutes, and then add the carrots, butternut squash, beets, chickpeas, water, and orange juice to cover the vegetables.

Bring to a boil, and then reduce the heat to a simmer and cook, partially covered, until the vegetables are tender but still holding their shape, about 20 minutes.

Stir in the tomatoes, chopped chard, and a few more splashes of orange juice. Taste to adjust for seasoning and discard the thyme sprigs before serving.

Divide the pasta amongst bowls, ladle in soup, and serve with chopped fresh herbs. Top with shaved Parmesan and red pepper flakes, drizzle lightly with olive oil, and serve with crusty bread with if desired.

Note: The soup and pasta can be stored separately, in airtight containers, refrigerated overnight, for up to 4 days.
Nutrition
Calories: 300kcal | Carbohydrates: 39g | Protein: 12g | Fat: 12g | Saturated Fat: 3g | Cholesterol: 10mg | Sodium: 700mg | Fiber: 9g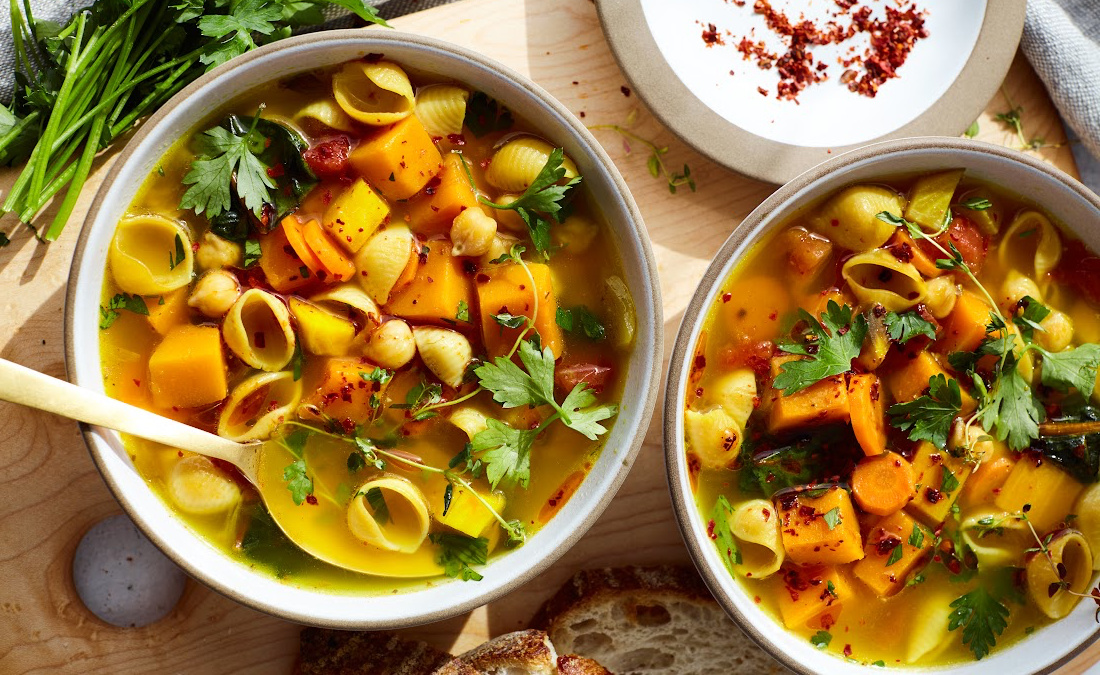 More Delicious Soup Recipes