This turmeric chicken noodle soup contains added turmeric and bone broth, which both naturally support a healthy immune system.
Chicken noodle soup has long been associated with cold and flu season. This version has added turmeric for a natural way to bolster the immune system, along with the extra protein from the bone broth. The compounds in turmeric responsible for these immune benefits, curcuminoids, also have powerful anti-inflammatory effects that can help prevent and treat illnesses. Bone broth is a great choice for adding a boost of protein, flavor and collagen to your favorite grains, soups, stews, and more. Swap regular broth for bone broth in any recipe for some extra immune support.
---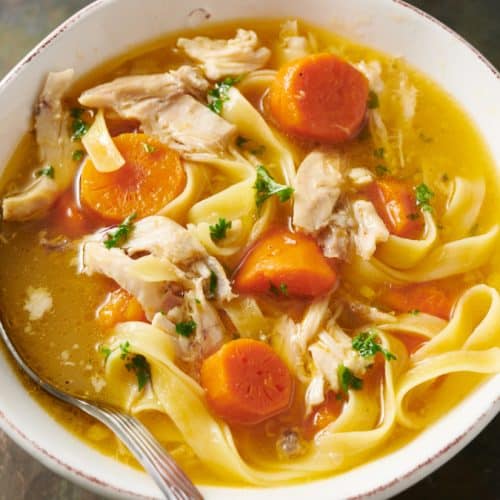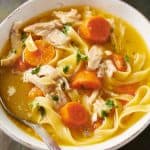 Prep Time 10 minutes
Cook Time 30 minutes
Total Time 40 minutes
Ingredients
1 tablespoon olive oil
1 small yellow onion, chopped (about 1 cup)
3 stalks celery, chopped
3 medium carrots, chopped
1/2 teaspoon ground black pepper
1/2 teaspoon sea salt (or to taste)
1/2 teaspoon dried thyme (or 1 1/2 teaspoons fresh)
2 teaspoons turmeric
2 cartons Pacific Foods Organic Chicken Broth (8 cups)
2 cups water
8 ounces wide egg noodles
1/4 cup fresh parsley, chopped (for garnish)
Directions
Add olive oil to a large pot over medium heat. Stir in onion, celery, and carrots and gently saute for 7 to 10 minutes, or until softened.

Add in black pepper, sea salt, thyme, turmeric, bone broth, water, chicken, and egg noodles. Bring mixture to a boil, reduce heat to a simmer, and cook for 20 minutes.

Divide soup into bowls and garnish with fresh parsley. Enjoy!

Recipe courtesy of Pacific Foods.
Nutrition
Calories: 350kcal | Carbohydrates: 50g | Protein: 27g | Fat: 4g | Saturated Fat: 0.5g | Cholesterol: 70mg | Sodium: 940mg | Fiber: 4g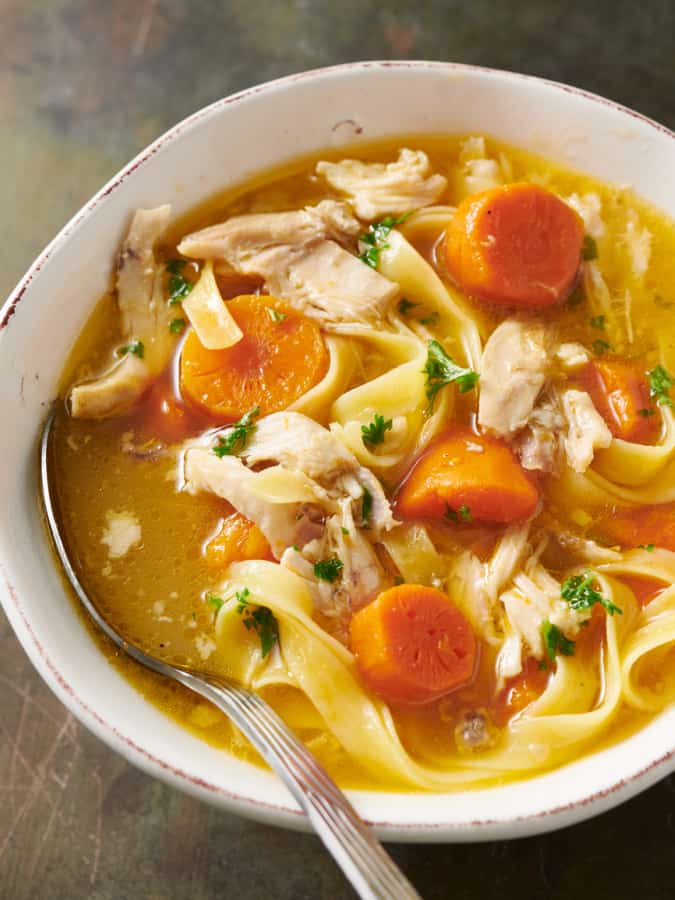 Looking for other options like this turmeric chicken noodle soup that provide immune support? Try these other recipes:
Orange Goddess Vegetable Minestrone