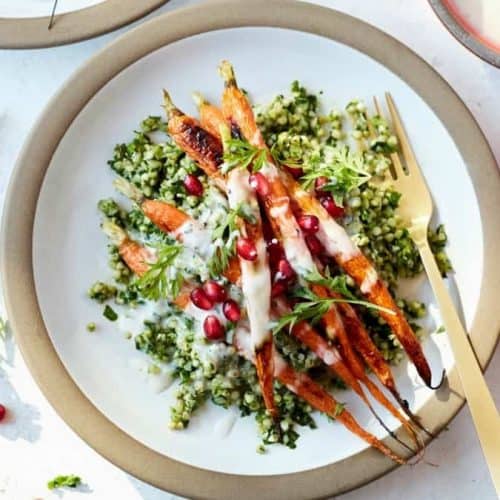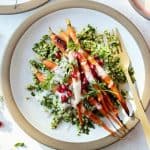 Ingredients
Orange Yogurt Sauce
1 ½ cups whole milk Greek Yogurt
3 tablespoons Tropicana Pure Premium orange juice
2 teaspoons red wine vinegar
1 clove garlic, minced
¼ teaspoon sea salt
¼ teaspoon ground black pepper
Carrots
2 bunches carrots, stems reserved for garnish
1 tablespoon extra-virgin olive oil
2 tablespoons Tropicana Pure Premium orange juice
½ teaspoon sea salt
½ teaspoon black pepper
Tabbouleh
2 cups dry buckwheat groats
6 cups low-sodium vegetable broth
2 bay leaves
1 large shallot, minced
2 tablespoons extra-virgin olive oil
2 tablespoons Tropicana Pure Premium orange juice
1 tablespoon freshly squeezed lemon juice
2 cups baby spinach, finely chopped
1 bunch fresh cilantro, finely chopped
1 bunch fresh chives, finely chopped
¼ cup pomegranate arils
Directions
Make the Yogurt Sauce: Combine all ingredients for sauce in a small bowl and whisk to combine. Set aside and keep chilled until ready to serve.

Roast the Carrots: Preheat the oven to 400°F. Rinse the carrots and remove the stems. Reserve some of the stems for garnish. Add the carrots to a baking tray and pour over the orange juice and olive oil. Season with salt and pepper, and roast for 20 minutes until lightly caramelized and soft through the center. Set aside.

Cook the Buckwheat and Make the Tabbouleh: Place the buckwheat in a large saucepan with the vegetable broth and bay leaves over medium high heat. Bring to a boil and drop down to a simmer for 15 to 20 minutes and cook until tender. There might be some cooking liquid leftover. Drain, discard the bay leaves, and transfer to a large mixing bowl.

Add the shallot, olive oil, orange juice, lemon juice, chopped spinach, cilantro, and chives to the large mixing bowl with the buckwheat. Toss together to coat. Distribute the Tabbouleh on a serving platter and top with roasted carrots. Generously drizzle the orange yogurt sauce over the carrots, garnish with carrot tops, and pomegranate, and serve immediately.
Nutrition
Calories: 270kcal | Carbohydrates: 44g | Protein: 10g | Fat: 8g | Saturated Fat: 1.5g | Cholesterol: 0mg | Sodium: 400mg | Fiber: 8g