What better way to elevate a childhood favorite food than with these baked crispy pistachio and coconut chicken tenders? 
Chicken tenders are often looked at as an unhealthy food option due to the common processing method – deep frying the chicken with a white flour-based crust. However, there are other ways to make this dish crispy with the texture you love, while also giving it a nutrient boost. These pistachio coconut chicken tenders will change the way you see chicken tenders!
Ingredients for Baked Chicken Tenders
These homemade chicken tenders are baked in a mixture of pistachios, parmesan cheese, coconut flour, fresh herbs, and eggs. Plus, they are naturally gluten-free for anyone with celiac disease or a gluten intolerance, sensitivity, or allergy. The mixture of ingredients provides the crunchy texture, delicious flavor, and boost of nutrition.
Nutritional Benefits of Pistachios
Pistachios give these baked chicken tenders an unexpected crunch. Plus, they are one of the highest protein snack nuts. They provide six grams of plant-based protein and three grams of fiber per serving. Since about 90% of the fats found in pistachios are unsaturated, they provide a trio of nutrients that may help keep you fuller longer.
Pistachios are a complete (plant) protein. This means that they provide all nine essential amino acids. They're also a great addition to meals and snacks as a plant-protein choice because they're naturally cholesterol-free and add fiber to your day.
Fried vs. Baked Chicken Tenders
Fried chicken tenders are often breaded with white flour or other refined grains, and then deep fried in a basket in oil. This can increase the saturated fat of the dish, as well as hike up the calories.
You can replicate the crispiness of fried chicken tenders with the right ingredients and the right temperature in the oven.
Making Crispy Chicken Tenders
One of the key elements with these pistachio coconut chicken tenders is making sure that you pulse the ingredients in a food processor to reach the desired consistency. Then, you'll want to follow a basic breading technique with the coconut flour, eggs, and pistachio mixture.
---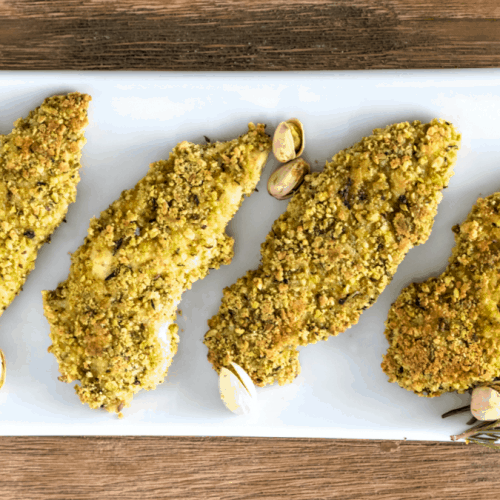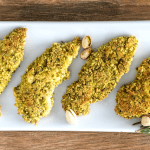 Prep Time 10 minutes
Cook Time 25 minutes
Total Time 35 minutes
Ingredients
1 pound chicken tenders
1 cup pistachios, no shells
1/2 cup grated parmesan cheese
2 tablespoons chopped fresh thyme leaves
1 tablespoon chopped fresh rosemary leaves
1/2 cup coconut flour
1/4 teaspoon kosher salt
1/4 teaspoon freshly ground black pepper
2 large eggs
Directions
Preheat the oven to 350°F.

In a blender, pulse the pistachios a few times, until ground into a coarse powder. Add the parmesan cheese, thyme, and rosemary and pulse again until it is finely chopped. Transfer the mixture to a plate.

In a bowl, mix the coconut flour, salt, and pepper. In another bowl, beat the eggs.

Dip the chicken tenders in the flour and roll to coat. Dip the chicken in the eggs, shaking off any excess. Roll in the pistachio-parmesan mixture and place on a baking sheet. Repeat with all of the chicken.

Bake for 20 to 25 minutes, until browned and cooked through.

Recipe and image courtesy of Wonderful Pistachios.
Nutrition
Calories: 462kcal | Carbohydrates: 20g | Protein: 40g | Fat: 20g | Saturated Fat: 8g | Cholesterol: 167mg | Sodium: 343mg | Fiber: 10g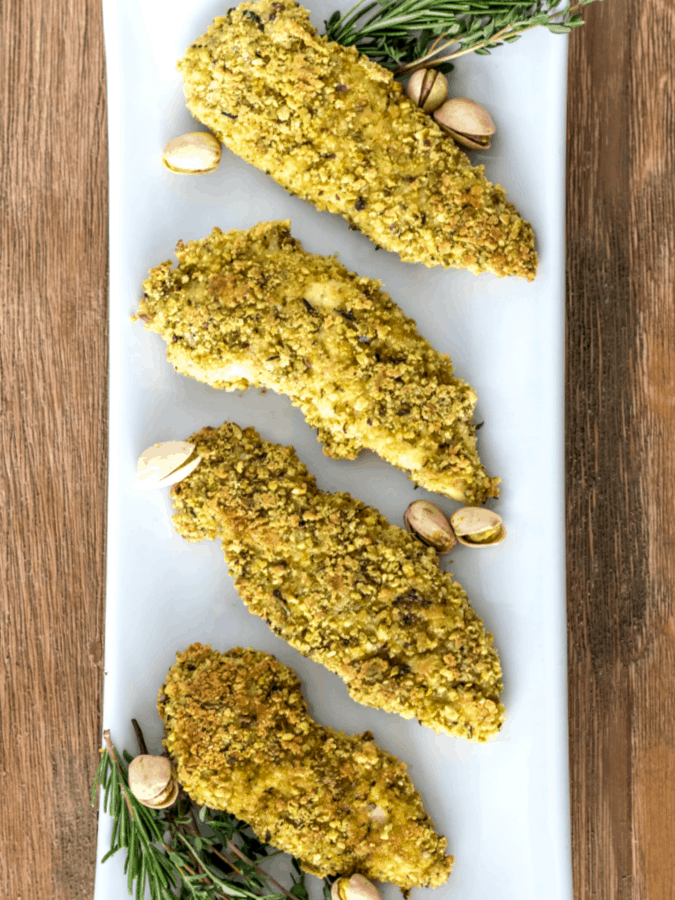 Looking for other recipes that bring out feelings of nostalgia of childhood or are a healthier version of "comfort food?" Try any of the following: