You're going to love this fresh summer mocktail avocado and mango margarita recipe that adds some excitement to any gathering.
If you're looking for a simple and refreshing mocktail for the warm days ahead, this avocado mango margarita does not disappoint. It has only 100 calories and offers 3 grams of gut-healthy fiber per serving. Plus, it is both kid and adult friendly, and you can easily offer it to any guests that you are entertaining.
Homemade Margaritas vs. Margarita Mix
Typical margaritas are full of added sugar, added color, and ingredients you can't name from their pre made mixes. Plus, it's nearly impossible to know what's actually in them. The mango in these avocado mango margaritas provide a natural sweetness that will make you question whether or not you ever want premixed margaritas ever again.
One of the best elements of making homemade margaritas (other than the amazing taste) is that you can control the ingredients you put in, and how sweet your drink is! To cut back on the sweetness, you can always add a slightly larger serving of sparkling water and lime juice.
How to Make Avocado Mango Margaritas
Follow these simple steps to make your margarita:
Blend together avocado, mango, lime juice, agave nectar, and sparkling water.
Add some ice cubes to the blender for less than a minute.
Serve with ice and your favorite garnishes.
---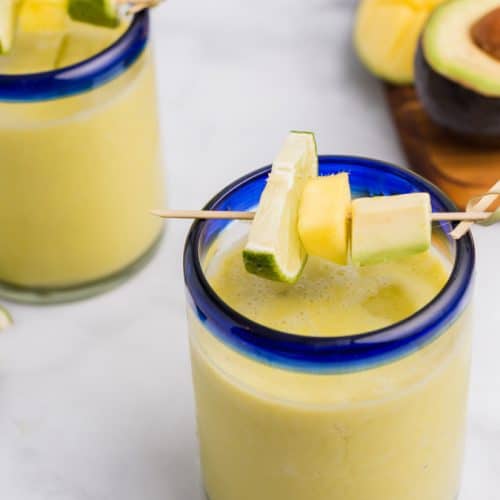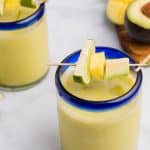 Prep Time 5 minutes
Total Time 10 minutes
Ingredients
1 ripe fresh avocado, halved, pitted and peeled
1 cup fresh mango, peeled, cubes
2 cups sparkling water, lime flavor or club soda
1/4 cup fresh-squeezed lime juice (about 2 limes)
2 teaspoons agave nectar
1 cup ice cubes
ice cubes to serve
Directions
Place avocado, mango, lime juice, agave nectar, and sparkling water in a blender in the order listed and blend until well combined.

Add ice cubes to the blender and blend again for less than a minute.

Garnish with a slice of avocado, mango and lime. Serve with ice.

Note: If using frozen mango, blend frozen mango with 1 cup of sparkling water first for a few minutes, then add the rest of the ingredients.

Recipe and image courtesy of Love One Today.
Nutrition
Calories: 100kcal | Carbohydrates: 14g | Protein: 1g | Fat: 5g | Saturated Fat: 1g | Cholesterol: 0mg | Sodium: 20mg | Fiber: 3g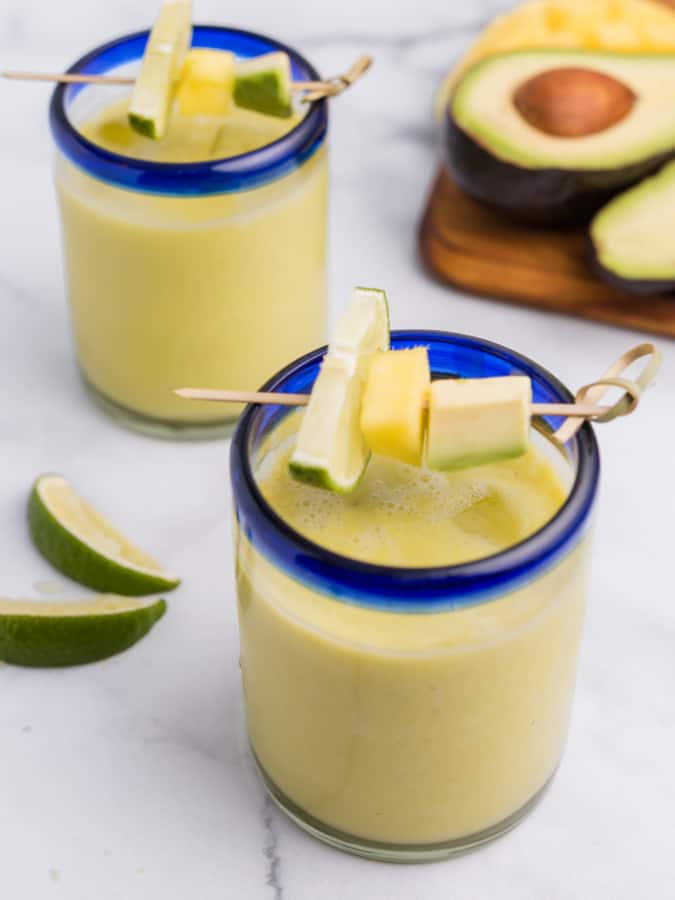 These other refreshing drinks provide a simple way to add an extra nutrient boost to your days or nights: