These healthy stuffed turkey burgers are filled with a wow factor and red chiles for a flavorful, juicy burger with a kick!
What's better than a healthy turkey burger recipe? One that's stuffed with cheese! These stuffed burgers have the perfect amount of heat and cheese in every single bite. Plus, they're full of lean protein for a satisfying meal that thrives with its flavors.
Topping Ideas for This Healthy Turkey Burger Recipe
As if being stuffed with cheese wasn't enough, here are some fun and flavorful topping ideas for these burgers:
Veggies – There's always room to fit in some more veggies! Some of my go-tos are baby arugula, roasted red peppers, thinly sliced red onion, or fresh tomato slices (especially in the summer!)
Avocado – Either mashed or sliced, adding fresh avocado to these burgers adds a creamy texture, bright flavor, and dose of healthy fats and fiber.
Fresh herbs – Adding a sprinkle of fresh herbs to just about anything instantly adds a fresh flavor, and these burgers aren't excluded from that! Some of my favorites are chopped green onion, fresh cilantro, and chives.
Can You Freeze These Homemade Turkey Burgers?
If you wanted to make these burgers ahead of time, and freeze them for later, I would suggest leaving the cheese and chilies out until you're ready to make them. Freezing cheese can alter the texture and flavor, and may impact the overall outcome of the burgers. However, you can season the ground turkey, form them into patties, and freeze them on a baking sheet until firm, which takes about 30 minutes. Then, wrap them in plastic wrap, and add to a freezer bag, and freeze until ready to use (up to about 2 months). 
Once you're ready to make the burgers, thaw your burger patties overnight in the refrigerator, fill them with the cheese and chilies, and simply follow the stuffed turkey burger recipe instructions.
---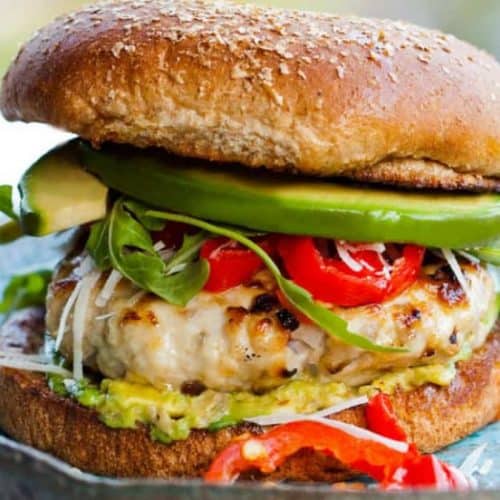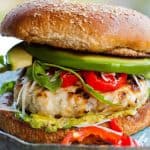 Ingredients
1 pound lean ground turkey meat
¼ teaspoons sea salt
¼ teaspoon ground black pepper
½ teaspoon chili powder
½ teaspoon onion powder
½ cup shredded pepper jack cheese
¼ cup fresh red chilies, minced
4 whole wheat hamburger buns, toasted
Directions
Season turkey meat with salt, pepper, chili powder and onion powder and mix together well. Make 4 equal patties.

Divide each patty in half so that you can stuff it. On one half of the divided patty, add 2 tablespoon of cheese and 1 tablespoon of chilies. Top with the remaining half of the patty seal with turkey around the edges to close the burger.

Heat a large skillet sprayed with olive oil spray on high heat. Add burgers and reduce the heat to low. Cook on one side until browned, then flip. Flip a few times to prevent burning and make sure burgers are cooked all the way through, about 5 minutes per side.

Serve each patty on a toasted bun and add your favorite toppings, such as avocado, salsa and arugula.
Nutrition
Calories: 360kcal | Carbohydrates: 33g | Protein: 33g | Fat: 13g | Saturated Fat: 5g | Trans Fat: 0g | Cholesterol: 75mg | Sodium: 810mg | Fiber: 6g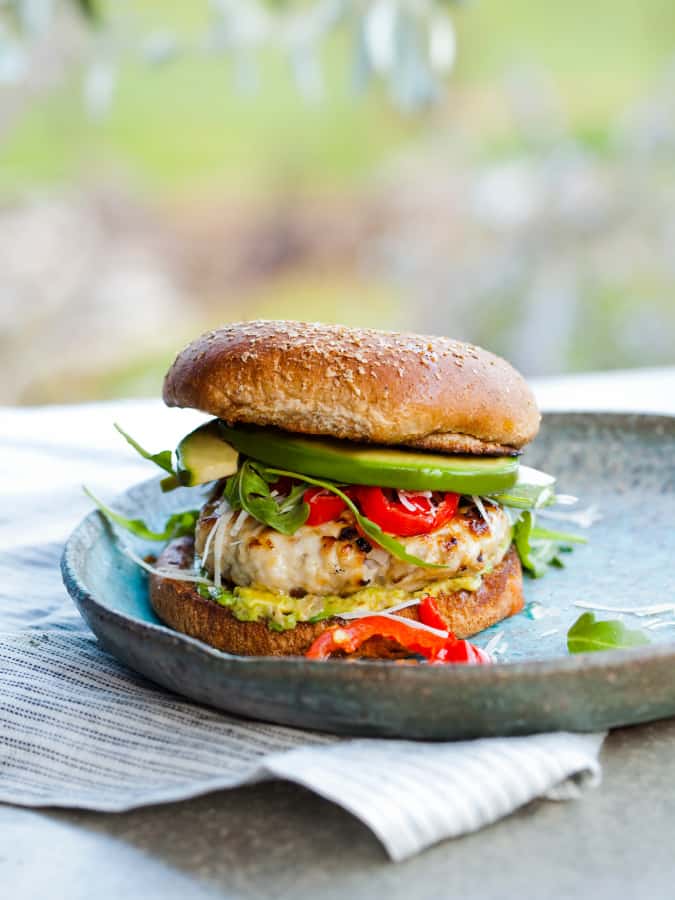 Eager to try other homemade burger recipes? Experiment with these different types of patties: