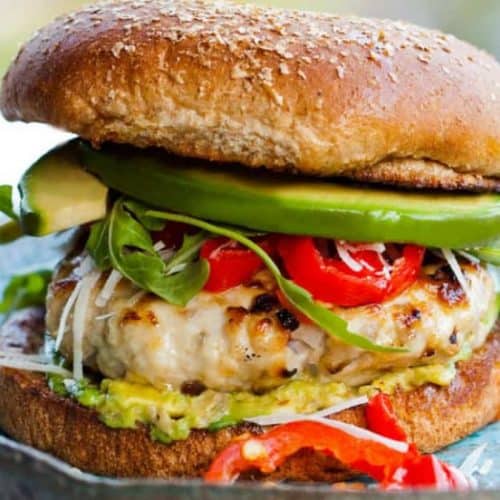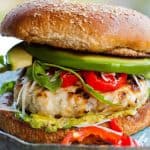 Ingredients
1 pound lean ground turkey meat
¼ teaspoons sea salt
¼ teaspoon ground black pepper
½ teaspoon chili powder
½ teaspoon onion powder
½ cup shredded pepper jack cheese
¼ cup fresh red chilies, minced
4 whole wheat hamburger buns, toasted
Directions
Season turkey meat with salt, pepper, chili powder and onion powder and mix together well. Make 4 equal patties.

Divide each patty in half so that you can stuff it. On one half of the divided patty, add 2 tablespoon of cheese and 1 tablespoon of chilies. Top with the remaining half of the patty seal with turkey around the edges to close the burger.

Heat a large skillet sprayed with olive oil spray on high heat. Add burgers and reduce the heat to low. Cook on one side until browned, then flip. Flip a few times to prevent burning and make sure burgers are cooked all the way through, about 5 minutes per side.

Serve each patty on a toasted bun and add your favorite toppings, such as avocado, salsa and arugula.
Nutrition
Calories: 360kcal | Carbohydrates: 33g | Protein: 33g | Fat: 13g | Saturated Fat: 5g | Trans Fat: 0g | Cholesterol: 75mg | Sodium: 810mg | Fiber: 6g