Liven up your Thanksgiving with this vegan fruit and veggie turkey coupled with a delicious cinnamon Greek yogurt dip. It's a favorite for kids!
---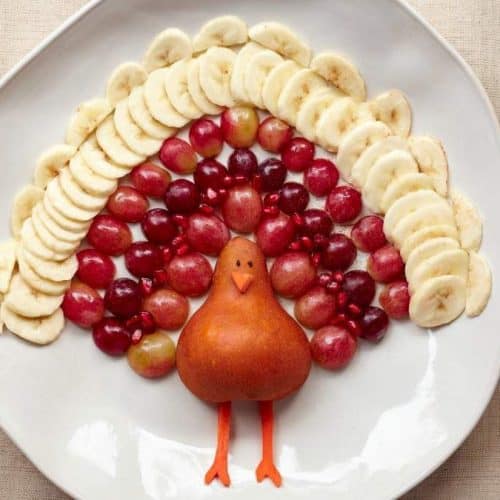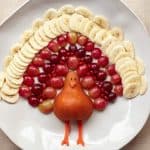 Ingredients
1 pear, cored and halved lengthwise
40 grapes, halved
2 bananas, sliced
1/4 cup pomegranate arils
1 small carrot, cut into 4 legs and 2 beaks
4 black sesame seeds
1 cup flavored Greek yogurt of your choice (such as lemon, vanilla, or honey)
1 dash cinnamon
Directions
Make the turkey "bodies": Place each pear half, sliced side down, on its own large plate.

Make the "feathers": Arrange the grape halves, sliced side down, in 3 rows outward from each pear body in a half moon shape. Create a row of pomegranate arils between a row of grapes. Top the rows of grapes with banana slices to create the look of the tops of the feathers.

Make the "eyes" and "beak": Place two black sesame seeds on each pear body to make the eyes and place a small triangle carrot piece on each pear body to make the beaks. 

Make the "feet": Place two carrot pieces cut into the shape of stick legs with feet under each pear body.

Serve with your favorite flavored Greek yogurt and a dash of cinnamon. Enjoy immediately, or store in the refrigerator for an hour before serving.
Nutrition
Calories: 95kcal | Carbohydrates: 32g | Protein: 6g | Fat: 0g | Saturated Fat: 0g | Cholesterol: 3mg | Sodium: 27mg | Fiber: 4g