Liven up your Thanksgiving with this veggie and fruit turkey coupled with a delicious cinnamon Greek yogurt dip. It's a favorite for kids and adults alike!
The lead up to Thanksgiving is sprinkled with travel, family time, and food prep. While some dishes need to be prepared days in advance, this fruit turkey can be a quick and festive activity before, on, or after Thanksgiving day! It pairs well with any dish and offers a fresh and nutritious addition to your food mix.
What Fruit to Use for a Fruit Turkey
While this recipe calls for bananas, grapes, pear, and pomegranate seeds, you can use any foods of similar colors in your fridge! Other popular choices are strawberries, blueberries, dates, apricots, and more. Fresh and dried fruit can all work when making a fruit turkey – just make sure you have a decent amount of each so you don't run out.
How to Make a Fruit Turkey
Start by slicing your fruit – slice the banana into banana coins, cut the pear and grapes in half, and gather your pomegranate seeds. Arrange the pear at the center with two sesame seeds for eyes and a sliced carrot for the nose.
Then add several layers of grapes, and a final couple of layers of banana. Sprinkle pomegranate seeds around the second layer of grapes. Use the other pieces of carrots for the legs, and your turkey is complete.
How to Make Cinnamon Yogurt Dip
One reason this recipe is extra delicious and nutritious is that it includes a dip for the fruit and veggies as well. This helps make it more filling and can help balance your blood sugar when you're going a mile a minute.
Mix together lemon, vanilla, or honey Greek yogurt with a dash of cinnamon, and voila. You can also pair it with a side of nuts, or even add them to your turkey feathers.
---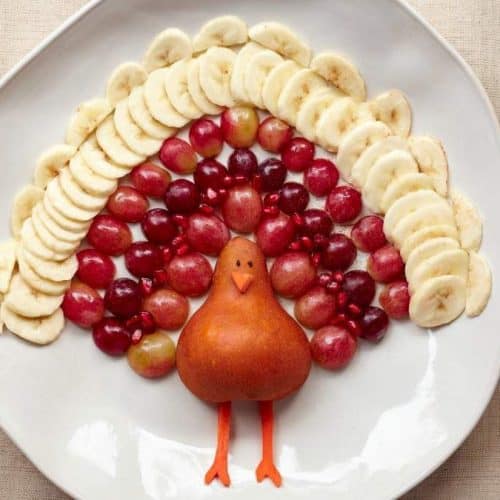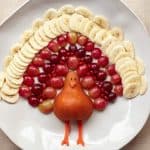 Ingredients
1 pear, cored and halved lengthwise
40 grapes, halved
2 bananas, sliced
1/4 cup pomegranate arils
1 small carrot, cut into 4 legs and 2 beaks
4 black sesame seeds
1 cup flavored Greek yogurt of your choice (such as lemon, vanilla, or honey)
1 dash cinnamon
Directions
Make the turkey "bodies": Place each pear half, sliced side down, on its own large plate.

Make the "feathers": Arrange the grape halves, sliced side down, in 3 rows outward from each pear body in a half moon shape. Create a row of pomegranate arils between a row of grapes. Top the rows of grapes with banana slices to create the look of the tops of the feathers.

Make the "eyes" and "beak": Place two black sesame seeds on each pear body to make the eyes and place a small triangle carrot piece on each pear body to make the beaks. 

Make the "feet": Place two carrot pieces cut into the shape of stick legs with feet under each pear body.

Serve with your favorite flavored Greek yogurt and a dash of cinnamon. Enjoy immediately, or store in the refrigerator for an hour before serving.
Nutrition
Calories: 95kcal | Carbohydrates: 32g | Protein: 6g | Fat: 0g | Saturated Fat: 0g | Cholesterol: 3mg | Sodium: 27mg | Fiber: 4g
Other Thanksgiving Dishes
Looking for other fun dishes to make during Thanksgiving week? Try one or more of these!