This homemade s'mores recipe is packed with flavor and is an easy way to make s'mores in the oven with an added nutrient boost from figs.
The fresh fig slices on these s'mores in the oven elevates their beauty, nutrition, and taste! While you can easily add two pieces of homemade graham crackers to make it a complete s'mores sandwich, these can also be served open-face as a pretty party app!
Why Figs on S'mores?
While figs may not be the first ingredient you think of when you think of s'mores, they are a naturally sweet addition that will elevate your recipe and wow your guests! California produces 98% of the nation's fresh figs and they're the best quality figs in the world. California Fresh Fig season is May – November. When you see them, buy them. You don't want to miss out!
Can't find fresh figs? California Dried Figs are available year round and a great substitute for most recipes. Plus, figs are a good source of dietary fiber and provide calcium, iron, potassium and more!
How to Make S'mores in the Oven
To start, make the homemade graham crackers per the instructions below. Then broil the marshmallows on both sides until they're a perfect golden brown.
To construct your homemade s'mores, use one piece of graham cracker as your base, add a toasted marshmallow, one fresh fig slice, a piece of chocolate, and top it off with another piece of graham cracker.
Ingredient Substitutions
If you don't have whole wheat pastry flour, replace with 1 cup unbleached all-purpose flour and 1/3 cup whole-wheat flour. To make this recipe 100-percent plant based, use vegan marshmallows and vegan dark chocolate or plant-milk chocolate.
Nutrition Benefits of Homemade S'mores in The Oven
These graham crackers have better-for-you ingredients like whole-wheat pastry flour and unsweetened apple sauce. Plus, they have 3 grams of plant-based protein and 4 grams of gut-healthy fiber per serving! 
---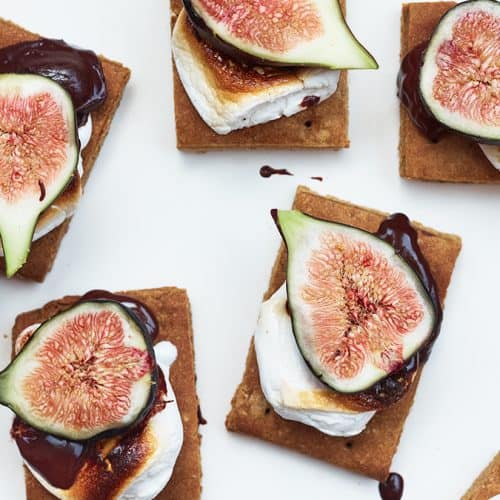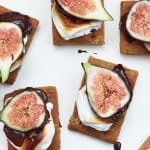 Prep Time 30 minutes
Cook Time 17 minutes
Ingredients
Homemade Graham Crackers
175 grams whole-wheat pastry flour (1 1/3 cups)
1 teaspoon ground cinnamon
1/2 teaspoon baking powder
1/2 teaspoon baking soda
1/4 teaspoon sea salt
57 grams turbinado sugar (1/4 cup)
2 tablespoons pure maple syrup
3 tablespoons unrefined coconut oil
3 tablespoons unsweetened applesauce
1 1/2 teaspoons vanilla extract (or 1 1/4 teaspoons vanilla extract plus 1/4 teaspoon almond extract)
S'mores assembly
12 large marshmallows
12 (0.4-ounce) squares or rectangles dark or milk chocolate (4.8 ounces total)
6 fresh California figs, stems trimmed, halved lengthwise
Directions
Make the graham crackers: Preheat the oven to 375° F. Line a large baking sheet with a silicone baking mat or parchment paper.

In a medium bowl, whisk together the flour, cinnamon, baking powder, baking soda, and salt. Set aside.

In a large mixer bowl, using an electric mixer with dough beaters, blend together the sugar, maple syrup, and coconut oil. Add the applesauce and vanilla and beat until combined. Add the flour mixture and beat until a dough forms.

On the lined baking sheet, press the dough evenly by hand into a 7 1/2- by 12-inch rectangle. Gently cut the dough into 24 graham crackers (6 slices lengthwise x 4 slices widthwise) using a pizza wheel (cutter). Prick each graham cracker with fork tines three times.

Bake until lightly browned, about 15 minutes. Immediately re-cut the graham crackers gently with the pizza wheel. Transfer the baking sheet to a rack to cool for 10 minutes, then transfer the graham crackers directly onto the rack to completely cool and crisp. 

Enjoy immediately, or store in the refrigerator in a resealable container for up to one week. (Makes 24 graham crackers.)

Toast the marshmallows: To broil marshmallows, turn oven to broil. Arrange marshmallows on a baking sheet. About 6 inches from heat source, broil until the marshmallow tops are golden brown, about 45 seconds. Remove from oven, gently flip over marshmallows, and broil about 30 seconds more. Watch closely. Alternatively, toast marshmallows on metal skewers over a hot grill until desired brownness.

Assemble the s'mores: On each graham cracker, place a freshly-toasted marshmallow, one piece of chocolate, and a fig half. Then add a graham cracker, fork pricked side up, on top of each to form a s'mores sandwich. Enjoy immediately.
Nutrition
Calories: 230kcal | Carbohydrates: 35g | Protein: 3g | Fat: 8g | Saturated Fat: 6g | Cholesterol: 0mg | Sodium: 110mg | Fiber: 4g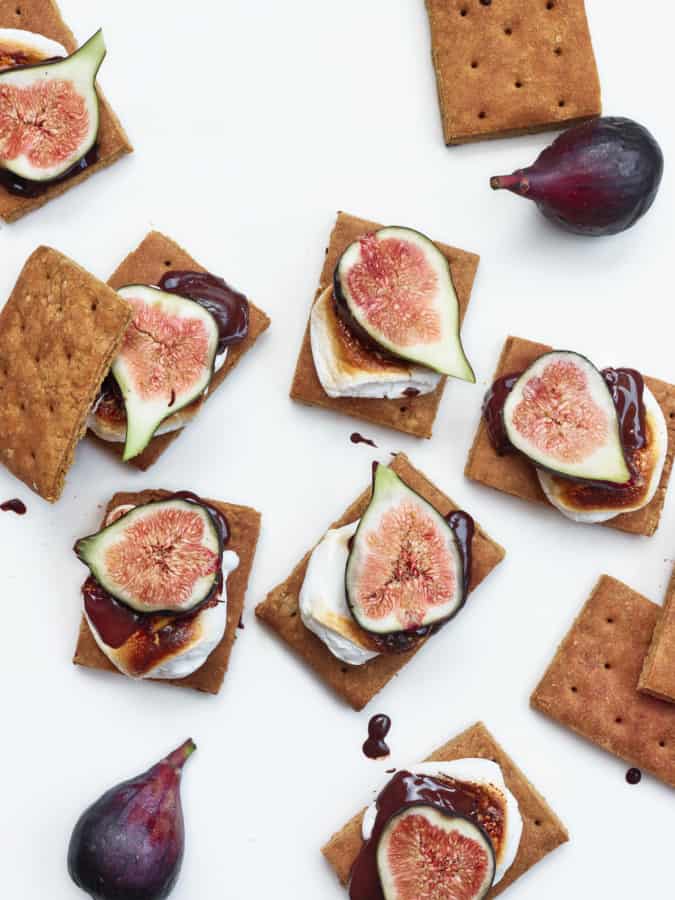 Explore More Delicious Fig Recipes
If you like this s'mores in the oven recipe with figs, try these other delicious recipes.
Baked Feta Dip with Figs and Fresh Herbs
Spooky Pretzel Spider Snacks with California Figs