This seasonal favorite is overflowing with delicious flavors from the savory feta, sweet figs, crunchy walnuts, and fresh herbs. It's a healthy holiday appetizer all of your guests will love.
During the COVID pandemic, baked feta pasta went viral on the internet and was a household favorite for some time. While the heightened love for the creamy pasta has dwindled, there are still many other delicious ways to explore in your kitchen with baked feta. Instead of using pasta as the main focus, this baked feta dip is paired with nutrient-rich figs and tastes delicious topped on your favorite bread or crackers!
Can Feta Cheese Be Heated?
Feta cheese is often crumbled on top of salads or pasta mixtures, but it tastes just as delicious heated up and paired with pasta, fruit, or veggies.
Baked feta dip is a simple way to bake during the holidays because it requires minimal effort for all the best flavors. Simply mix together the ingredients with herbs and figs, top with crumbled feta, add it to the oven, and you have yourself an elevated dip everyone will love.
Does Feta Cheese Melt in the Oven?
Feta doesn't quite "melt" when heated like other cheeses. Because it has a relatively high acid content, it expels some of its fluids when heated and maintains some of its original shape. 
How Do You Know if Feta Cheese Has Gone Bad?
As with most cheese, you'll likely see mold growth on the cheese to indicate that it is past its "best by" date. The good old smell test can also help determine if it's a bit past being good to eat. It's always best to check the label to make an educated decision.
Benefits of Herbs and Figs
Using fresh herbs like rosemary and thyme in this baked feta dip recipe makes it special and even more delicious! Herbs are packed with antioxidants and phytonutrients that provide a lot of nutrition in small amounts. They are a simple addition to recipes to provide extra antioxidants that help prevent disease.
Figs are another nutrient powerhouse! They are a good source of dietary fiber and provide calcium, iron, potassium and more.
Choosing Your Healthy Holiday Appetizers
Including a spread of seasonal foods as well as some healthy holiday appetizers can make you feel even better about the foods you offer to your guests during the holiday season. Adding this baked feta dip recipe to the offerings can mix up the usual flavors of your dishes and is sure to be a pleasant surprise for your family and friends. Plus, who can deny a creamy mix of cheese, figs, and herbs?
---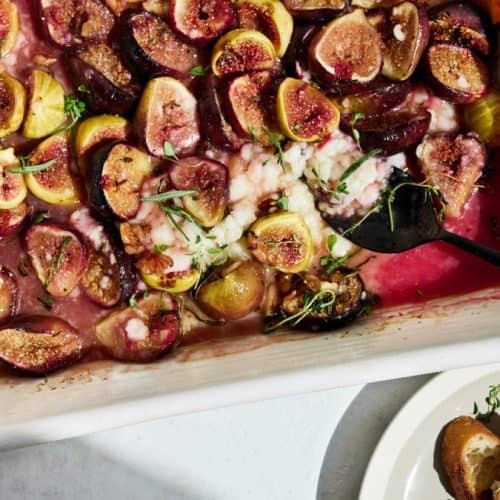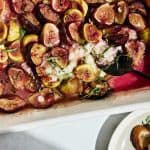 Prep Time 10 minutes
Cook Time 35 minutes
Ingredients
2 tablespoons Sun Harvest organic extra-virgin olive oil
3 tablespoons maple syrup
1 tablespoon freshly squeezed lemon juice
1/2 teaspoon sea salt
5 orange peels, cut into ½ inch strips (from 1 medium orange, peel washed)
12 Sun Harvest organic living thyme sprigs (6 whole sprigs and 6 springs leaves chopped)
6 fresh rosemary sprigs (3 whole sprigs and 3 springs leaves chopped)
25 mixed fresh figs (such as mission, turkey, or tiger stripe figs), sliced in half lengthwise
5 ounces First Street crumbled feta cheese
1/2 cup First Street walnuts halves and pieces, roughly chopped
1/2 teaspoon freshly ground black pepper
Sun Harvest and First Street are private label brands available at Smart & Final grocery & warehouse stores.
Directions
Preheat the oven to 400°F.

In a large baking dish, stir together the olive oil, maple syrup, lemon juice, salt, orange peels, thyme, and rosemary. Add the sliced figs to the dish and toss gently to coat; arrange the figs cut side facing up and tuck the herb springs snuggly into the mixture. 

Add the crumbled feta to the center of the dish and sprinkle the chopped walnuts over the top. Season with freshly ground black pepper and bake in the oven for 35 to 40 minutes until the figs have softened, gently caramelized, and their juices have released. 

Serve warm with crusty bread or crackers. Best enjoyed immediately.
Nutrition
Calories: 210kcal | Carbohydrates: 30g | Protein: 4g | Fat: 10g | Saturated Fat: 3g | Cholesterol: 15mg | Sodium: 250mg | Fiber: 4g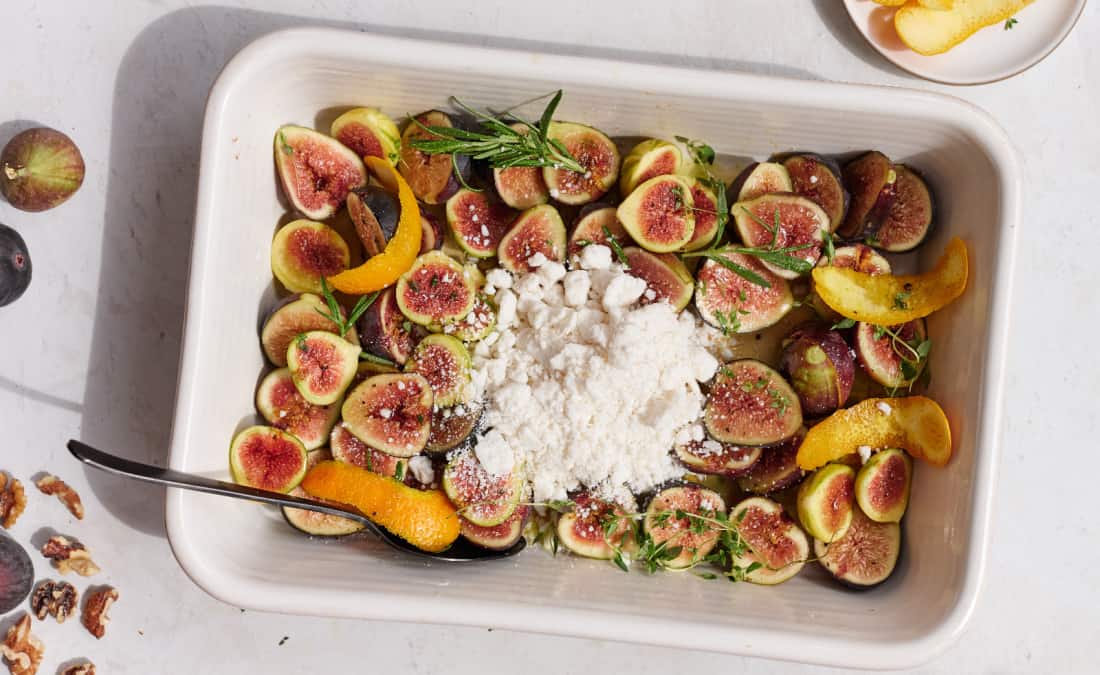 Other Simple Ways to Use Feta
Looking for more creative ways to use feta? Try these recipes: