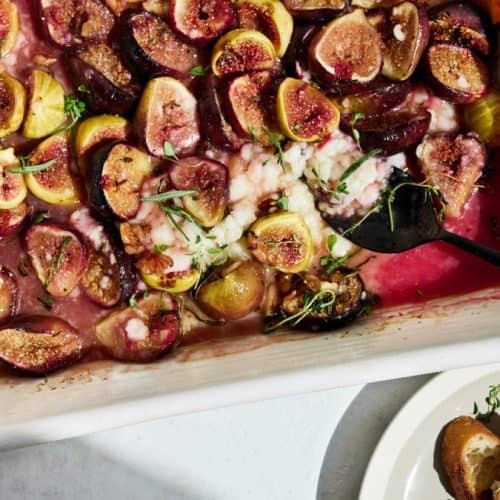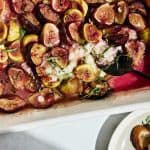 Prep Time 10 minutes
Cook Time 35 minutes
Ingredients
2 tablespoons Sun Harvest organic extra-virgin olive oil
3 tablespoons maple syrup
1 tablespoon freshly squeezed lemon juice
1/2 teaspoon sea salt
5 orange peels, cut into ½ inch strips (from 1 medium orange, peel washed)
12 Sun Harvest organic living thyme sprigs (6 whole sprigs and 6 springs leaves chopped)
6 fresh rosemary sprigs (3 whole sprigs and 3 springs leaves chopped)
25 mixed fresh figs (such as mission, turkey, or tiger stripe figs), sliced in half lengthwise
5 ounces First Street crumbled feta cheese
1/2 cup First Street walnuts halves and pieces, roughly chopped
1/2 teaspoon freshly ground black pepper
Sun Harvest and First Street are private label brands available at Smart & Final grocery & warehouse stores.
Directions
Preheat the oven to 400°F.

In a large baking dish, stir together the olive oil, maple syrup, lemon juice, salt, orange peels, thyme, and rosemary. Add the sliced figs to the dish and toss gently to coat; arrange the figs cut side facing up and tuck the herb springs snuggly into the mixture. 

Add the crumbled feta to the center of the dish and sprinkle the chopped walnuts over the top. Season with freshly ground black pepper and bake in the oven for 35 to 40 minutes until the figs have softened, gently caramelized, and their juices have released. 

Serve warm with crusty bread or crackers. Best enjoyed immediately.
Nutrition
Calories: 210kcal | Carbohydrates: 30g | Protein: 4g | Fat: 10g | Saturated Fat: 3g | Cholesterol: 15mg | Sodium: 250mg | Fiber: 4g