This better-for-you avocado eggs benedict is a twist on your typical eggs benedict. It uses fresh avocado instead of butter to make a rich and creamy avocado hollandaise sauce.
Looking for a recipe makeover? This avocado eggs benedict is a creative variation of the classic eggs benedict and will make your meal extra special. Plus, this recipe can show you how to use avocados as your go-to ingredient to add nutrients and flavor when cooking and baking.
There are endless ways to include delicious, fresh, heart-healthy avocados in meals, recipes, and snacks! Avocados count toward fruit and vegetable intake, provide several under-consumed nutrients, and are a source of naturally good fats. That's why they're the perfect star of the show for this avocado eggs benedict.
Benefits of Using Avocado for Your Eggs Benedict
A typical eggs benedict includes egg, Canadian bacon, and hollandaise sauce. In this avocado eggs benedict recipe, avocado and smoked salmon replace the ham for more heart healthy fats.
Monounsaturated fats (MUFA) can help reduce bad cholesterol levels in your blood, which can lower your risk of heart disease and stroke. One-third of a medium avocado contains 5 grams of MUFA.
Using More Nutrient-Dense Ingredients
Nutrient-dense foods provide vitamins, minerals, and other nutrients with relatively few calories. One-third of a medium avocado (50 grams) has 80 calories and contributes nearly 20 vitamins and minerals, including dietary fiber and phytonutrients. Avocados are also sodium, sugar, and cholesterol-free, making them a healthy, nutrient-dense food choice.
Phytosterols in Avocados
Phytosterols are naturally occurring substances found in avocados and other plant foods that help to block the absorption of cholesterol in the body.
Avocados contribute 38 milligrams of phytosterols per 1/3 of a medium avocado, which may help maintain healthy cholesterol levels. Sterols consumed twice daily as part of a low in saturated fat and cholesterol diet help to lower total and LDL (bad) cholesterol levels in the blood.
Better yet, avocados are the richest known fruit source of phytosterols, which is why they're such a good addition to your breakfast meal rotation!
How to Make an Avocado Eggs Benedict
Start by making your avocado hollandaise. Then, begin to prepare your poached eggs. As the eggs are cooking, toast the English muffins, and top them with the smoked salmon and avocado slices.
Once the egg is finished cooking, top your English muffins with one egg and the avocado hollandaise.
How to Make Avocado Hollandaise
This rich and creamy avocado hollandaise is a preferred alternative for your heart health. To make the Avocado "Butter" Sauce, simply blend the avocados, olive oil or avocado oil, lemon juice, a little water, Dijon mustard, and season it with salt and pepper! It's so creamy and delicious with a vibrant green color!
---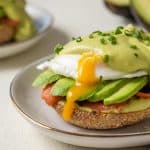 Prep Time 10 minutes
Cook Time 15 minutes
Ingredients
3 ripe fresh avocados, halved, pitted, peeled and divided
1/2 cup avocado oil or extra virgin olive oil
1/4 cup fresh lemon juice
1/4 cup water
4 teaspoons Dijon mustard
1/4 teaspoon salt
1/4 teaspoon freshly ground black pepper
4 large eggs
4 whole grain English muffins
4 ounces smoked salmon, sliced
1 tablespoon fresh chives, chopped
Directions
To make the Avocado "Butter" Sauce, place 2 1/2 of the avocados, oil, lemon juice, water, mustard, salt, and pepper in a blender or food processor. Cover and blend until smooth. Transfer to a small serving bowl; cover and refrigerate.

Heat 1-inch of water in a nonstick pan over medium high heat. Bring water to a gentle simmer and break eggs in, gently. Cook for 4 to 5 minutes or until done as desired. Remove with slotted spoon and place on paper towel to drain.

While eggs cook, halve and toast English muffins. Place on four serving plates. Spoon 1 tablespoon of the Avocado "Butter" Sauce on the bottom of each English muffin half. Cut the remaining half avocado into thin slices. Layer the bottom half of each English muffin with smoked salmon, avocado slices and eggs, dividing evenly. Serve open-faced or as a sandwich. Top with additional sauce and chopped chives.

Note: Remaining Avocado "Butter" Sauce will last well in the refrigerator covered for up to 3 days.

Recipe and image courtesy of Love One Today.
Nutrition
Calories: 360kcal | Carbohydrates: 31g | Protein: 18g | Fat: 19g | Saturated Fat: 4g | Cholesterol: 195mg | Sodium: 570mg | Fiber: 7g
Enjoy Other Nutritious Avocado Recipes
Here are more delicious recipes with avocado as the star of the show: