This flower power egg-in-a-hole toast adds a fun element to breakfast. Instead of cutting out a circle in the toast, use a flower-shaped cookie cutter instead!
Making egg-in-a-hole toast has been a lifetime favorite of mine! It takes two common breakfast foods and gives them an artistic touch! This recipe will brighten up your plate for a little Spring-time happiness. 
Best Bread for Egg-in-a-Hole
I recommend choosing whole-grain bread for added vitamins, minerals, and fiber to your meal. Plus, whole-grain options can sometimes have a bit more of a firm texture that can give your toast extra flower power. 
Do You Flip an Egg-In-a-Hole? 
If you'd like to cook it more quickly you can flip it. However, you can also just cover the egg-in-a-hole with a lid as it's cooking and it will cook through without flipping. Depending on whether you like your egg more over easy or fully cooked, you can adjust the total cooking time for either of these methods. 
What Type of Eggs to Use 
Any type of egg will work, but if possible, I recommend choosing pasture-raised eggs. For this recipe I used Vital Farms True Blues, which are pasture-raised heirloom blue eggs. Not only are these eggs a beautiful blue color, the hens who lay them are raised with respect and care. They have 6 grams of high-quality protein per egg, and only 70 calories, making them a great breakfast protein option.
Why Are Egg Shells Different Colors?
Did you know you can tell what color of egg a hen will lay by the color of their earlobes? It's true! Hens that lay True Blues egg have blue earlobes. Most of Vital Farms True Blues eggs come from Azur hens, an heirloom breed of hens with signature white feathers who love the outdoors.
Whether caring for hens that lay brown or blue eggs, Vital Farms tends to all their ladies with the same love, care, and outdoor access year-round on rotated pastures.
How to Make a Flower Power Egg-In-a-Hole Toast
This egg-in-a-hole toast recipe uses a flower-shaped cookie cutter to reveal the egg in the center of the toast. Start by using your cookie cutter to cut a hole in the center of the bread. Toast your bread in the skillet after lightly brushing both sides of the bread with oil. Once toasted, add the egg to the center of the toast in the flower cutout. Cook until the egg is cooked to your liking!
Serve with fresh herbs (e.g., sprigs of chives and dill). And even better, add to the flower power theme by topping with mini edible flowers.
Plus, feel free to switch up the cookie cutter shape to fit your theme, heart- and star-shaped cookie cutters are super fun too!
Other Names for Egg-in-A-Hole
Not familiar with the name "egg-in-a-hole?" That might be because it's commonly called other phrases as well!
Egg-in-a-nest
Egg-in-the-basket 
Egg-with-a-hat
Egg-in-a-frame
---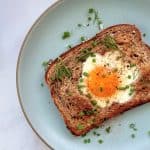 Prep Time 7 minutes
Cook Time 7 minutes
Ingredients
2 large slices whole grain, rye, or sourdough bread
2 large Vital Farms True Blues Eggs 
2 teaspoons extra-virgin olive or avocado oil, divided*
1/8 teaspoon flaked sea salt
1/8 teaspoon freshly ground black pepper
pinch smoked or sweet paprika (optional)
garnish fresh herbs, such as chives, dill, and/or tarragon sprigs
* For a richer taste, use Vital Farms sea salted butter
Directions
Using a 2-1/2- to 3-inch diameter flower-shaped cookie cutter, cut a hole in the center of each slice of bread. Reserve these bread flowers for making toast or avocado toast, if desired.

Break each egg into a ramekin or small tea cup; set aside.

Heat a large (12-inch) stick-resistant skillet over medium heat. Lightly brush both sides of the bread with oil (1/2 teaspoon per slice). Add both pieces of bread to the skillet and cook until the bottom is toasted, about 2 1/2 to 3 minutes. 

Flip over the toasts, drizzle the remaining 1 teaspoon of oil into the center (flower) or each toast (1/2 teaspoon each), then pour the egg into each flower hole and loosely cover the skillet. Cook until the egg yolk is desired doneness, about 3 minutes. 

Transfer the egg-in-a-hole toasts to plates and sprinkle with the salt, pepper and, if using, paprika. Garnish with herbs and serve. 
Nutrition
Calories: 220kcal | Carbohydrates: 18g | Protein: 12g | Fat: 11g | Saturated Fat: 2.5g | Cholesterol: 185mg | Sodium: 370mg | Fiber: 3g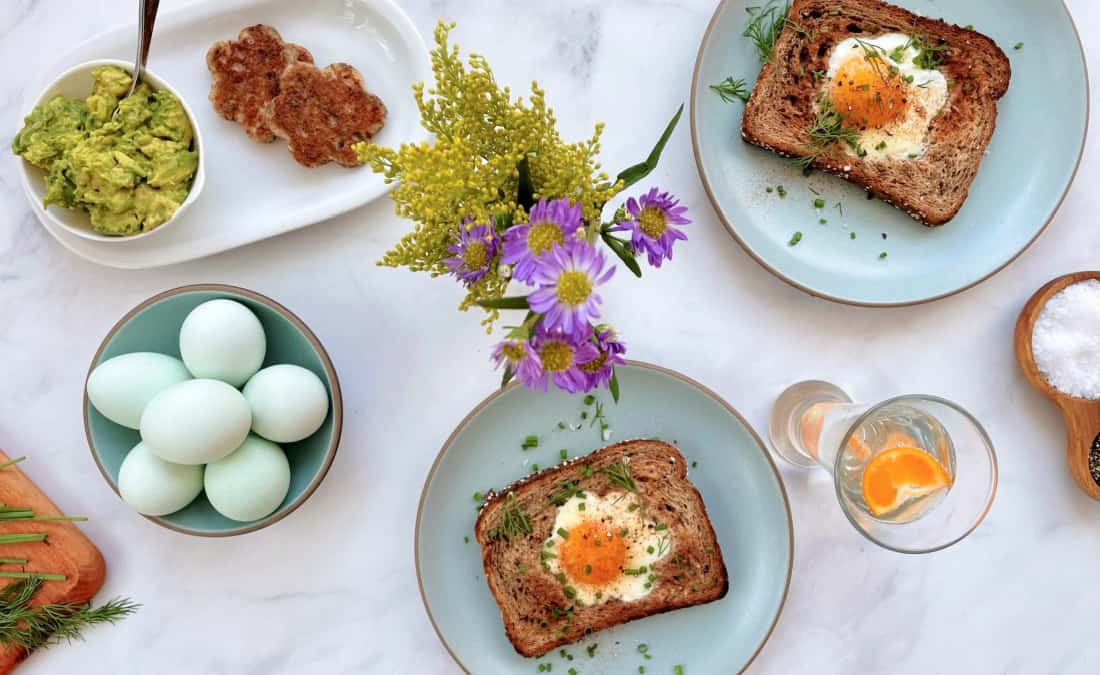 Try More Delicious Egg Recipes
Did you like this egg in a hole toast and want to try more egg recipes? Add a few of these to your list: