Enjoy this kale and farro salad with added protein, a pop of color, and a lot of flavor! 
This is the perfect grain salad for your Easter brunch. It features seasonal spring produce, asparagus, radishes, and mint, has a pop of sweetness from red seedless grapes, and includes a healthy crunch with sunflower seeds. Farro and kale provide a hearty base that will hold up nicely even if the salad is dressed the day before the festivities. For added protein, top with pan-seared or grilled shrimp to turn this side salad into a hearty entree.
It's a great option for the warmer spring and summer days ahead, when you want a refreshing and flavorful salad that can also sustain you for any activities.
---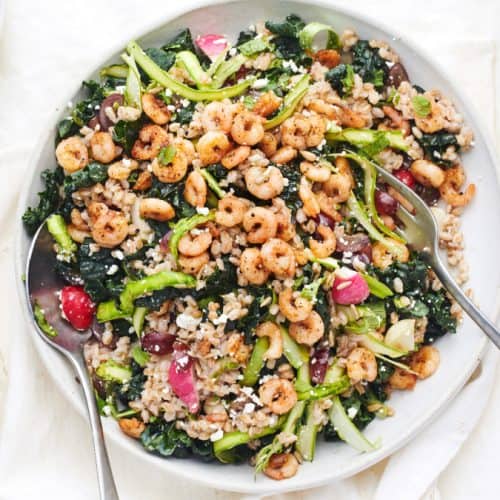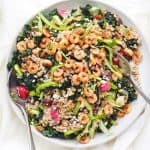 Ingredients
Dressing
3 tablespoons Sun Harvest extra-virgin olive oil 
3 tablespoons First Street apple cider vinegar
1/2 teaspoon sea salt
1/2 teaspoon freshly ground black pepper
Salad
1 cup farro, dry
2 large bundles of kale, roughly chopped with stems removed (about 6 cups chopped)
1 tablespoon Sun Harvest extra-virgin olive oil
1/2 pound asparagus, trimmed and chopped into 1-in pieces (or shaved, directions follow*)
1 cup radishes, quartered
1 cup red seedless grapes, quartered
1/4 cup mint, chopped
2 tablespoons First Street unsalted sunflower seeds
2 ounces goat cheese
Pan-seared shrimp (optional)
16 ounces Sun Harvest shrimp, cold water, wild caught, thawed and dry
1 tablespoon Sun Harvest extra-virgin olive oil
3/4 teaspoon garlic powder
1/4 teaspoon sea salt
1/2 teaspoon freshly ground black pepper
Sun Harvest and First Street are private label brands available at Smart & Final grocery & warehouse stores.
Directions
Make the dressing: Combine all dressing ingredients in a small bowl and whisk to combine. Set aside. (Salad dressing will keep well in an airtight container in the refrigerator for up to 2 days).

Make the salad: Cook farro according to package directions and set aside to cool. Add kale to a large serving bowl. Massage olive oil into the roughly chopped kale leaves for 1-2 minutes, until soft and darker. (This is an important step as it makes the kale less bitter). Add all remaining salad ingredients, except the shrimp, to a large serving bowl and toss to combine with the kale. 

Make the shrimp (optional): Pat the shrimp dry with paper towels. Season with the salt and pepper. Heat the oil in a large skillet over medium heat. Once it shimmers, add the shrimp and cook undisturbed until opaque and cooked through, about 2 to 3 minutes per side. Transfer to a plate and set aside.

Top the farro salad with the shrimp, if using. Serve as is or chilled as a salad. Salad keeps well covered in the refrigerator for up to 2 days.

*  To shave the asparagus, lay a single stalk of asparagus on a cutting board. Holding on to the tougher end, use a vegetable peeler to shave the asparagus spear into thin ribbons, peeling away from the tougher end. Trim the tough end and discard any remaining woody portion, and repeat with the remaining stalks.
Nutrition
Calories: 290kcal | Carbohydrates: 36g | Protein: 10g | Fat: 14g | Saturated Fat: 3g | Sodium: 270mg | Fiber: 7g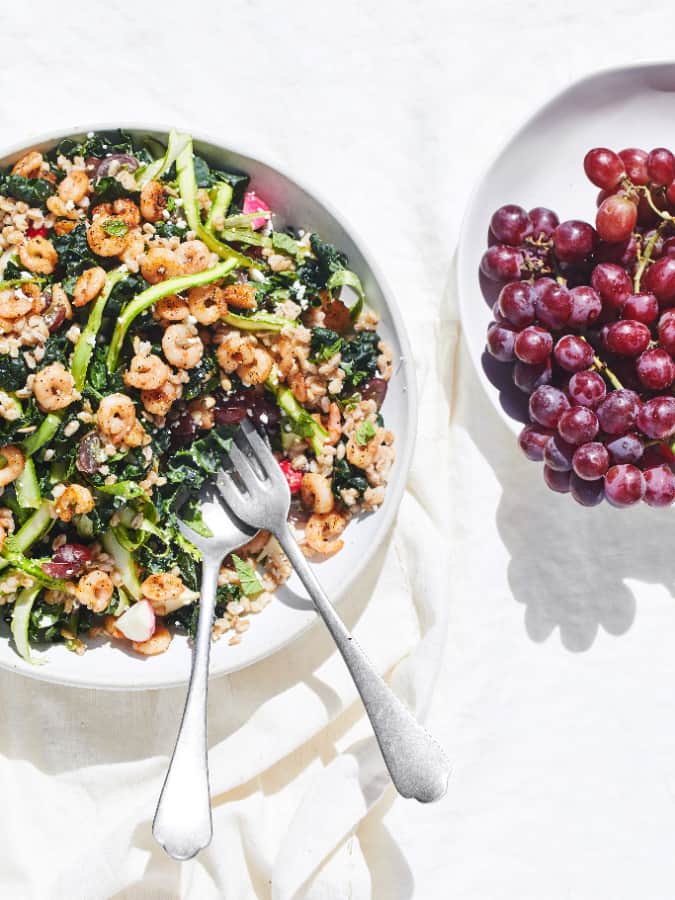 Enjoy other grain salad recipes for the warmer months ahead:
Orange Quinoa Salad with Pomegranate and Tangy Turmeric Dressing