This hummus flatbread is a Mediterranean-inspired dish with hummus, veggies, fresh herbs, and a balsamic glaze. It's a simple yet delicious meal the whole family will love.
Making a hummus flatbread is a great option for busy weeknights or anytime you want a satisfying meal in minutes.
Nutrition Benefits of Hummus Flatbread
Hummus provides fiber, protein, and healthy fats for staying power. Made from chickpeas, olive oil and sesame seeds (tahini), the ingredients in hummus have anti-inflammatory properties. The chickpeas is hummus also contain potassium, an important mineral for heart health and nerve function. 
This veggie-loaded flatbread also includes eggplant and tomato, which provide antioxidants including polyphenols and lycopene for good health.
Lycopene and Heat
Did you know that heating up tomatoes can boost the absorption of lycopene? A powerful antioxidant, lycopene provides many health benefits, including improved heart health, sun protection, and may lower the risk of certain types of cancer. The roasted tomatoes on this flatbread not only add flavor, they're an antioxidant win for this flatbread!
How to Make a Flatbread at Home
One of the best things about making your own flatbread is having free range to top it however you like. To make things easy, you can use a store-bought naan bread, your favorite store-bought hummus, and even a store-bought balsamic glaze. Try switching the veggie toppings up by adding artichoke hearts, olives, bell peppers, red onion, or zucchini.
Follow these steps to make a perfectly crispy, flavorful, and satisfying flatbread:
Preheat the oven and coat 2 sheet pans with cooking spray.
Toss the veggies with olive oil and spices.
Rub garlic on the flatbreads and brush with olive oil.
Add to sheet pans and put in the oven.
Remove from oven, top flatbreads with hummus, roasted veggies, balsamic glaze and fresh herbs.
---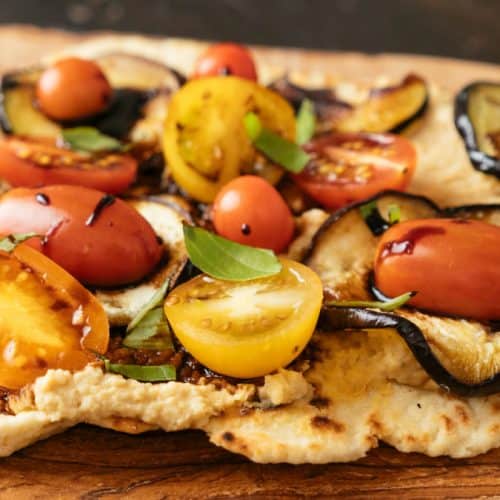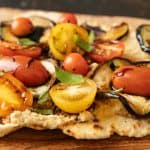 Prep Time 5 minutes
Cook Time 10 minutes
Total Time 15 minutes
Ingredients
1 cup cherry tomatoes, halved
1/2 eggplant, sliced thin
1 1/2 tablespoons extra-virgin olive oil, divided
1/4 teaspoon kosher salt
1/4 teaspoon freshly ground black pepper
2 medium (3 ounce each) premade naan or other flatbread
1 large garlic clove
1/2 cup store-bought hummus
2 tablespoons store-bought balsamic glaze
2 tablespoons fresh basil leaves, torn or chopped for garnish
Directions
Preheat the oven to 400°F. Coat 2 sheet pans with cooking spray.

Mix the tomatoes, egglant, 1 tablespoon olive oil, salt and pepper in a small bowl. Place the tomatoes and eggplant in a single layer on one of the sheet pans.

Rub the garlic clove on each flatbread and brush with the remaining olive oil. Place on the remaining sheet pan.

Place both sheet pans in the oven and bake until the tomatoes are blistered and beginning to burst and the edges of the flatbread are brown and crunchy, about 10 to 12 minutes.

Transfer the flatbread to a cutting board. Divide the hummus and spread evenly on each flatbread. Top with the roasted vegetables, drizzle with the balsamic glaze and top with fresh basil. Slice and enjoy immediatley.
Nutrition
Calories: 230kcal | Carbohydrates: 29g | Protein: 6g | Fat: 10g | Saturated Fat: 2g | Cholesterol: 0mg | Sodium: 400mg | Fiber: 6g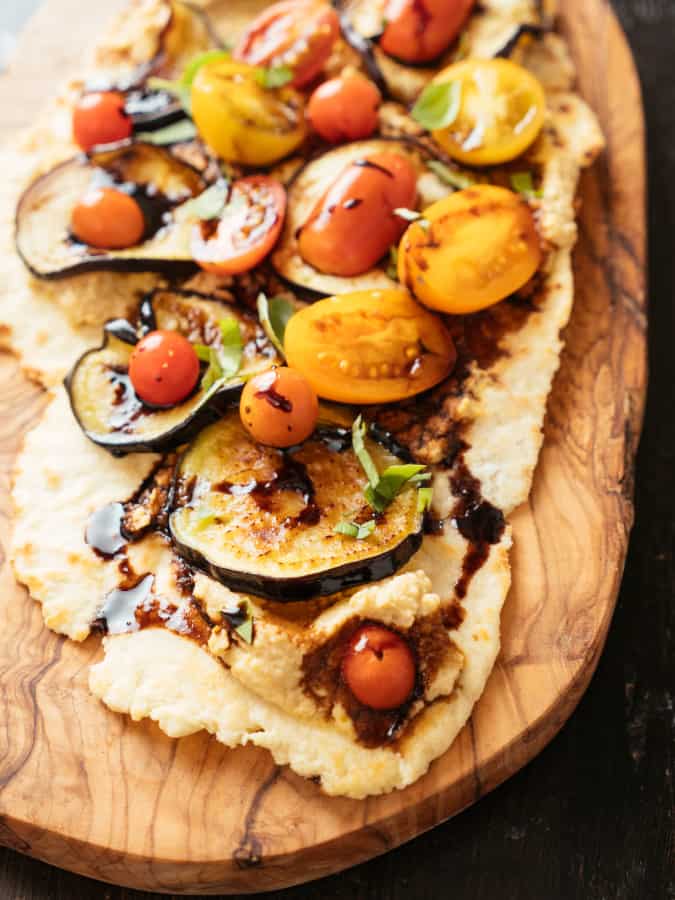 Looking for other flatbread or homemade pizza inspiration? Experiment with these other flavors: