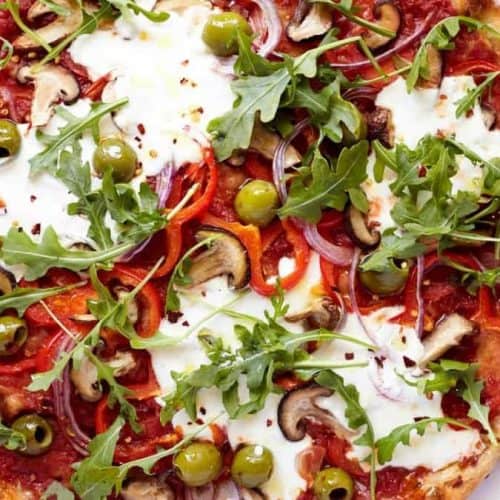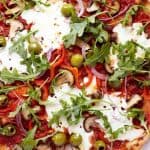 Ingredients
Sauce
1 cup Italian style boxed or canned crushed tomatoes
2 teaspoons extra-virgin olive oil
1/4 teaspoon sea salt
Pizza
1 (16-ounce package) store-bought whole grain pizza dough (or 1 large cauliflower pizza crust)
1 red bell pepper, stemmed, seeded, and thinly sliced
1 cup shitake mushrooms, sliced
1/4 red onion, thinly sliced
1/4 cup whole Castelvetrano or green olives, pitted
3/4 cup (3 ounces) shredded part-skim mozzarella cheese
1/2 cup part-skim ricotta cheese
1/4 teaspoon sea salt
1/4 teaspoon ground black pepper
2 cup arugula
1/2 cup fresh basil leaves
2 teaspoons extra-virgin olive oil, for drizzling on top
Chili pepper flakes, for serving
Directions
Preheat oven to 550°F and place a large baking sheet upside down on the middle rack of your oven. If using a store-bought cauliflower or veggie crust preheat oven to suggested temperature on package directions.

Make the sauce: In a medium bowl, stir to combine the crushed tomatoes, olive oil, and salt. Set aside.

Make the pizza: Using the back of your hands, stretch the dough into one large 12-inch round and transfer to a large parchment lined baking sheet turned upside down, with the flat side facing up. Use a small amount of all-purpose flour for dusting if the dough is too wet to handle. If using a store-bought cauliflower or veggie crust, place on parchment paper.

With a large spoon, gently spread the sauce evenly across the dough, leaving a 1-inch border. Scatter the red bell pepper slices, shitake mushrooms, red onions, olives, and shredded mozzarella around and top with dollops of the ricotta cheese. Season with salt and pepper and carefully slide the parchment paper along with the prepared pizza onto the hot pre-heated sheet pan in the oven. (A pre-heated sheet pan is the secret to getting a nice and crispy crust without a pizza stone). Bake for 10 to 12 minutes until the rim is golden brown, the cheese is melted, and the bottom of the pizza is crisp. 

Transfer the pizza to a cutting board, top with arugula and fresh basil and drizzle with olive oil, cut into 8 large slices and enjoy immediately with chili pepper flakes. 
Nutrition
Calories: 180kcal | Carbohydrates: 27g | Protein: 7g | Fat: 6g | Saturated Fat: 1.5g | Cholesterol: 5mg | Sodium: 730mg | Fiber: 3g