Making homemade veggie pizza just got easier. This recipe uses a store-bought crust and has a perfect combination of flavors that will please both veggie and pizza lovers alike!
This killer homemade veggie pizza is easy to make, full of fiber-rich vegetables, and is even better than takeout! Forget about your traditional takeout or frozen pizza. This homemade version will change how you think about this fan favorite food from here on out. You won't believe how easy it is to make a healthier pizza loaded with nutrient-dense veggies & tons of flavor.
Pro Tips for How to Make Homemade Pizza with Store-Bought Dough
Don't think you can have a killer homemade veggie pizza without making your own dough from scratch? Think again! Buying pizza dough from your favorite grocer or local pizza shop saves you time and frustration, worrying if it will proof in time, have enough rise, or stretch out like the pizza dough you know and love. Opting for a whole-wheat dough provides additional fiber, vitamins, and minerals, and it also makes for a more filling and satisfying pizza.
While you can leave the dough making to the experts, here are some of my tips for making your homemade pizza just as good (if not better) than takeout:
Turn your oven temperature up high – The key to that crispy crust is having an oven that's super hot. Crank yours up to 550°F for a crispy crust that cooks in minutes.
Forget the pizza stone – You don't need to have a pizza stone to get restaurant-worthy pizza at home. Simply flip a baking pan upside down, and place on the middle rack of your oven while it is preheating. This helps get a nice even, crispy crust.
Use parchment paper – Prepping and baking your homemade pizza on parchment paper helps make transferring and cleanup super simple.
Choosing Your Veggie Pizza Toppings
The beauty of making a pizza at home is that you can add as many veggies as you want without the added cost for extra toppings that most pizza places tag onto your bill. You can go for a specific theme in flavors, or mix together some of your favorite veggies. This pizza has a mix of bell peppers, mushrooms, onions, olives, and arugula for a Mediterranean inspired taste. The mix of colors also add a boost of plant-based nutrients.
---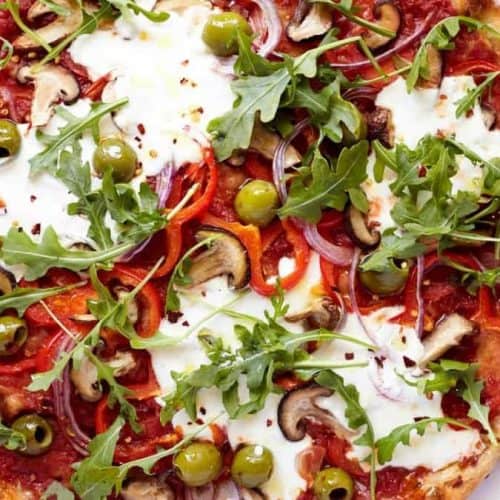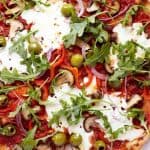 Ingredients
Sauce
1 cup Italian style boxed or canned crushed tomatoes
2 teaspoons extra-virgin olive oil
1/4 teaspoon sea salt
Pizza
1 (16-ounce package) store-bought whole grain pizza dough (or 1 large cauliflower pizza crust)
1 red bell pepper, stemmed, seeded, and thinly sliced
1 cup shitake mushrooms, sliced
1/4 red onion, thinly sliced
1/4 cup whole Castelvetrano or green olives, pitted
3/4 cup (3 ounces) shredded part-skim mozzarella cheese
1/2 cup part-skim ricotta cheese
1/4 teaspoon sea salt
1/4 teaspoon ground black pepper
2 cup arugula
1/2 cup fresh basil leaves
2 teaspoons extra-virgin olive oil, for drizzling on top
Chili pepper flakes, for serving
Directions
Preheat oven to 550°F and place a large baking sheet upside down on the middle rack of your oven. If using a store-bought cauliflower or veggie crust preheat oven to suggested temperature on package directions.

Make the sauce: In a medium bowl, stir to combine the crushed tomatoes, olive oil, and salt. Set aside.

Make the pizza: Using the back of your hands, stretch the dough into one large 12-inch round and transfer to a large parchment lined baking sheet turned upside down, with the flat side facing up. Use a small amount of all-purpose flour for dusting if the dough is too wet to handle. If using a store-bought cauliflower or veggie crust, place on parchment paper.

With a large spoon, gently spread the sauce evenly across the dough, leaving a 1-inch border. Scatter the red bell pepper slices, shitake mushrooms, red onions, olives, and shredded mozzarella around and top with dollops of the ricotta cheese. Season with salt and pepper and carefully slide the parchment paper along with the prepared pizza onto the hot pre-heated sheet pan in the oven. (A pre-heated sheet pan is the secret to getting a nice and crispy crust without a pizza stone). Bake for 10 to 12 minutes until the rim is golden brown, the cheese is melted, and the bottom of the pizza is crisp. 

Transfer the pizza to a cutting board, top with arugula and fresh basil and drizzle with olive oil, cut into 8 large slices and enjoy immediately with chili pepper flakes. 
Nutrition
Calories: 180kcal | Carbohydrates: 27g | Protein: 7g | Fat: 6g | Saturated Fat: 1.5g | Cholesterol: 5mg | Sodium: 730mg | Fiber: 3g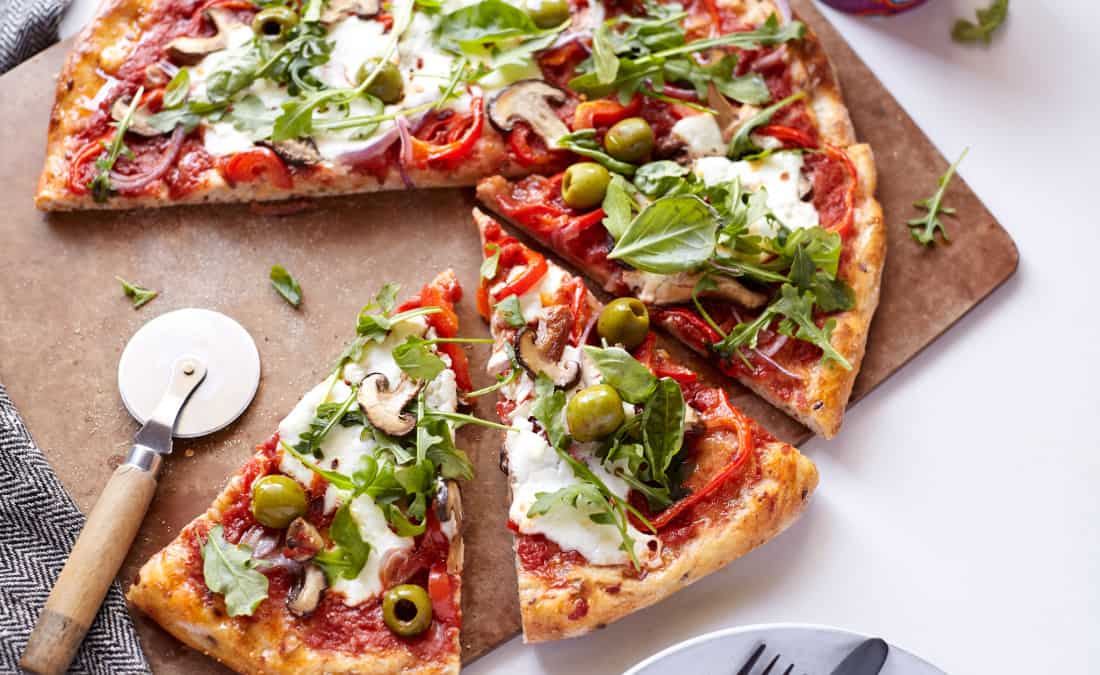 For other veggie-loaded recipes, try one of the ones below: