These two-ingredient frozen grape popsicles are refreshing with the perfect amount of sweetness. Plus, they offer the benefits of flavor, hydration, and potassium with no added sugar.
A perfect summer treat the whole family will love, these pops have just two ingredients: grapes and coconut water. They are simple to prepare and a refreshing way to get nourishment after work or school. Grapes deliver energy and nutrition, and coconut water helps hydrate you with an extra boost from the natural potassium.
What Color Grapes are the Healthiest?
Grapes of all colors – red, green, and black – offer numerous health benefits, including supporting heart, colon, and skin health. All colors of grapes are a natural source of antioxidants and other polyphenols, which are found in every part of the grape, including the skin, flesh, and seeds. They are also a natural source of potassium and a good source of vitamin K.
Grape polyphenols help protect the health and function of the body's cells. In fact, research suggests a link between consumption of grapes and brain health, so grape popsicles are taking "smart snacking" to a whole new level!
Coconut Water and Hydration
Coconut water provides additional nutrients as compared to water, as well as a subtle flavor. A natural source of electrolytes (including potassium), coconut water can help keep you hydrated during warmer months. Since many Americans don't meet their daily potassium requirements, adding these grape and coconut water pops to your diet can make meeting your potassium goals easier than ever!
Nutrition of Homemade Coconut Water and Grape Popsicles
Each coconut water and grape popsicle is just 20 calories, super hydrating and has no added sugar! They offer the benefits of flavor, hydration, and potassium. Plus, they can satisfy without the added fat, salt, and sugar found in many processed snacks and store-bought popsicles.
---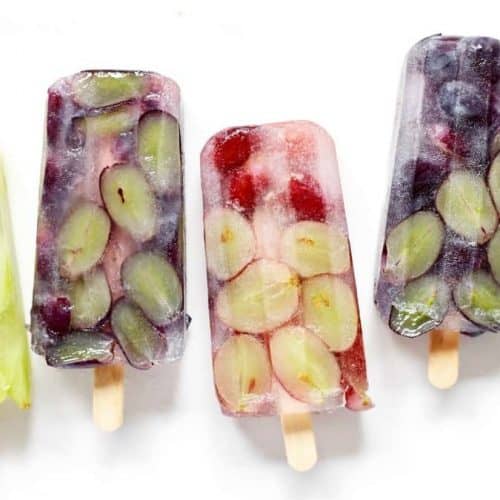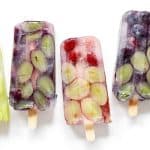 Ingredients
2 1/2 cups grapes, halved
1 1/2 cups 100% coconut water
Directions
Fill ten 3-ounce ice-pop molds with halved grapes. Pour in the 100% coconut water to just cover fruit. Insert ice-pop stick handles. Place in freezer for at least 3 hours, or until frozen.
Nutrition
Calories: 20kcal | Carbohydrates: 6g | Protein: 0g | Fat: 0g | Saturated Fat: 0g | Polyunsaturated Fat: 0g | Cholesterol: 0mg | Sodium: 10mg | Fiber: 0g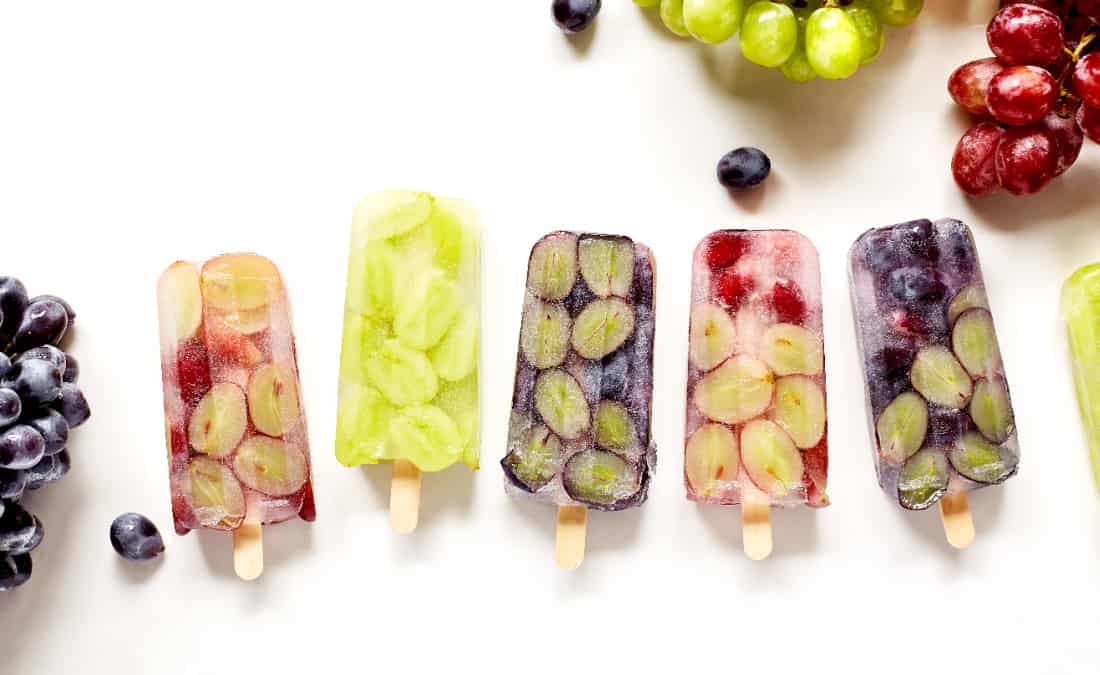 Looking for other refreshing recipes? Try some of these options that will cool you down.