This homemade whole wheat focaccia will beautify your table while offering a balance of savory, sweet, and salty flavors.
If you were wondering if you can make focaccia with whole wheat flour, the simple answer is yes! This whole wheat focaccia recipe is made with half whole wheat flour, half all-purpose flour, and topped with a series of "flowers" made from wedges of sliced figs pinwheeling around a black olive.
How is Focaccia Different from Bread?
Focaccia is a type of bread. It is also typically made with olive oil and herbs, adding a different flavor profile. It is a great bread to serve in the mix with appetizers, as a side to a nutrient-packed salad, or used for a panini for a fun twist.
How to Enhance the Flavor of Homemade Focaccia
While focaccia barely needs any additions to still taste delicious, you can add nutrient power and beautify your bread with a few additional ingredients.
This bread is made with figs and olives for the fun flower design. Then it is topped with rosemary for an extra color and flavor. Drizzling it with olive oil and sea salt is the final touch. The natural sweetness of the figs is complemented with the savory rosemary for a nice twist to typical rosemary focaccia.
Nutrition of Whole Wheat Focaccia
Unlike most focaccia bread recipes, this version offers 7 grams of protein and 6 grams of fiber per slice for staying power. This is due to using whole wheat as a base, in addition to the figs and olives.
Whether it's dipped in olive oil, or added to your main meal, this bread doesn't disappoint!
---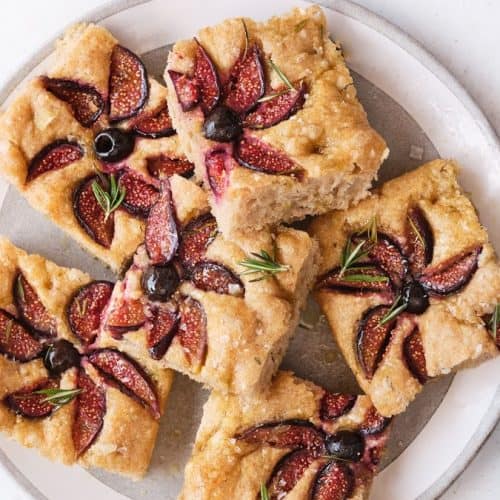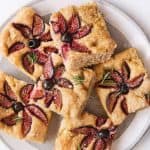 Ingredients
Foccacia
1 1/4 ounce envelope active dry yeast (or 2¼ teaspoons) 
2 teaspoons honey
2 1/2 cups warm water 
3 1/2 cups all-purpose flour 
1 1/2 cups whole-wheat flour 
2 teaspoons sea salt
5 tablespoons extra-virgin olive oil
Topping
16 large fresh black mission figs, stemmed and quartered
9 canned whole black olives, drained
2 large sprigs rosemary
2 tablespoons extra-virgin olive oil (for brushing over bread)
1/2 teaspoon sea salt
Directions
In a medium bowl, whisk together the active dry yeast, honey, and warm water and let sit 5 minutes, until creamy and lightly foamy. Add the flours and sea salt and mix with a rubber spatula until a shaggy dough forms and no flour remains. Set aside.

Pour 2 tablespoons of the extra-virgin olive oil into a large bowl. Add the dough to the large bowl and turn to coat in oil. Cover with plastic wrap and let sit at room temperature until dough has doubled in size, at least 2 hours. (Alternatively, place dough in fridge to slowly rise until ready to bake, up to 1 day.)

Spritz a 18- x 13-inch rimmed baking sheet with cooking spray and line with parchment paper. Spread 1 tablespoon of olive oil evenly over the center and sides of the parchment lined baking sheet.

Transfer the dough to the prepared baking sheet and gently stretch the dough to fill the pan. Let rise, covered, in a warm spot until doubled in size, at least 1 hour.

Place oven rack in middle of oven and preheat to 450°F. Dimple the focaccia with your fingertips, like playing the piano. Brush the focaccia with 2 tablespoons of olive oil. Arrange olives and quartered fig segments across the top to create a flower pattern, using about 7 to 8 fig quarters per flower. Garnish with the rosemary springs. Sprinkle with flaky sea salt and bake until puffed and golden brown, about 20 to 22 minutes.

Just before serving, drizzle 2 tablespoons of olive oil over the top and slice into squares or rectangles. (Keeps well pre-sliced, in the freezer, for up to 1 month. To reheat, place on a baking sheet in oven at 300°F until warmed through.)

Note: For a thicker focaccia, bake in a 13- x 9-inch baking dish with cooking spray spritzed parchment paper for 30 to 34 minutes.
Nutrition
Calories: 330kcal | Carbohydrates: 57g | Protein: 7g | Fat: 9g | Saturated Fat: 1.5g | Cholesterol: 0mg | Sodium: 520mg | Fiber: 6g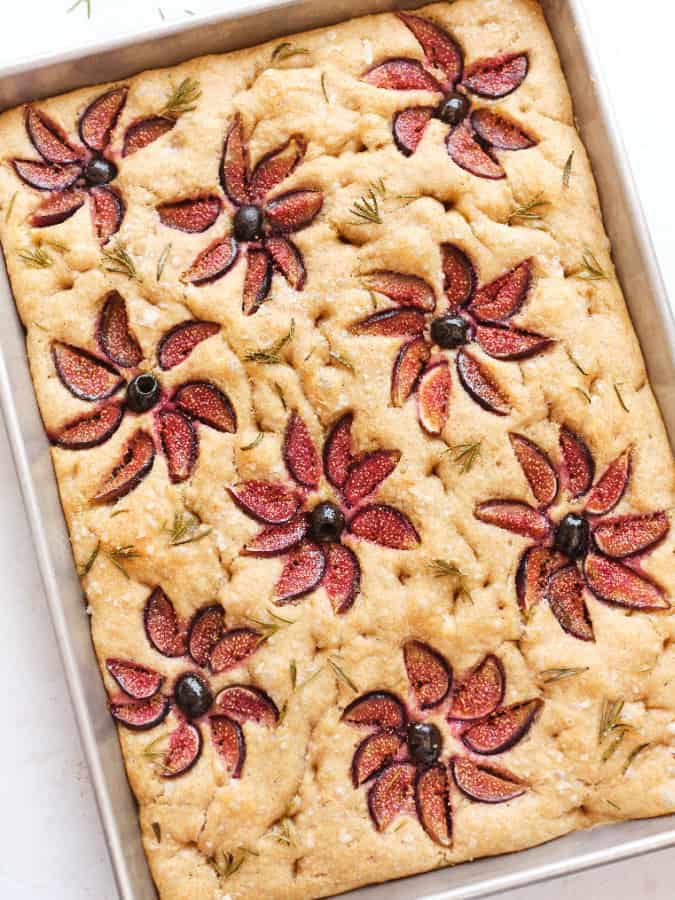 More Delicious Homemade Baked Goods