These mashed ginger sweet potatoes are big on comfort, color, taste, and nourishment. They're ideal served for a gathering of family or friends, especially during the holiday season.
Take your sweet potato dish to a new level with the addition of Clover Sonoma's organic Moon Milks. Ready-to-drink Moon Milks offer more ways to get wholesome, full nutrition (via organic milk) as well as relaxation and wellbeing in one delicious dairy beverage.
What could be better than combining it with a vegetable we all love? Learn more about Moon Milk, and how it can be used to elevate your mashed ginger sweet potatoes. 
What are Clover Sonoma's Moon Milks?
Moon Milks are steeped in ancient Ayurveda. They are the first ready-to-drink organic Moon Milk, and blend two percent organic milk, botanicals, and spices. They are all focused on relaxation-inducing ingredients, complemented by the naturally occurring tryptophan and magnesium in milk.
Moon Milk Flavors
There are three flavor profiles of Moon Milk:
Golden Moon (Ginger Tumeric)
Pink Moon (Cherry Berry Hisbiscus)
Blue Moon (Blueberry Lavender)
The Golden Moon Milk is the one used in these ginger mashed potatoes. 
Health Benefits of Moon Milk
Throughout the pandemic, there has been a growing movement to refocus on the importance of self-care and incorporate things that bring comfort into your daily routine. Moon Milks can help the body respond to physical and emotional stressors. The soothing botanicals infused in all three flavors of Moon Milks can help promote relaxation and wellness throughout the day and can be enjoyed cold, warm or in a variety of recipes. 
They are a perfectly balanced, nutritious whole food with eleven naturally occurring vitamins and minerals. Moon Milks provide twenty-five percent daily value of calcium and nine grams of protein per one cup serving.
Health Benefits of Sweet Potatoes
Sweet potatoes are one of the many varieties of different types of potatoes. They offer a beautiful orange hue and are packed with Vitamin A, Vitamin C, and many other valuable vitamins and minerals. Sweet potatoes also have a naturally sweeter taste to balance some of the more savory dishes in your meal!
How to Use Moon Milk for Ginger Sweet Potatoes
To make these delicious potatoes, boil your potatoes, mash the cooked potatoes, then mix in the Moon Milk and other remaining ingredients. The result is a creamy good-for-you dish, and your guests will be begging you for more.
No-Waste Tip for Sweet Potato Peels
Be sure to scrub the sweet potatoes before peeling them. Sauté the sweet potato peelings in avocado oil over medium-high heat until crisp. Season with salt, pepper, and cayenne pepper and sprinkle these crispy peels on any part of your meal, like salad, pilaf, or these mashed sweet potatoes.
---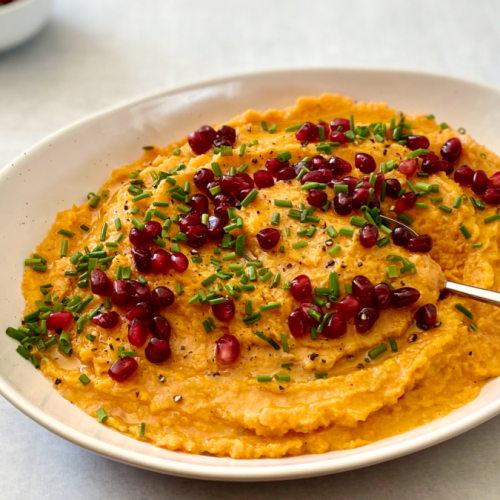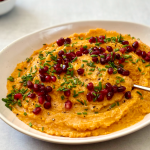 Prep Time 20 minutes
Cook Time 20 minutes
Total Time 40 minutes
Ingredients
4 pounds sweet potatoes (about 7 large), trimmed and peeled, cut into 1 1/2-inch cubes
1 cup Clover Sonoma Organic Golden Moon Milk, warm, or as needed
1 teaspoon fresh grated gingerroot
2 1/2 tablespoons extra-virgin olive oil or melted butter, divided
1 3/4 teaspoons sea salt, or to taste
1/2 teaspoon freshly ground black pepper, or to taste
1/8 teaspoon cayenne pepper or cinnamon
1/3 cup fresh pomegranate arils
1/4 cup chopped fresh chives
Directions
Add the sweet potato cubes (and several pinches of salt, if desired), to a stockpot or Dutch oven. Add cold water to just cover the sweet potato cubes, then add 4 cups more water. Bring to a slow boil, uncovered, over high, then reduce heat to medium-low and simmer, uncovered, until the sweet potatoes are fork tender (mashable by fork), about 13 to 14 minutes. 

Drain the sweet potatoes well using a large strainer. Transfer back to the stockpot (or a large mixing bowl) and mash the sweet potatoes with a potato masher until desired texture. (Hint: For a velvety smooth texture, use a hand mixer or food processor, if desired.) 

Add the Moon Milk, ginger, 2 tablespoons of the olive oil, the sea salt, black pepper, and cayenne to the mashed sweet potatoes and mash or stir together until well combined, stirring in additional Moon Milk if desired. Adjust seasoning to taste.

Transfer the mashed sweet potatoes to a serving bowl, drizzle with the remaining 1/2 teaspoons olive oil, sprinkle with the pomegranate arils and chives, and serve while steamy as a side dish or "bed" for an entree.

Leftovers keep well in the fridge for up to 4 days in a well-sealed storage container. Reheat mashed sweet potatoes in a saucepan with an extra drizzling of Moon Milk to reach desired consistency.
Nutrition
Calories: 260kcal | Carbohydrates: 49g | Protein: 5g | Fat: 5g | Saturated Fat: 1g | Sodium: 660mg | Fiber: 7g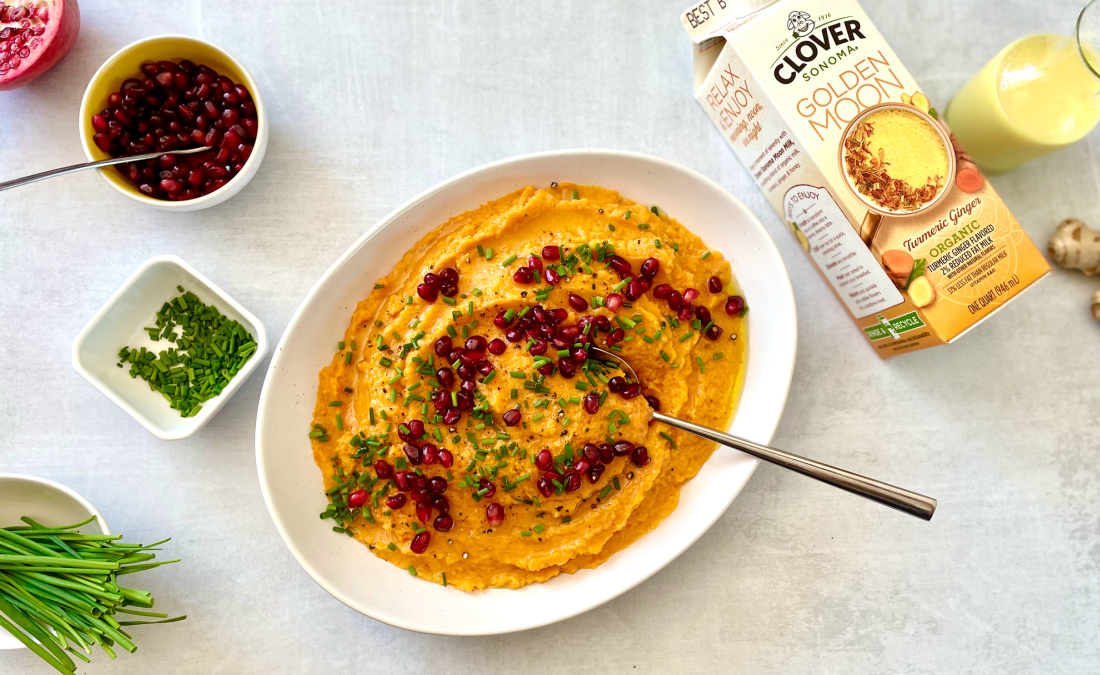 More Ways to Enjoy Potatoes
If you enjoyed this ginger sweet potato recipe, explore more delicious recipes: