These 4-ingredient stuffed sweet potatoes are so easy and full of flavor. Simply bake a sweet potato, and add the toppings for a quick meal.
These stuffed sweet potatoes are a unique and easy option for any sweet potato lover. Plus, they're packed with good-for-you nutrients. Blueberries offer cognitive and anti-inflammatory benefits, walnuts offer antioxidants and good fats, sweet potatoes are loaded with beta carotene for eye health and to help prevent cognitive decline, and even cinnamon has been shown to help support memory and cognitive function. Talk about a brain and body powered meal!
Nutrition Contribution of the 4 Ingredients
The combination of these four ingredients also checks the boxes for a balanced meal. Each stuffed potato offers 9 grams of plant-based protein and 10 grams of gut-healthy fiber. Here's a quick cheat sheet of what each of them contributes:
Sweet potatoes – high-quality carbs (including fiber) and small amounts of plant-based protein
Blueberries – high-quality carbs (including fiber) 
Walnuts – healthy fats (omega-3s), fiber, and plant-based protein
Cinnamon – flavor and polyphenol antioxidants
Quick Blueberry Health Insights
A growing body of research is examining how blueberries can be part of brain-healthy eating patterns, such as the Mediterranean and MIND diets, especially as part of an overall healthful lifestyle. Plus, one cup of blueberries provides vitamin C, vitamin K, manganese and anthocyanins – plant-based compounds that give blueberries their blue color – all for just 80 calories. They add a pop of color to this recipe, and don't skimp on their nutritional benefits either.
How to Make These Stuffed Sweet Potatoes
While these potatoes may be different from your typical stuffed potato, you build them just the same. If you don't have time to bake the potatoes, you can also cook them in a microwave. Once they're cooked, slice each one in half, fluff up the inside of the potato with a fork, and add your toppings. This recipe creates vegan stuffed sweet potatoes, but you can add plain or vanilla Greek yogurt for a boost of protein and flavor.
---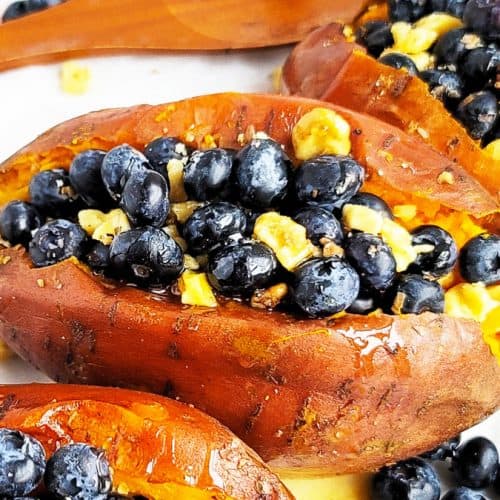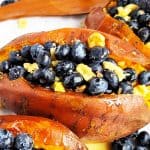 Prep Time 5 minutes
Cook Time 40 minutes
Total Time 45 minutes
Ingredients
4 large sweet potatoes
2 cups fresh or frozen blueberries
1 cup walnut halves, crushed
2 teaspoons ground cinnamon
Directions
Preheat oven to 375°F.

Wash sweet potatoes thoroughly. Pierce holes in the all over with a fork and wrap each one with foil. Place on a baking sheet and bake for about 40-45 minutes or until the sweet potatoes are soft and tender. Once the sweet potatoes are done, let them set for about 10 minutes to cool.

Slice cooked sweet potatoes in halve length wise and use a fork to fluff up the potatoes.

Top each sweet potato with blueberries, walnuts and cinnamon. Drizzle with honey, if desired, and enjoy!

Recipe and image courtesy of U.S. Highbush Blueberry Council.
Nutrition
Calories: 400kcal | Carbohydrates: 46g | Protein: 9g | Fat: 20g | Saturated Fat: 2g | Cholesterol: 0mg | Sodium: 65mg | Fiber: 10g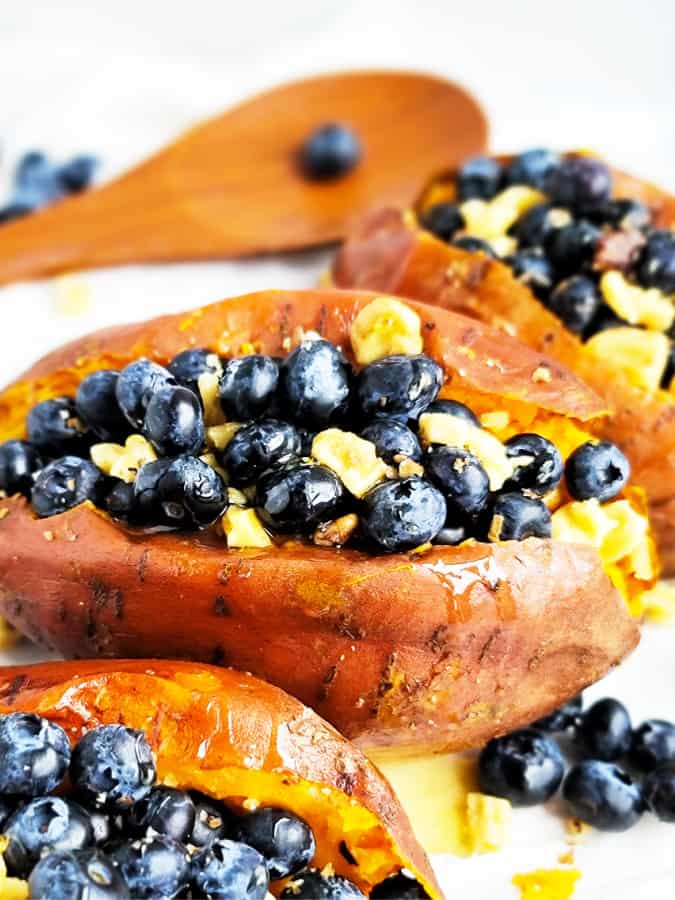 Explore other recipes with sweet potatoes: