This Halloween fruit tray is made with grapes and apples, then topped off with nuts and other goodies to make a festive witch design.
Get in the spooky spirit by using common foods to make a fruit and nut witch platter! With only 5 ingredients you won't believe the magic you can create. Gather with friends or family and see who can make the scariest witch!
What Fruit to Use for a Halloween Fruit Tray
For this design all you need are black grapes, red/purple grapes, and apples. If you can't find black grapes, feel free to swap them out with dried figs, prunes, or another dark fruit. If you have other dark fruits you love, you can also add them to the mix. The key is to keep the same color scheme for your wicked witch.
Other Ingredients Needed
Other than the fruit in this creation, you need a few other fun ingredients including pistachios, dark chocolate chips, marshmallows, and a pickle! A funny combination but they all taste great and make for a beautiful design.
Nutrition Benefits of This Halloween Fruit Tray
This tray is packed with nutrients from the fruit and nuts:
Grapes are high in water content so they are hydrating while also providing a powerful type of antioxidant called polyphenols that can help fight disease. 
Apples also contain powerful antioxidants for additional health benefits. 
Pistachios offer plant protein and fiber – one serving of pistachios has 6 grams of protein and 3 grams of fiber.
Using dark chocolate chips rather than milk chocolate chips can increase the antioxidant content even more.
---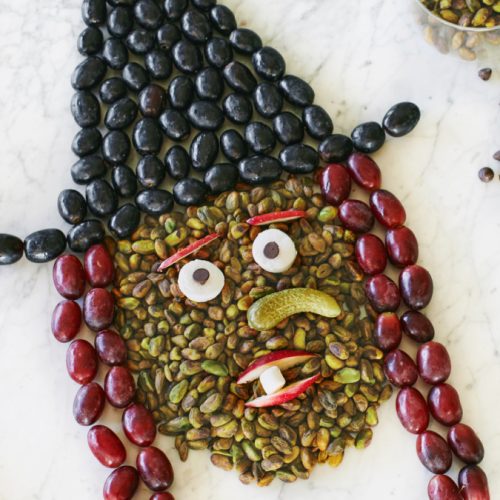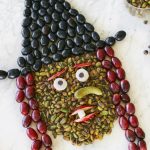 Prep Time 15 minutes
Total Time 15 minutes
Ingredients
1 1/2 cups shelled pistachios, roasted and salted
1 cup red grapes
2 cups black grapes
1 large marshmallow, halved crosswise
2 chocolate chips
4 slivers red apple
1 mini marshmallow
1 sweet gherkin pickle
Directions
On a large serving platter or cutting board, arrange the pistachios in an oval shape to make the face. Arrange rows of red grapes on each side of the face to make the hair, then arrange black grapes to make the witch's hat.

Use half of a white marshmallow to make each eye. Place a chocolate chip in the center of each eye (flat side facing up). Arrange a small sliver of red apple above each eye to make the eyebrows.

Arrange two small slices of red apple to make the lips. Place a mini marshmallow in the center of the apple lips to make a tooth. Arrange the gherkin pickle to make the witch's nose. Enjoy immediately!
Nutrition
Calories: 170kcal | Carbohydrates: 18g | Protein: 5g | Fat: 11g | Saturated Fat: 1g | Cholesterol: 0mg | Sodium: 160mg | Fiber: 3g
More Halloween Recipes
If you enjoyed making this Halloween fruit tray witch, keep the Halloween spirit going! Have fun with these other recipes too: