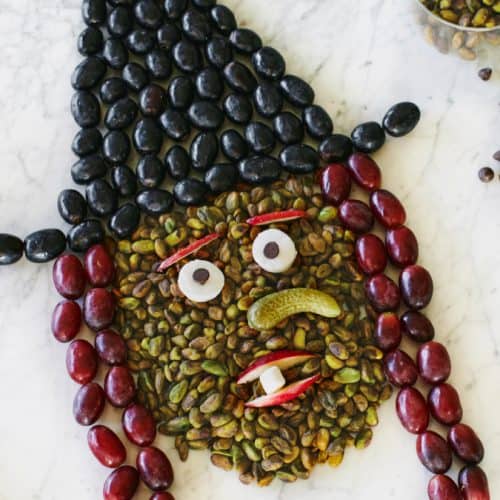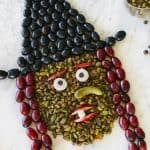 Prep Time 15 minutes
Total Time 15 minutes
Ingredients
1 1/2 cups shelled pistachios, roasted and salted
1 cup red grapes
2 cups black grapes
1 large marshmallow, halved crosswise
2 chocolate chips
4 slivers red apple
1 mini marshmallow
1 sweet gherkin pickle
Directions
On a large serving platter or cutting board, arrange the pistachios in an oval shape to make the face. Arrange rows of red grapes on each side of the face to make the hair, then arrange black grapes to make the witch's hat.

Use half of a white marshmallow to make each eye. Place a chocolate chip in the center of each eye (flat side facing up). Arrange a small sliver of red apple above each eye to make the eyebrows.

Arrange two small slices of red apple to make the lips. Place a mini marshmallow in the center of the apple lips to make a tooth. Arrange the gherkin pickle to make the witch's nose. Enjoy immediately!
Nutrition
Calories: 170kcal | Carbohydrates: 18g | Protein: 5g | Fat: 11g | Saturated Fat: 1g | Cholesterol: 0mg | Sodium: 160mg | Fiber: 3g