These apple monster snacks are a cute and healthy addition to your Halloween treats. Plus, they're a fun way to get the kids involved without a focus on candy!
The start of school and fall always means a fast-forward track to Halloween candy and holiday celebrations. Rid yourself of the Halloween overwhelm and focus on making fun food creatures with the kids instead.
What to Use for Fun Monster Snacks
One of the best things about making festive Halloween monsters is that the fruit doesn't matter so much – as long as your monster is still green! This recipe uses green apples, but you can also experiment with pears.
Healthy Halloween Snacks
One of the keys to balancing the Halloween candy sugar overload is making sure your kids have other balanced snacks and meals too. Plus, not every snack has to be made of 100% whole foods.
These monster snacks are a perfect example – you have the apple, strawberry, marshmallows, and chocolate chips for your carbohydrates, and the peanut butter and almonds for both fat and protein. While marshmallows and chocolate chips aren't going to find their way into snacks every day, they are in smaller quantities and make the snack fun. If your child is allergic to peanut butter, you can easily sub sun butter or another seed butter.
Lead your kids into the habit of first enjoying a balanced meal or snack before diving into the sweets. Then you can set the guidelines for when they can enjoy their candy once they've eaten the more important nutrients in their day.
Minimizing Halloween Stress
Halloween is a holiday that can bring out the child in you, and it really can be fun with the right mindset (and a few guidelines). If you're looking for guidance and inspiration, read my 5 tips for a healthy Halloween.
It's also a great time to find fun activities you can enjoy as a family. If the temperatures start to drop, add a Halloween twist to these fun family indoor games. Every holiday is as good as we make it out to be!
---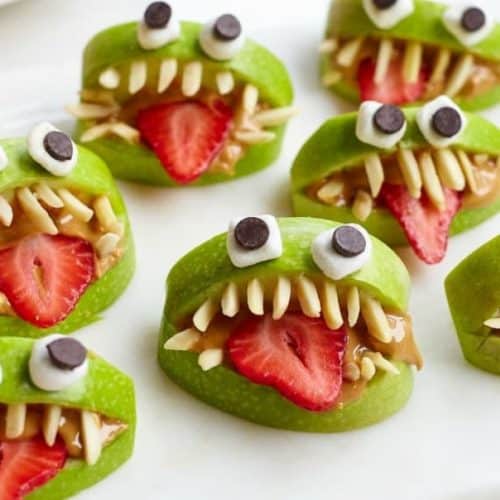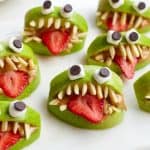 Ingredients
1 large green apple, cored and quartered
4 tablespoons peanut butter
2 tablespoons slivered almonds
1 large strawberry, sliced lengthwise to make 4 "tongues"
8 mini marshmallows
8 chocolate chips
Directions
Make the "mouths": Cut a sliver out of the center of each quartered apple to open up the "mouth." Fill the inside of each "mouth" with 1 tablespoon of peanut butter. (As not to waste food, save the center apple slices for a snack later).

Make the "teeth" and "tongues": Push slivered almonds into the apple around the "mouth" to make the "teeth" and place a sliced strawberry on the bottom of each "mouth" to make the "tongues."

Make the "eyes": Slice off a tiny bit of the end of each marshmallow to make one side sticky; press the sticky side of two marshmallows on the top of each "mouth" to make two "eyes." Press a chocolate chip into each marshmallow, flat side outward, to make the center of each "eye."

Enjoy immediately, or store in the refrigerator for an hour or two before serving.
Nutrition
Calories: 140kcal | Carbohydrates: 11g | Protein: 5g | Fat: 10g | Saturated Fat: 2g | Cholesterol: 0mg | Sodium: 0mg | Fiber: 2g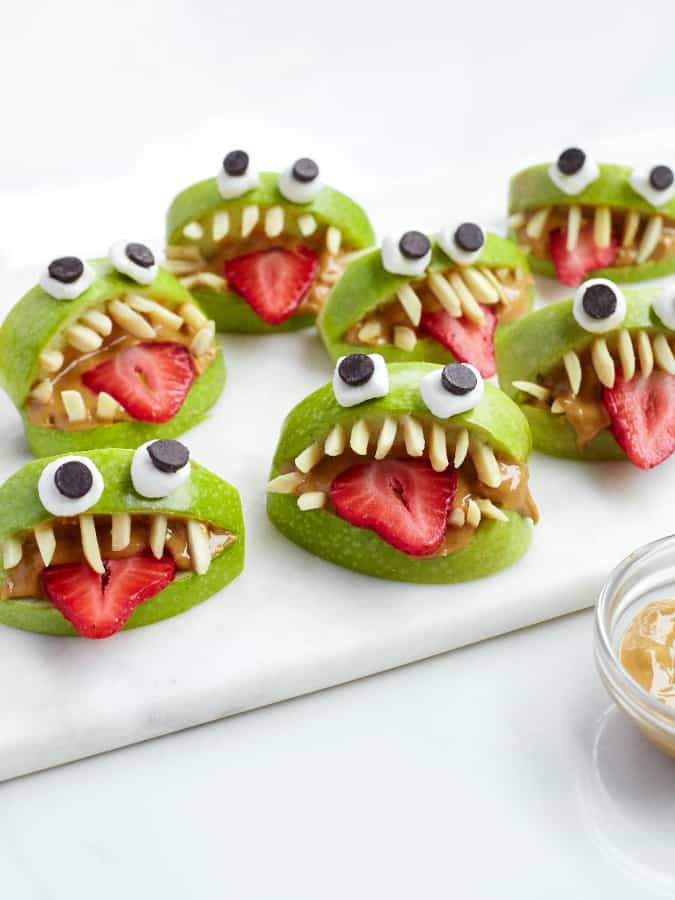 Don't let the healthy Halloween inspiration stop at these monster snacks! Keep the kids in the kitchen and have fun this spooky season with these other recipes: