These apple monster bites are a cute and healthy addition to your Halloween treats. Plus, they're a fun way to get the kids involved without a focus on candy!
---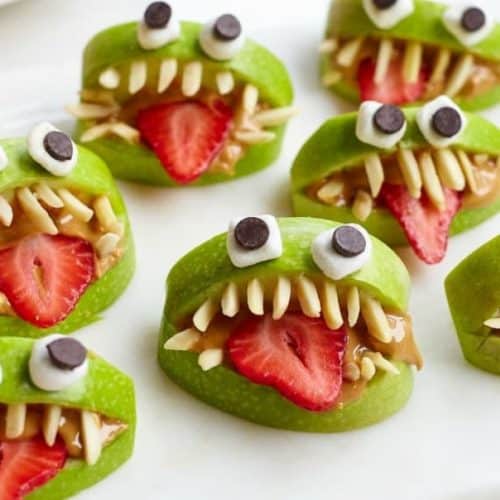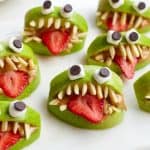 Ingredients
1 large green apple, cored and quartered
4 tablespoons peanut butter
2 tablespoons slivered almonds
1 large strawberry, sliced lengthwise to make 4 "tongues"
8 mini marshmallows
8 chocolate chips
Directions
Make the "mouths": Cut a sliver out of the center of each quartered apple to open up the "mouth." Fill the inside of each "mouth" with 1 tablespoon of peanut butter. (As not to waste food, save the center apple slices for a snack later).

Make the "teeth" and "tongues": Push slivered almonds into the apple around the "mouth" to make the "teeth" and place a sliced strawberry on the bottom of each "mouth" to make the "tongues."

Make the "eyes": Slice off a tiny bit of the end of each marshmallow to make one side sticky; press the sticky side of two marshmallows on the top of each "mouth" to make two "eyes." Press a chocolate chip into each marshmallow, flat side outward, to make the center of each "eye."

Enjoy immediately, or store in the refrigerator for an hour or two before serving.
Nutrition
Calories: 140kcal | Carbohydrates: 11g | Protein: 5g | Fat: 10g | Saturated Fat: 2g | Cholesterol: 0mg | Sodium: 0mg | Fiber: 2g