Here are five tips and healthy Halloween recipes to prepare you and your kids for a fun and healthy Halloween without the sugar hangovers and grouchy attitudes.
Ghoulish costumes, glowing pumpkins, and a plethora of candy can only mean one thing: Halloween has arrived. And, with the spooky ambience, kids everywhere are primed and ready to consume their weight's worth in sweets. But don't forget, healthy Halloween recipes and these simple tips can have a place too!
While this is a fun time for children and adults alike, it can be easy to overdo this holiday thanks to the abundance of sugar. Between trick-or-treating, costume parties, and school functions, there is no lack of anything coated in chocolate, which can lead to overactive children and sluggish adults.
So, how can you make this Halloween enjoyable for everyone while still being healthful? Give these tips and healthy Halloween recipes a try.
5 Tips for a Healthier Halloween
While enjoying some candy alongside all of the fun costumes and spooky vibes on October 31st can be done with balance, it's always good to keep some key tips in mind for a healthy Halloween. Using these 5 tips in your Halloween routine can make this year even better than years past!
Choose bite-sized candy over full-sized
Mix in balanced meals and snacks
Hand out alternative trick-or-treat items
Make sure dinner is served before trick or treating
Have a plan for all the candy
1. Choose Bite-Sized Candy Over Full-Sized
"Go big or go home" shouldn't be the phrase of choice. When given the option, try to go for the bite-sized candy instead of the full sized version.
Not only will you get to have a variety of choices, but kids will have fun picking out their favorites (and even trying something new). You can also have creative snacks around the house, such as my Spooky Pretzel Spider Snacks with California Figs. These finger foods are a great alternative to candy while still providing a nutritious (and festive) aspect to Halloween.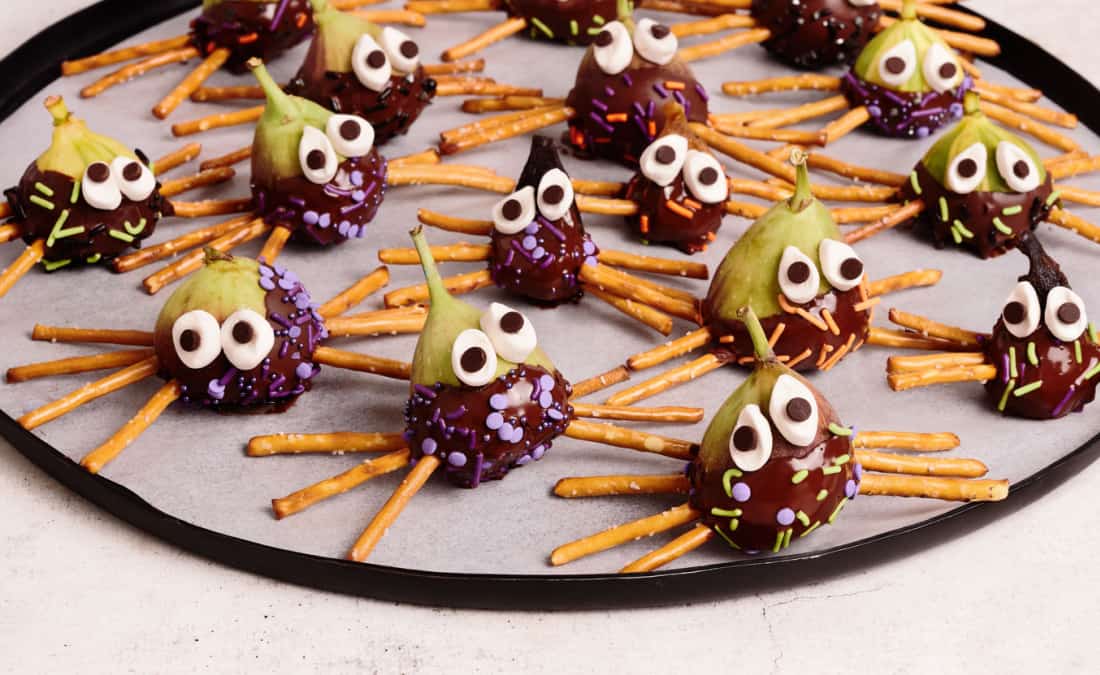 2. Mix in Balanced Meals and Snacks
Balance out the sweetness. With so much sugar available around Halloween, try to balance that sweetness out with other nutritious food items such as nuts, fresh vegetables, or low-sugar yogurt. This is a great way to incorporate protein, vitamins, and minerals into your diet to help offset the candy.
A Halloween Fruit & Nut Witch Platter is a perfect solution!
3. Hand out Trick or Treat Candy Alternatives
Instead of handing out candy this year, try switching it up with little kick-knacks like:
spider rings
decorative pencils
temporary tattoos
bubbles
stickers
You can also give out toys to encourage physical activity, like Frisbees, jump ropes, or hacky sacks. Chances are that kids will remember (and appreciate) the thoughtful little toy more than sweets. The parents will thank you, too!
4. Make Sure Dinner is Served Before Trick or Treating
Don't forget dinner. To make the most out of Halloween night, make sure your kids don't go out on an empty stomach. If possible, try to have dinner ready, or provide them with a nutritious snack (i.e. fruit, cheese, peanut butter, or yogurt) before they go trick-or-treating. The healthy Halloween recipes at the end of this post are a great solution since they'll still be festive and fun for the kids. If your kids aren't hungry when they leave, they might be less likely to overindulge on candy when they get home.
5. Have a Plan for All the Candy
Make sure your kids know their "sweet" boundaries after trick-or-treating is over. For example, you could allow them to choose three to five small pieces of candy each day and slowly enjoy them, instead of consuming everything at once.
This will help eliminate the sugar highs/lows, help your kids to listen to their bodies, and help them learn to savor each bite. If after a week there is still candy left over, you can either (discretely) throw it out or give the rest away.
Get Creative with Healthy Halloween Recipes
Halloween treats don't all have to be off limits! Plus, you can create balanced healthy Halloween snacks that have some spooky inspiration but are just as nutritious as the usual snacks you feed your kids. Try some of these fun and festive healthy Halloween recipes.
For more treat ideas, check out my Fox Health article "5 Spooky Halloween Treats That Are Actually Good For You."
What are some ways you plan to enjoy the holiday? Let me know!