These Halloween fruit cups are a fun and easy recipe for kids to create for a healthy and festive holiday activity.
When candy spreads like rapid-fire across stores this time of year, it can be difficult to complete your groceries with kids in tow without getting bombarded with requests for candy. Instead of giving in to the howls for their sweet treats, have a game plan with these healthier Halloween grape treats instead!
Grapes May Support a Healthy Immune System for the Holidays
Grapes are a naturally sweet and hydrating food that may help support a healthy immune system. Natural grape compounds, including antioxidants and other polyphenols, help protect the health and function of cells.  
Studies suggest that resveratrol and certain flavonoids may positively influence immune function. In addition, grapes are a good source of vitamin K, which may help support lung health during COVID-19.
Grapes are a Heart-Healthy Food
A smart holiday treat for adults as well, grapes support heart health by promoting the relaxation of blood vessels to help maintain healthy circulation. In two studies conducted at the University of Connecticut, researchers found that adding grapes to the diet every day supports a healthy heart.
In one study published in the Journal of Nutrition, women who consumed 1 1⁄4 cups of grapes every day benefited from reduced blood triglyceride levels, LDL cholesterol levels, inflammatory proteins, and other markers of heart disease.
In another study published in the journal Molecules, men with metabolic syndrome who consumed 1 1⁄2 cups of grapes every day reduced blood pressure, improved blood vessel function, and decreased a key marker of inflammation.
Focusing on Healthy Snacks During Halloween
While it's inevitable that candy will find its place in Halloween celebrations, there are also fun and healthy creations you can focus on. These Halloween fruit cups are a perfect option because grapes can satisfy without the added fat, salt, and sugar found in many processed snacks and sweets.
Fun Spin Off: Frankenstein Fruit Cups
Make a fun spin on these silly monster faces with a Frankenstein fruit cup. With the same black permanent marker, draw some face stitching on the forehead and add a thick block of black "hair" up top as well.
The creative options are endless for Halloween!
---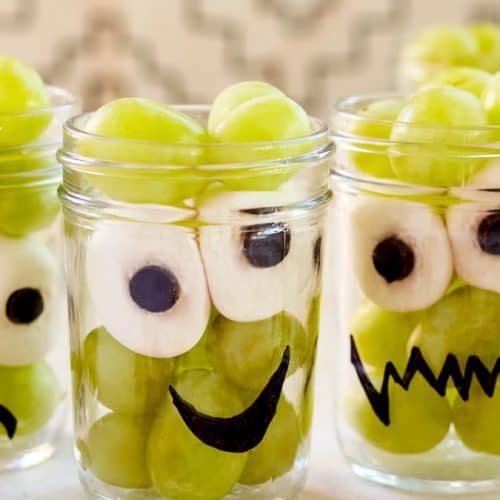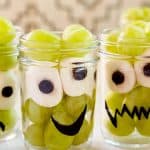 Ingredients
3/4 cup green grapes, seedless (cut in half for small children)
2 marshmallows
2 chocolate chips
Directions
Fill a clear cup or jar with grapes. Use 2 large marshmallows with chocolate chips inside to make the eyes. Draw the mouth on the cup with a black marker. Enjoy!
Nutrition
Calories: 150kcal | Carbohydrates: 43g | Protein: 1g | Fat: 1.5g | Saturated Fat: 1g | Cholesterol: 0mg | Sodium: 15mg | Fiber: 1g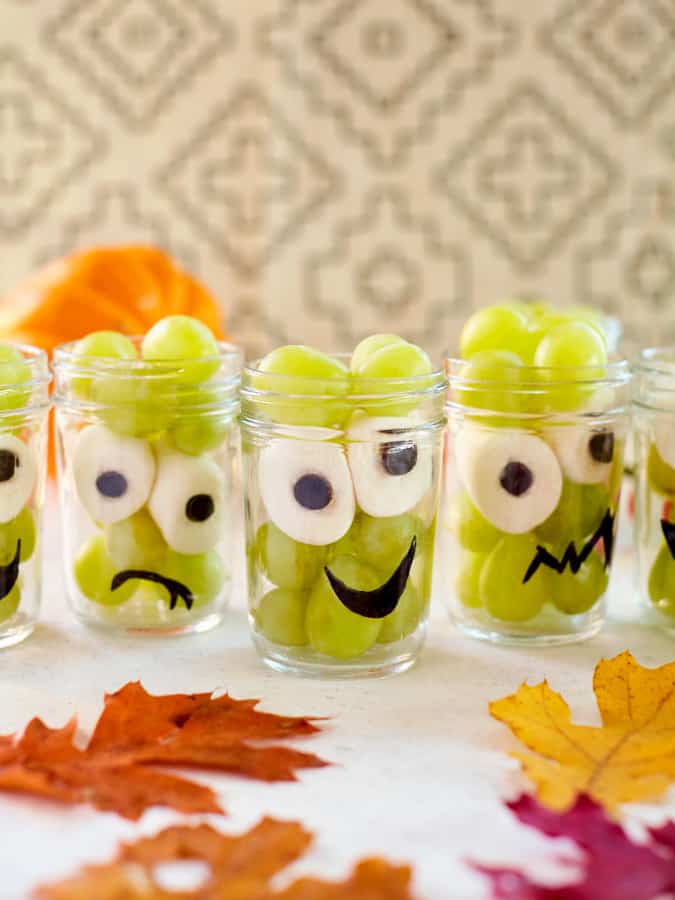 More Halloween Kids Recipe Activities
Looking for more Halloween fun like these Halloween fruit cups? Try these other fun creations: