Make the most of your extra time at home with these fun indoor activities for adults and kids alike. Fall and winter can still be full of festivities!
Winter may look a little different this year, but just because we're spending more time at home, doesn't mean there isn't fun to be had! Stay safe and warm all winter long with these six fun indoor activities for adults and kids too!
Have an indoor snowball fight
Cook with the kids
Host an indoor scavenger hunt
Start a dance party
Build an obstacle course
Build a cardboard fort
Here are ways to make each of these six activities fun for the whole family.
Have an Indoor Snowball Fight
No more having to brave the cold to have a snowball fight. You can make your own fun fall and winter activity from the comfort of staying inside. There are many "snowball" options out there such as purchasing foam craft balls, felt snowballs, or even gathering as many clean pairs of socks you can find.
Get the whole family involved, form teams, or have everyone fend for themselves for the ultimate indoor snowball fight. Use pillows for shields, or even build forts to make it even more fun and interactive. Never set limits for the fun activities you can do with kids and toddlers indoors!
Get Cooking with the Kids
Since the pandemic, many of us have started cooking and enjoying more meals at home, but it doesn't have to feel like a chore all the time. One of my top indoor activities for toddlers and kids is to get them in the kitchen and help with dinner. Not only does this help them learn valuable skills, but it also helps to get them more on board with trying new foods, especially for picky eaters.

It doesn't matter how young or how old, children of all ages can get involved in cooking. Really young ones can dump in ingredients, stir bowls, or even tear up fresh herbs. Older kids can help with the more advanced skills like cracking eggs, measuring ingredients, using the stovetop, or chopping ingredients (with your assistance). You can also get kids involved by having them pick a meal of their choice. They may be even more excited to start cooking if they get to pick out the meal, too!
Host an Indoor Scavenger Hunt
One activity that can be fun for both kids and adults is an indoor scavenger hunt. It can be as easy as hiding random objects throughout the house and sending the whole family out to find them. You can make it even more enticing by buying small gifts or prizes and wrapping them before hiding, or even placing small amounts of money in colorful containers throughout the house.
Give each participant a time limit, and let them know how many objects are to be found. If you're hiding specific items, you can even make a checklist of the items so they can easily keep track. You can do this multiple times throughout the season. Give each hunt a different theme to keep it fun and exciting.
Have a Dance Party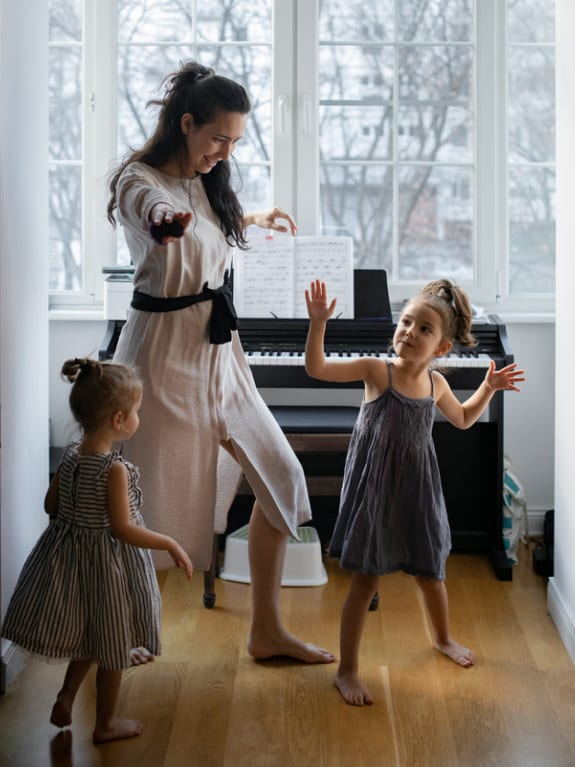 One of my favorite indoor activities for toddlers, kids, and adults alike is having a dance party. It's as simple as turning on your favorite tunes and getting your dance on. This is such a fun and easy way to boost your mood, get more active, and spend some quality time with your loved ones. 
You can even have a dance party of one. That way, you can truly dance like nobody's watching. Use it as a quick break from work, an afternoon energy booster, or simply a fun way to welcome the weekend.
Build an Obstacle Course
I'm sure you've seen at least one obstacle course show on TV before, but have you ever thought of making your own right in your living room? Sounds intimidating and dangerous, but I promise you it is super easy (and safe). Turn your whole house into a homemade obstacle course by simply using things you already have lying around. 
Some ideas for your own obstacle course include crawling under the kitchen table, doing limbo under the broom, tossing bean bags into the laundry basket, making a paper 'laser' maze, and doing army crawls under a row of chairs. The possibilities are endless. Keep safety in mind, and use lots of soft surfaces in your home like yoga mats, pillows, and blankets.
Build a Cardboard Fort
Last but certainly not least on our list of fun indoor winter activities is building an indoor fort. All of that online shopping will pay off when you have lots of cardboard boxes for fort making at your disposal. I promise kids of all ages will have fun with this activity. You can go big, and turn your whole living room into a cardboard castle, or make a long tunnel that wraps around the house. 
In addition to cardboard, you can use blankets, sheets, tablecloths, pillows, and even curtains to aid in your fort making. Keep it up for the night, and turn it into the prime location for a family movie night.
There is a world of possibilities when it comes to fun activities at home. Channel your inner child, get creative and make spending more time indoors as fun as possible with the whole family. 
Which of these fun indoor activities for adults and kids would you try first? Please share, I'd love to hear!