These orange breakfast muffins are topped with an orange-infused glaze and are the perfectly sweet and nourishing way to start your morning routine.
Begin your day on a nutritious note with these wholesome muffins. They are ideal for breakfast and have a memorable orange flavor and aroma, joyful specs of orange from grated carrot, and a just-right hint of natural sweetness.
How to Build a Nutritious Breakfast
Breakfast can set the tone for your food choices throughout the day. Choose whole grains, lean proteins, plenty of fruits and vegetables, and focus on natural, wholesome ingredients. A balanced breakfast like this provides sustained energy, supports weight management, and improves overall well-being.
Each Orange Breakfast Muffin provides 5 grams of protein and 4 grams of fiber for staying power. Pair a muffin with Greek yogurt, cottage cheese, or an egg for added protein to keep you full and satisfied. This is a big batch recipe of 16 large muffins, so you can freeze extra for a nourishing grab-and-go breakfast when you're tight on time.
Ingredients in Orange Breakfast Muffins
Just the thing for cold and flu season, these muffins are made with an array of immune-supporting ingredients, including Tropicana Light orange juice beverage, carrots, banana, flaxseeds, ginger, and cinnamon.⁠ They offer a balanced combination of flavor and nourishment.
Benefits of Using Tropicana Light
Tropicana Light is made from sun-ripened oranges, contains no artificial sweeteners, and is made with 50% less sugar and 50% less calories* than regular orange juice. It also comes in a variety of offerings, including Tropicana Light No Pulp Calcium + Vitamin D and Tropicana Light Vitamin C + Zinc for additional nutrients.
*not a low-calorie food; see package for nutrition information.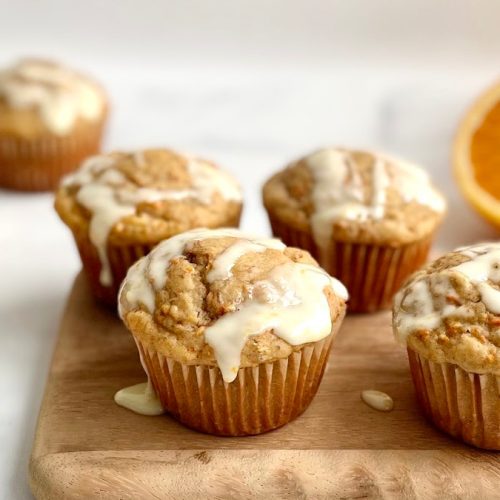 Prep Time 25 minutes
Cook Time 18 minutes
Ingredients
MUFFINS
2 1/2 cups whole wheat pastry flour
2 tablespoons ground flaxseed (flaxseed meal)
2 teaspoons baking powder
1 teaspoon ground cinnamon
1/2 teaspoon baking soda
1/2 teaspoon sea salt
1/3 cup + 1 tablespoon turbinado sugar
1/3 cup avocado oil or sunflower oil
3 large eggs
1 small fully ripened banana, mashed (4 ounces mashed)
2/3 cup Tropicana Light No Pulp Orange Juice Beverage
1 (5.3-ounce) container plain, unsweetened, 0% fat Greek yogurt (about 2/3 scant cup)
2 teaspoons grated orange zest
1 1/2 teaspoons pure vanilla extract
1 teaspoon grated fresh gingerroot or 1/4 teaspoon ground ginger
3/4 cup finely grated carrots (ideally in a food processor)
ORANGE GLAZE
3/4 cup powdered sugar
1 tablespoon Tropicana Light No Pulp Orange Juice Beverage
1/2 teaspoon grated orange zest
Directions
Preheat the oven to 400°F. Line muffin pans with 16 paper liners.

In a medium bowl, whisk together the flour, flaxseed, baking powder, cinnamon, baking soda, and salt. Set aside. 

In a large bowl, whisk together the sugar and oil to combine. Whisk in the eggs to combine. Then whisk in the mashed banana, Tropicana Light, yogurt, orange zest, vanilla, and ginger until well combined. Add the flour mixture and stir until just combined. Fold in the carrots until evenly combined. 

Spoon the batter into the prepared muffin liners. Bake until golden and a toothpick inserted into the muffin center comes out clean, about 18 minutes.

Let stand for 10 minutes in the muffin pans, then transfer the muffins to a cooling rack. 

Make the glaze: In a medium bowl, whisk together the powdered sugar, Tropicana Light, and orange zest. Lightly drizzle over cool muffins. 

Enjoy now and/or freeze for later.
Nutrition
Calories: 210kcal | Carbohydrates: 34g | Protein: 5g | Fat: 6g | Saturated Fat: 1g | Cholesterol: 35mg | Sodium: 130mg | Fiber: 4g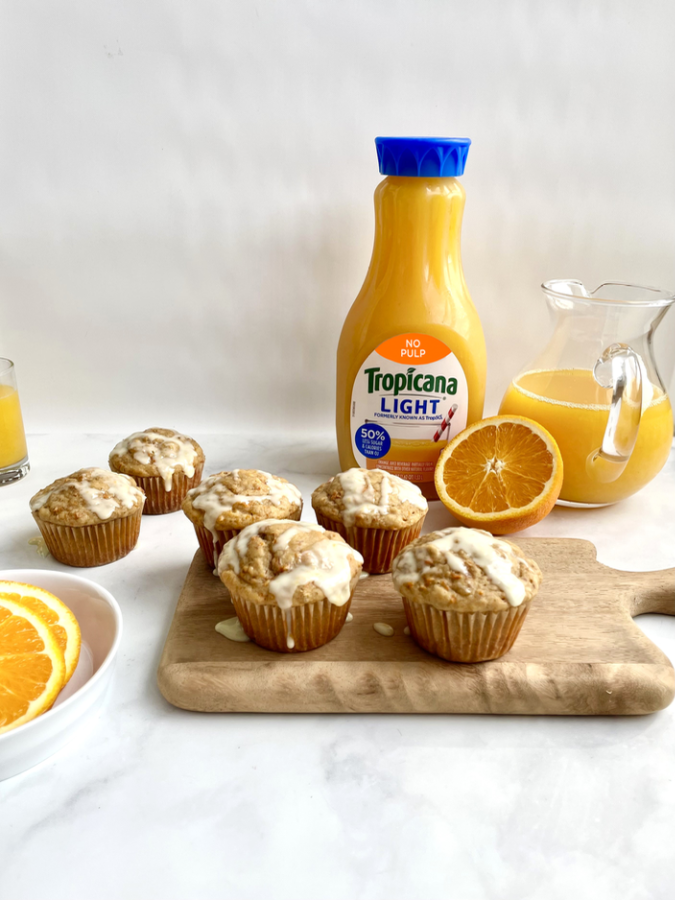 More Orange Inspiration
Learn more about how these breakfast muffins can become a new micro habit to support immune health, and explore other delicious recipes with orange.