This salmon arugula salad is a light and bright meal full of omega-3 fats, protein, and fiber to power you through the day.
Say goodbye to boring desk salads, and hello to this salmon arugula salad! It's tossed with a citrus and tahini dressing, and topped with a crispy pan-seared salmon filet to pack a one-two punch of bright flavor, and hunger-reducing fulfillment.
How to Pan Sear Salmon with Skin
The key to taking this dish to the next level is getting the salmon super crispy on the outside. Knowing how to properly pan sear a salmon filet is key for this recipe, and also for delicious salmon meals in your future.
Moisture is the enemy of crispiness. Make sure you pat each of your salmon filets dry with a paper towel before seasoning with salt and pepper.
Get your fish to room temperature. If your fish is too cold (or still partly frozen) it will not cook evenly throughout the entire fillet.
Place the fish skin-side down in the pan and press down firmly with a spatula. The pressure ensures even cooking and keeps the fish flat, so the ends don't curl up.
Heat is the best friend to a good sear. Heat your skillet to a medium-high heat, and add your oil. Let it heat for a minute before adding your salmon filets skin side down. It should sizzle when you add them to your pan. If not, your pan isn't hot enough, and won't give you that crispy sear you want. Let them cook undisturbed for about 5 minutes before flipping, and cook for another 5 minutes, or until cooked through.
Why Choose a Citrus Dressing for Arugula Salad?
Not only does this citrus tahini dressing give this dish an overall bright flavor, but it also helps your body absorb more nutrients. The healthy fats found in the tahini, olive oil, and salmon help your body absorb the fat-soluble vitamins A,D,E, and K more easily. This means more of those good-for-you nutrients are utilized by your body instead of going through your digestive tract unused.
Another fun fact: acidic foods like citrus or tomatoes also help your body more easily absorb iron, especially from plant-based foods. While this salad doesn't contain a high amount of iron, the amount it does contain is used by your body more readily thanks to the lemon and orange juice in the dressing.
---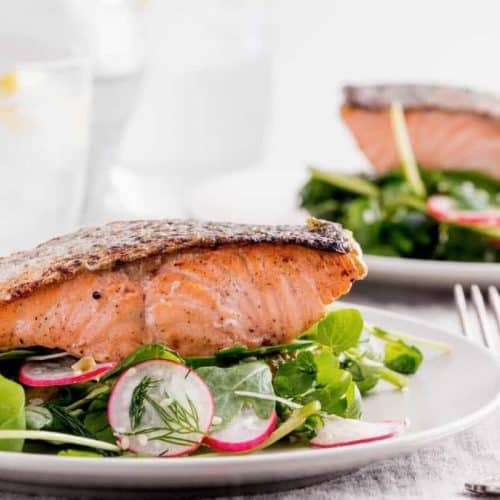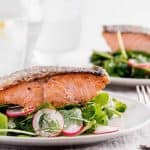 Ingredients
Salmon
2 (5-ounce) skin-on salmon fillets
1/4 teaspoon kosher salt
1/2 teaspoon freshly ground black pepper
2 tablespoons avovcado or sunflower oil
Salad Dressing
1 tablespoon smooth tahini
4 teaspoons fresh lemon juice
2 tablespoons fresh orange or tangerine juice (from about 1 small tangerine or orange)
2 teaspoons extra-virgin olive oil
1/4 teaspoon honey
1/8 teaspoon kosher salt
1 small clove garlic, smashed (optional)
Salad
2 cups arugula leaves
1 cup mâche leaves (or 1 additional cup arugula leaves)
4 radishes, thinly sliced
1 green onion, halved lengthwise and thinly sliced into 1-inch lengths
1 teaspoon sesame seeds
Directions
Season the salmon with salt and pepper and heat a large skillet with oil. Place the fillets skin side down and cook over moderately high heat until the skin is crispy and lightly browned, about 5 minutes. With a fish spatula, flip each fillet in the pan, and continue cooking on the second side for another 4 to 5 minutes until cooked through. Keep warm and set aside.

Make the dressing: In a small bowl, whisk together the tahini, lemon juice, orange juice, olive oil, honey and salt until smooth and creamy. Add the garlic clove, if desired, and lightly macerate into dressing. Set aside.

In a medium bowl, combine the arugula, mâche (if using), radishes, green onion, and sesame seeds. Pour the dressing over the salad and toss gently to coat. Transfer the salad to two plates and top with the salmon fillets. (The salmon will keep well in an airtight container in the refrigerator for up to 2 days).
Nutrition
Calories: 310kcal | Carbohydrates: 4g | Protein: 31g | Fat: 18g | Saturated Fat: 2.5g | Cholesterol: 80mg | Sodium: 500mg | Fiber: 1g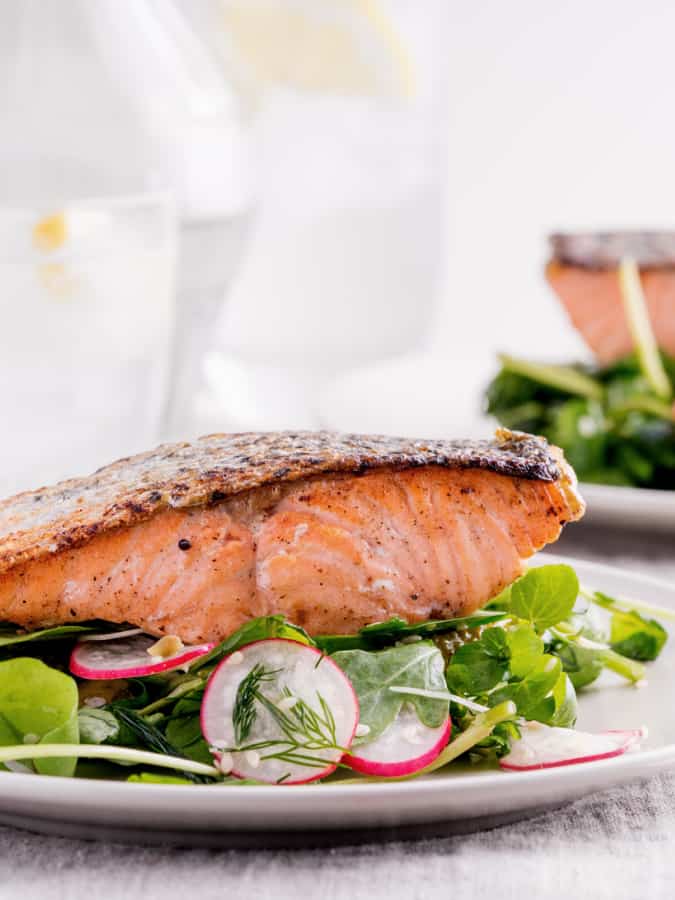 Explore other refreshing salads that have a boost of protein: