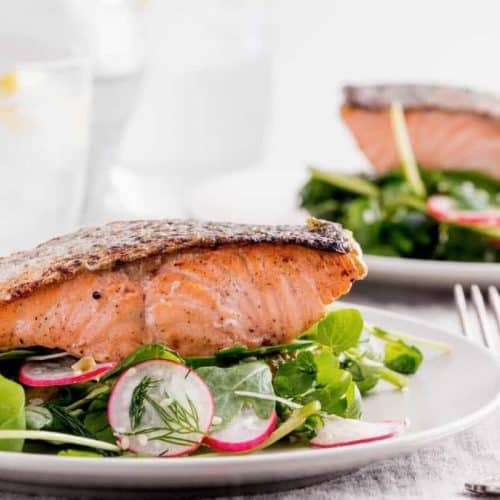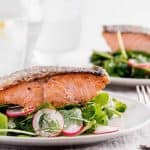 Ingredients
Salmon
2 (5-ounce) skin-on salmon fillets
1/4 teaspoon kosher salt
1/2 teaspoon freshly ground black pepper
2 tablespoons avovcado or sunflower oil
Salad Dressing
1 tablespoon smooth tahini
4 teaspoons fresh lemon juice
2 tablespoons fresh orange or tangerine juice (from about 1 small tangerine or orange)
2 teaspoons extra-virgin olive oil
1/4 teaspoon honey
1/8 teaspoon kosher salt
1 small clove garlic, smashed (optional)
Salad
2 cups arugula leaves
1 cup mâche leaves (or 1 additional cup arugula leaves)
4 radishes, thinly sliced
1 green onion, halved lengthwise and thinly sliced into 1-inch lengths
1 teaspoon sesame seeds
Directions
Season the salmon with salt and pepper and heat a large skillet with oil. Place the fillets skin side down and cook over moderately high heat until the skin is crispy and lightly browned, about 5 minutes. With a fish spatula, flip each fillet in the pan, and continue cooking on the second side for another 4 to 5 minutes until cooked through. Keep warm and set aside.

Make the dressing: In a small bowl, whisk together the tahini, lemon juice, orange juice, olive oil, honey and salt until smooth and creamy. Add the garlic clove, if desired, and lightly macerate into dressing. Set aside.

In a medium bowl, combine the arugula, mâche (if using), radishes, green onion, and sesame seeds. Pour the dressing over the salad and toss gently to coat. Transfer the salad to two plates and top with the salmon fillets. (The salmon will keep well in an airtight container in the refrigerator for up to 2 days).
Nutrition
Calories: 310kcal | Carbohydrates: 4g | Protein: 31g | Fat: 18g | Saturated Fat: 2.5g | Cholesterol: 80mg | Sodium: 500mg | Fiber: 1g