These vegetarian lentil walnut tacos feature two forms of a fresh avocado topper: in a citrus crema sauce and sliced — for double the deliciousness.
Tacos are one of the most versatile meals! From the protein source, to the veggies, to the flavor enhancements, they can be a colorful and nutrient-dense powerhouse. These lentil walnut tacos pack in plant-based nutrients that can benefit your heart health and contribute to daily nutrient needs.
Health Benefits of Avocados
Avocado takes these lentil walnut tacos to the next level. Not only does the heart-healthy fruit provide a creamy, indulgent texture, but it also contributes nearly 20 different vitamins, minerals, and phytonutrients to the diet.
An excellent source of fiber, these tacos are bursting with plant-based goodness and traditional chorizo spices that are sure to wow you and your loved ones.
Benefits of Plant-Based Tacos
Vegetarian tacos don't have to be any less exciting than animal protein options. Plus, they offer a unique texture that can elevate your dish. Lentils and walnuts are the other stars of the show next to avocado. Lentils are a delicious legume that provide gut-friendly fiber and plant-based protein, while walnuts offer omega-3s, fiber, and small amounts of protein. 
How to Make Flavorful Lentil Walnut Tacos with Avocado
The true secret ingredient of these tacos is the avocado crema. You'll start by making this and setting it aside while preparing the tacos. Then, heat up the veggies, walnuts, lentils, herbs, and spices in a pan. Warm your tortillas, and build the tacos with the avocado and avocado crema on top! Top with cilantro, lime, and hot sauce for added culinary flair.
---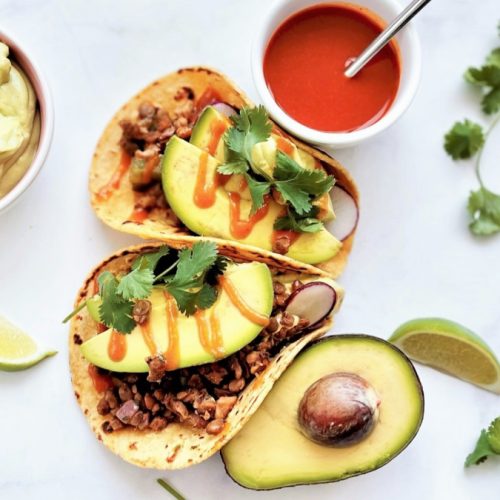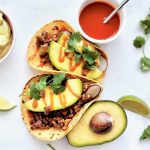 Prep Time 10 minutes
Cook Time 25 minutes
Ingredients
Fresh Avocado Citrus Crema
1 ripe, fresh avocado, halved, pitted, and peeled
1/2 cup plain 2% Greek yogurt (or plant-based alternative)
1 1/2 teaspoons fresh lime juice
1 1/2 teaspoons fresh lemon juice
1/4 teaspoon sea salt
1/4 teaspoon chili powder
Lentil Avocado Tacos
1 tablespoon avocado oil or sunflower oil
1 large green bell pepper, diced
1/3 cup red onion, finely diced
1/3 cup walnuts, finely chopped
1 (15 ounce) can no-salt-added lentils, drained (or 1 1/2 cups cooked lentils)
1 large garlic clove, minced
1 teaspoon fresh oregano, minced (or 1/2 tsp. dried oregano)
1/4 teaspoon sea salt
1/4 teaspoon chili powder
1/4 teaspoon smoked paprika
8 (5- to 5 ½-inch diameter) corn or whole-wheat tortillas, lightly pan-grilled
1 ripe avocado, halved, pitted, peeled, and sliced
1/4 cup loosely packed fresh cilantro sprigs
1 lime, cut into 8 wedges or slices 
Hot sauce (optional)
Directions
Make the crema: Place avocado, Greek yogurt, lime juice, lemon juice, salt and chili powder into a food processor or electric mixer bowl and blend until creamy. Set aside while you prepare the tacos. 

Make the tacos: Heat the oil in a large stick-resistant skillet over medium-high heat. Add bell pepper, onion, and walnuts and sauté until the walnuts are toasted and vegetables begin to brown, about 4 minutes. Add lentils, garlic, oregano, salt, chili powder, and paprika and cook, stirring occasionally, until the lentils are fully heated and bell pepper is softened, about 2 1/2 minutes. Adjust seasoning, as needed.

To serve: Warm up tortillas and top with the lentil mixture, fresh crema, and avocado slices, dividing evenly. Sprinkle with the cilantro sprigs and serve with lime wedges. Drizzle with the hot sauce, if desired.
Nutrition
Calories: 450kcal | Carbohydrates: 51g | Protein: 16g | Fat: 23g | Saturated Fat: 3g | Sodium: 340mg | Fiber: 16g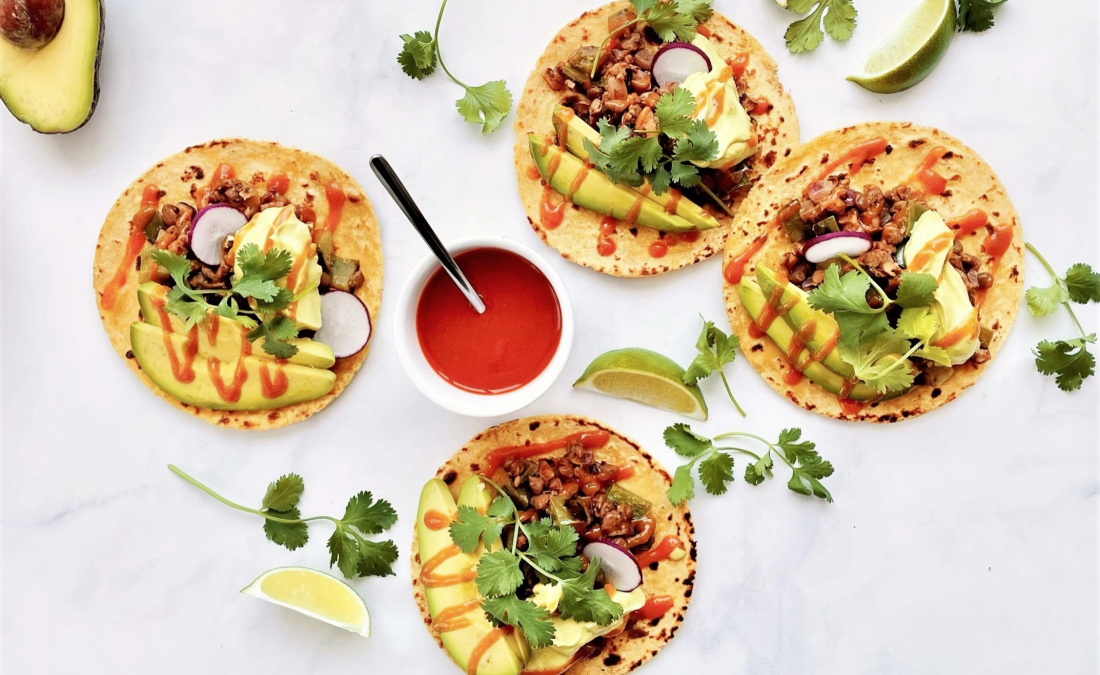 More Tasty Taco Recipes
Looking for more delicious taco recipes? Try one of these next: