The combination of avocado toast with a fried egg is super satisfying, delicious, and easy to make for an energizing start to your day.
Take the classic avocado toast up a notch by topping it with a fried egg for maximum flavor, and satisfying protein. I guarantee these will soon become a top contender in your go-to breakfast meal arsenal.
How to Make a Sunny Side Up Egg
Making a sunny side up egg without breaking the yolk can be intimidating, but I promise it's easier than you think. Eggs provide high quality protein and are full of essential nutrients like vitamin A, B vitamins, and selenium. They also include the antioxidants lutein and zeaxanthin. These nutrients are great for eye health, immunity, and energy levels. Here are three steps to make your sunny side up eggs perfect every time.
Use a non-stick pan. There's no bigger enemy to eggs than a pan that sticks. Using a good quality non-stick pan is crucial to help assure your eggs slide right out of the pan, and avoid the stuck-on egg cleanup nightmare. Alternatively, use a cast iron skillet that has been liberally coated with avocado oil or sunflower oil.
Go slow and steady. Cooking on too high of a heat will brown the bottom of your egg too fast, before the rest of the egg is cooked. Cook your eggs on a low heat for perfectly cooked whites, and those drool-worthy runny yolks.
Put a lid on it. To help your whites cook through, cover your pan with a lid until they are set. It is helpful to use a glass lid if available to help you keep an eye on your eggs during the process, and to avoid overcooking.
Additional Avocado Toast Topping Ideas
While the combination of healthy fats, protein, and fiber in these sunny side up avocado toasts is good on its own, here are some fun variations you can try to switch things up and add another pop of flavor and color:
Fresh herbs. These are especially great in the spring and summer when fresh herbs are bountiful. Sprinkling your toasts with chopped chives, fresh basil, cilantro, or any favorite herb instantly adds a new level of brightness and flavor.
Seeds. If you're a texture lover like me, sprinkling your avocado toast with chia, hemp, or pumpkin seeds before topping with your egg is a game changer. Not only do they add more healthy fats and fiber, but they also have that crunch factor!
More veggies. There's always room for more veggies! Add some additional color and nutrition with some of my favorites like roasted red peppers, finely chopped spinach, onions, or thinly sliced tomatoes.
Try adding this sunny side up egg and avocado toast recipe as a simple addition to your typical breakfast or brunch rotation. You'll have a small amount of clean up, and you can make it all within 10 minutes!
---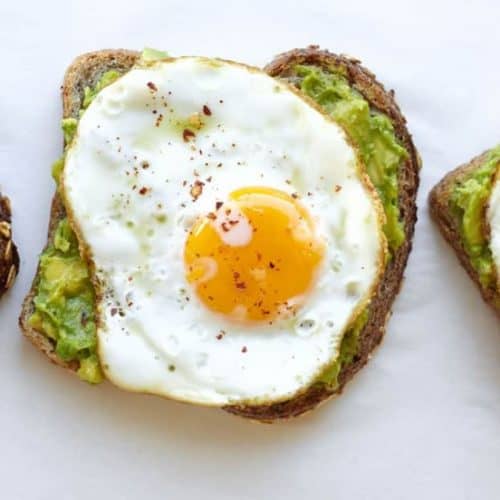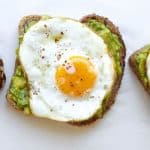 Ingredients
½ large avocado, mashed
2 large eggs
2 teaspoons extra-virgin olive oil
2 slices 100% whole grain bread
1 green onion, thinly sliced (optional)
1 radish, thinly sliced (optional)
1/4 teaspoon red chili flakes (optional)
¼ teaspoon sea salt for sprinkling
Directions
In a small bowl, mash the avocado and set aside.

In a small skillet, fry each egg in oil on medium heat until your desired doneness. Meanwhile, toast the sliced bread. Add some mashed avocado to each toast, season with a pinch of sea salt, red chili flakes, and top with a fried egg. If desired, garnish the toasts with a few sliced green onions, radishes, and another pinch of red chili flakes. Serve right away.
Nutrition
Calories: 280kcal | Carbohydrates: 17g | Protein: 12g | Fat: 18.5g | Saturated Fat: 3.5g | Trans Fat: 0g | Cholesterol: 205mg | Sodium: 470mg | Fiber: 7g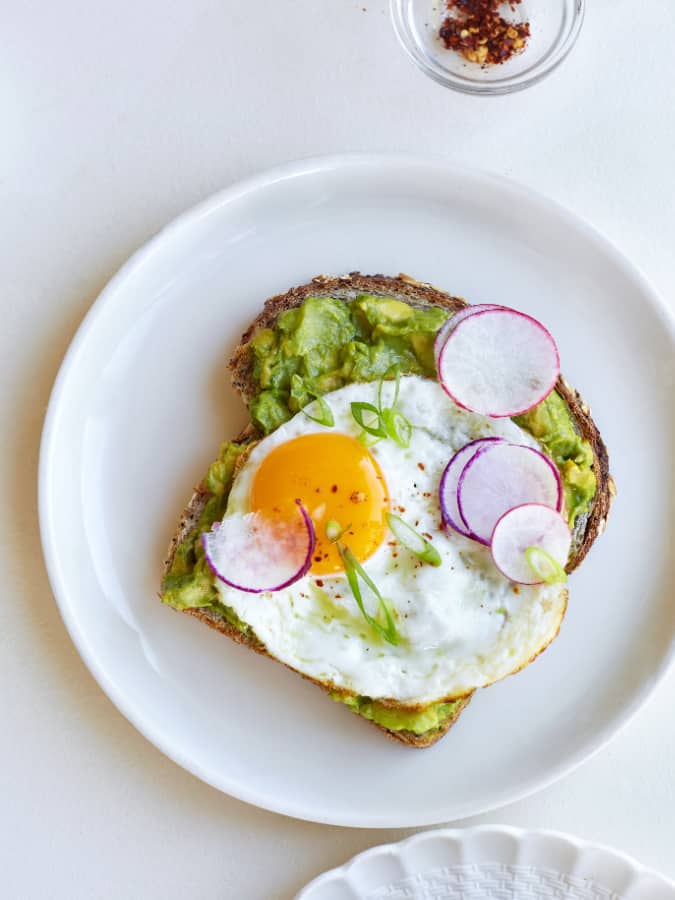 Looking for other egg breakfast ideas? Try some of the recipes below: