This fresh blueberry popcorn trail mix is a great way to switch up the texture and flavor of your typical trail mix, while still getting plenty of nutrients and keeping the added sugar at bay.
Most trail mix has a combination of dried fruit, nuts, seeds, and chocolate. But did you ever think to put fresh blueberries or popcorn into your blend? Not only do they offer a different texture, but they also reduce the calories in comparison to options with nuts and dried fruit as the highlight. While there is always a time and a place for a hearty trail mix, sometimes you just want a snack that won't be too heavy but still satisfies your hunger. This combination is just that! Plus, blueberries are a unique fruit because they can easily be added to the mix fresh, and they offer a unique texture that you don't get with dried fruit.
Adding Popcorn to Your Trail Mix
Choose air popped packaged popcorn or opt to pop your own. If you don't feel like you have mastered popping your own kernels, look for packaged popcorn with minimal ingredients (e.g., Ingredients: popcorn, extra virgin olive oil, sea salt). Avoid packaged popcorn with added preservatives, high amounts of sodium, or unexpected flavoring. You'd be surprised what can be hiding between those popped kernels!
How to Make this Blueberry Popcorn Trail Mix
To make this trail mix, you simply mix together fresh blueberries, walnut halves, air popped popcorn, pumpkin seeds, and dark chocolate chips. It's a great recipe because it's easy to swap ingredients if you prefer other nuts or seeds. For example, swap walnuts for almonds, or pumpkin seeds for sunflower seeds. Choose a fun jar, reusable baggie or bowl, and enjoy!
---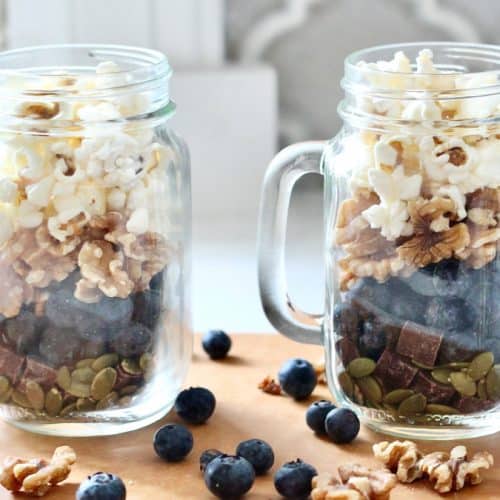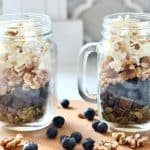 Prep Time 5 minutes
Total Time 5 minutes
Ingredients
1/2 cup fresh blueberries
1 ounce walnut halves
1 cup air popped popcorn
1 tablespoon shelled pumpkin seeds
1 tablespoon dark chocolate chips
Nutrition
Calories: 178kcal | Carbohydrates: 16g | Protein: 4g | Fat: 11g | Saturated Fat: 2.5g | Cholesterol: 0mg | Sodium: 0mg | Fiber: 3g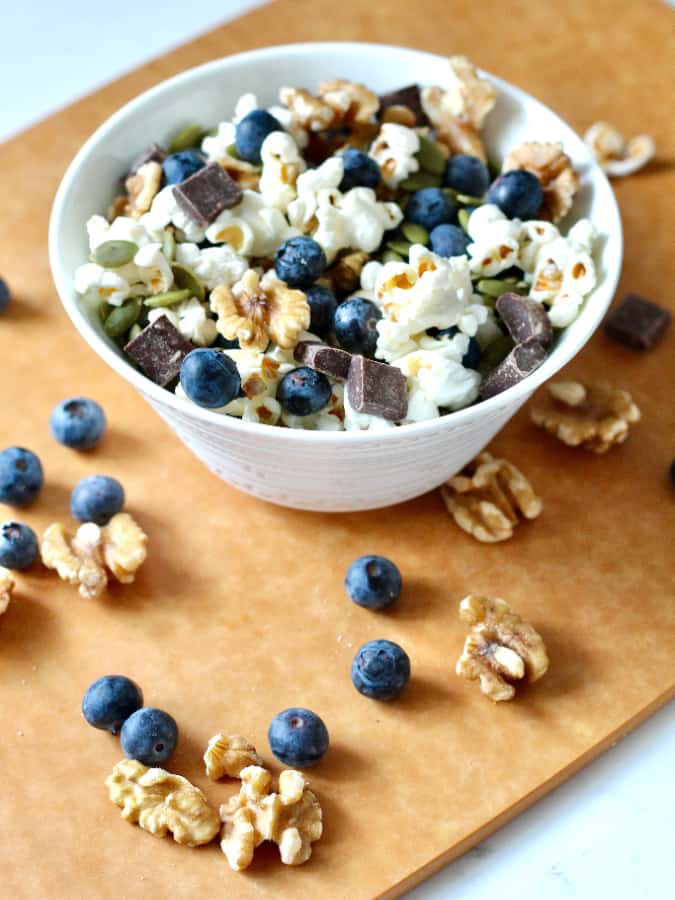 In addition to elevating savory dishes, blueberries are perfect in desserts and snack recipes. Give these other dishes with blueberries a try: