This grape and cheese game day platter is the perfect dish to bring to a gathering with family and friends, and only takes minutes to make.
Grapes are a healthy and hydrating source of energy, which makes them a great addition to your game day lineup. After all, we all need fuel to sustain our attention and energetic cheering while watching the game on TV or tailgating with friends.
Health Benefits of Grapes
This mighty fruit can satisfy without the added fat, salt, and sugar found in many processed snacks. Natural grape compounds, including antioxidants and other polyphenols, support healthy cell function, a foundation for good health.
Want other fun facts that you can share with other people at your gathering? Grapes provide seven percent of the daily recommended intake for potassium (a nutrient most Americans don't get enough of). They are also a healthy and hydrating source of energy perfect for pre- and post- workouts.
Grapes and Brain Health
This grape football platter brings up another benefit of eating grapes – their impact on your brain. 
Grapes may contribute to brain health. Researchers at UCLA found that consuming about 2 1⁄4 cups of grapes every day preserved healthy metabolic activity in regions of the brain associated with early-stage Alzheimer's disease, where metabolic decline takes hold. Who doesn't want this added benefit when anxiously eating and watching your team with 10 yards to go before the endzone?
Difference Between Green and Red Grapes
All colors – green, red, and black – are a natural source of antioxidants and other polyphenols, which are found in every part of the grape, including the skin, flesh, and seeds. No reason to prioritize one color of grapes over another (unless, of course, you are supporting your team colors)!
How to Make this Football Shaped Grape and Cheese Platter
First, de-stem and rinse your grapes.
Group them into two bowls– one with red or black, and the other with green grapes.
Start with the center of your platter and add the red or black grapes.
Leave enough room for a layer of green grapes around the edge of the game day platter.
Add your layer of green grapes.
Then, slice your cheese, and add it to the top center of the platter to mimic the stitching on a football.
If you know there will be cheese lovers at the party, you can add a layer of cheese underneath the grapes as well.
---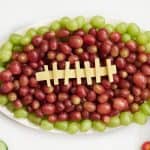 Prep Time 10 minutes
Total Time 10 minutes
Ingredients
7 cups red or black seedless grapes
2 cups green seedless grapes
1 ounce white cheese, sliced into strips to resemble football lacing
Directions
On a large oval serving platter or tray, arrange the grapes in the shape of a football, with the red or black grapes in the middle and the green grapes on the edging. Add several strips of cheese on top to resemble the white lacing of the football.

If desired, serve with additional cheese, crackers/flatbreads, or crudités (raw veggies).
Nutrition
Calories: 90kcal | Carbohydrates: 21g | Protein: 1g | Fat: 1g | Saturated Fat: 0.5g | Cholesterol: 0.5mg | Sodium: 20mg | Fiber: 1g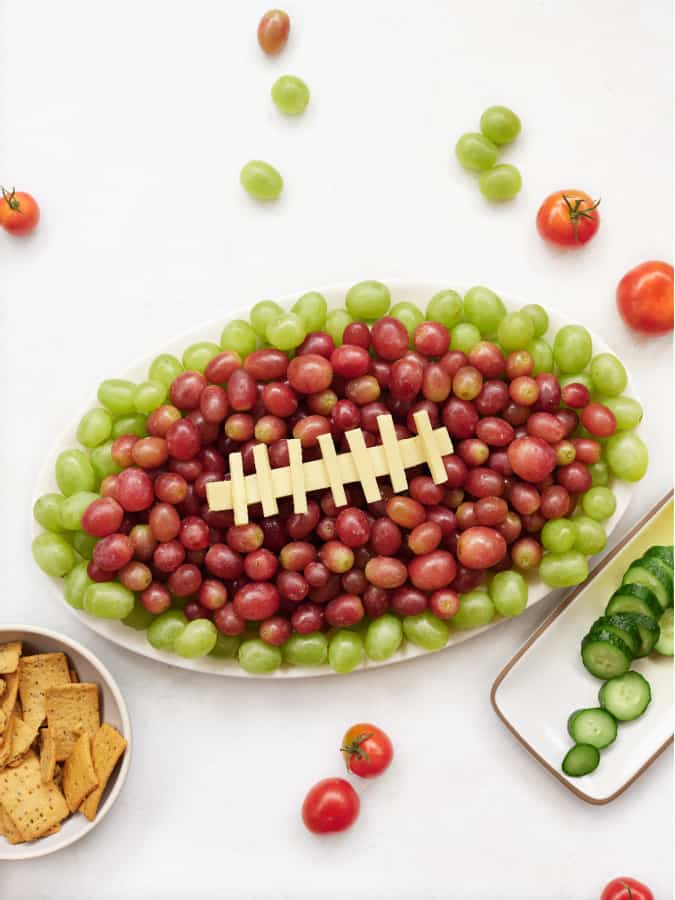 Looking for other game day appetizer and snack ideas that go well with this grape and cheese platter? Try adding some of these to the mix as well: