These Thai shrimp rolls are a simple appetizer or light meal that you can enjoy any time of year. The colorful veggie-packed rolls have shrimp for a boost of protein. 
Thai shrimp rolls are also commonly referred to as Spring rolls or Summer rolls, though they can be enjoyed year round. Homemade rolls are a simple way to add veggies to a meal. They are also a delicious way to bring in some Thai-inspired flair to your typical lunch or dinner. This recipe also includes a homemade peanut sauce that you can whip up with ingredients you likely already have in your kitchen.
Rice Paper for Homemade Rolls
Rice paper is made of rice (as you likely guessed!) and comes in thin sheets. It is crispy in the package, but in the process of making these rolls, you dip them in water so that they easily roll up all of your ingredients. Because the sheets are made from rice, the main nutrient they provide is carbohydrates. You can find spring roll wrappers in most of your local grocery stores.
How to Make a Sweet Chili Peanut Butter Sauce
While many store-bought sweet chili sauces are made sweet with the addition of sugar, this homemade sauce is naturally sweetened with dates. This also boosts the nutrient composition in the sauce since dates contain calcium, potassium, magnesium, and many other valuable nutrients.
Nutrition of Thai Shrimp Rolls
These homemade shrimp rolls have a great balance of carbohydrates, protein and fat. Here's a simple breakdown.
Carbohydrates: rice paper, veggies, peanuts, peanut sauce (which includes dates)
Protein: shrimp, peanuts, peanut butter, small amounts from veggies
Healthy Fat: avocado, peanuts, peanut butter
These Thai shrimp rolls have 16g of protein per serving from a combination of animal and plant protein, along with 6 grams of fiber for gut health.
---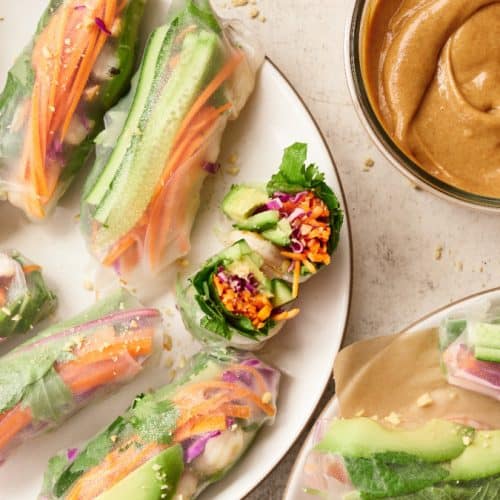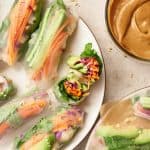 Prep Time 30 minutes
Total Time 30 minutes
Ingredients
SWEET CHILI PEANUT SAUCE
1/4 cup creamy peanut butter
8 Medjool dates, pitted
3 tablespoons reduced sodium soy sauce
1 medium clove garlic
1 teaspoon sriracha, or other hot chili sauce (optional)
3/4 cup water
THAI SHRIMP ROLLS
3/4 pound frozen medium cooked shrimp, thawed and tails removed
3 cups spring mix lettuce
1 bunch fresh mint or cilantro, roughly chopped 
2 medium carrots, cut into 4-inch matchsticks
1/8 head red cabbage, thinly sliced
2 small ripe avocados, sliced 
1 medium cucumber, cut into 4-inch matchsticks
16 (6-inch) spring roll wrappers
1/4 cup chopped peanuts, finely chopped
Directions
Make the dipping sauce: Add all of the ingredients for the sauce into a blender and blend until very smooth and creamy, about 2 minutes, adjusting with more water as needed for desired consistency. Transfer to a serving bowl or an airtight container until ready to serve. (Sauce will last well in an airtight container in the fridge for up to a week.)

Make the shrimp rolls: Reheat shrimp according to the package directions and set aside. Prepare the ingredients for the rolls and arrange them in bowls near your work surface.

Fill a wide shallow bowl with lukewarm water. Lightly wet the surface of a cutting board to prevent the rice paper from sticking to the board. Dip one of the rice paper wrappers into the water and swirl it around until the surface is evenly moistened, about 20 to 30 seconds.

Set the moistened wrapper on the cutting board, then arrange a few leaves of spring mix lettuce, mint or cilantro, some carrots, cabbage, avocado, cucumber, and 3 pieces of shrimp in a line about 1-inch away from the bottom edge of the wrapper. 

Fold the bottom part of the wrapper over the top and fold in the left and right sides towards the center and continue rolling until you reach the top to form a roll. Place the finished roll on a parchment lined platter and repeat with the remaining rolls. Garnish the rolls with a sprinkling of chopped peanuts and serve with the peanut sauce on the side.

The rolls are best enjoyed the day they are made. If not serving immediately, cover the platter with a slightly damp cloth and refrigerate until ready to serve. Prepared rolls will last well in an airtight container in the refrigerator for up to 2 days.
Nutrition
Calories: 330kcal | Carbohydrates: 44g | Protein: 16g | Fat: 11g | Saturated Fat: 2g | Trans Fat: 6g | Cholesterol: 90mg | Sodium: 680mg | Fiber: 6g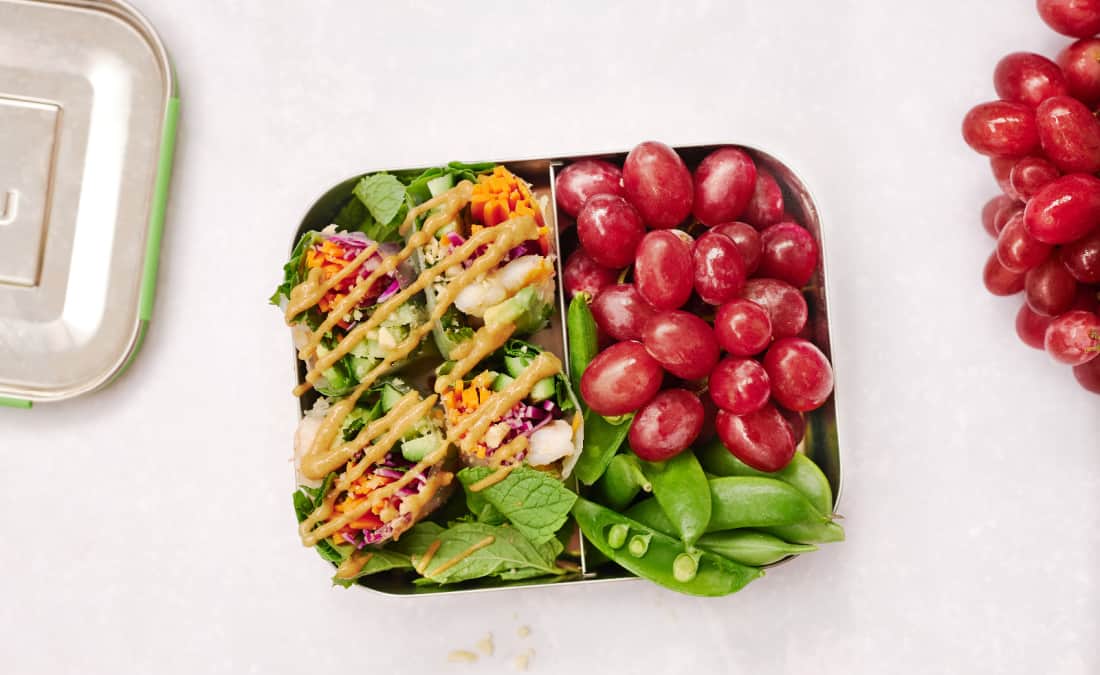 Looking for other foods inspired by other cultures? Try these other dishes: