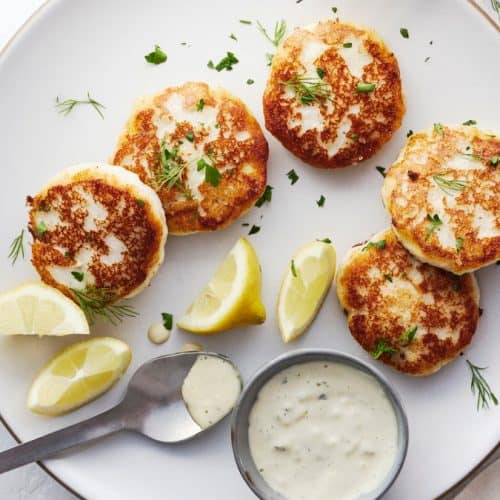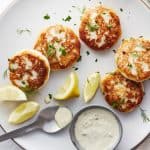 Ingredients
12.5 ounces fresh Norwegian cod, pollock, or haddock, without bones or skin (must be fresh!)
1 1/4 cup whole milk or oat milk
3/4 teaspoon sea salt
1/2 teaspoon ground nutmeg
1/2 teaspoon ground black pepper
2 tablespoons potato starch
3 tablespoons extra-virgin olive oil, for frying
Directions
Pat the fish dry to remove all excess moisture. Add the fish to the bowl of a food processor or blender. With the processor or motor running, slowly stream in the milk, followed by the salt, spices, and starch. Process 2 to 3 minutes until a very smooth and a thick mixture is achieved. 

Dip a large spoon in warm water and scoop out large spoonfuls of the fish mixture into 12 equal round discs and flatten slightly. 

Heat a large non-stick fry pan over medium-high heat. Fry 4 fish cakes at a time with 1 tablespoon of olive oil for each batch. Cook for about 4 minutes per side, and until golden brown on both sides. When fully cooked through, the fish cakes should be firm to the touch in the center.

Serve hot with a side of tartar sauce or aioli, lemon wedges, and chopped fresh dill and parsley. These are great served simple as a snack or alongside a salad and potatoes!

 *Fish cakes keep well in an airtight container in the refrigerator for up to 4 days. 
Nutrition
Calories: 130kcal | Carbohydrates: 5g | Protein: 10g | Fat: 8g | Saturated Fat: 2g | Cholesterol: 30mg | Sodium: 300mg | Fiber: 0g