This Norwegian fish cake recipe can be made with many different types of white fish, and requires minimal ingredients. It's a quick and easy recipe, packed full of lean protein for a healthy snack or meal.
When you're dealing with fresh seafood, simple is best. These pan fried fish cakes don't require a lengthy list of ingredients or a lot of time to make. But using fresh Norwegian cod, pollock, or haddock makes a big difference in flavor.
These fish cakes are also high in protein, and low in saturated fats, making them a healthy snack, or turn them into a satisfying meal with a side salad and some roasted potatoes.
Different Sauces for Fish Cakes
While tartar sauce may be the most typical type of sauce paired with these pan fried fish cakes, the possibilities don't stop there. Some of my other favorite pairings with these Norwegian fish cakes are:
Homemade pesto
Roasted red pepper hummus
Olive tapenade
Garlic aioli
Drizzle of olive oil & squeeze of lemon
---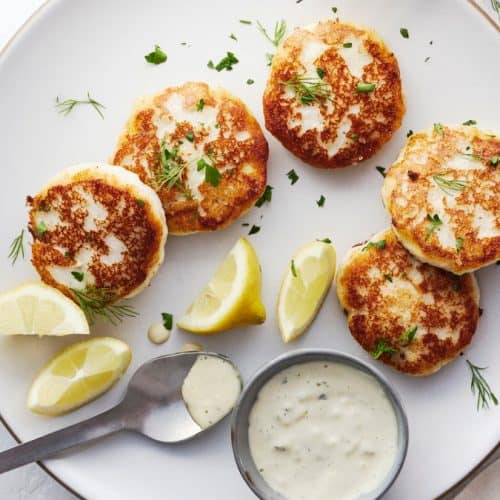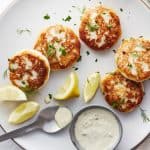 Ingredients
12.5 ounces fresh Norwegian cod, pollock, or haddock, without bones or skin (must be fresh!)
1 1/4 cup whole milk or oat milk
3/4 teaspoon sea salt
1/2 teaspoon ground nutmeg
1/2 teaspoon ground black pepper
2 tablespoons potato starch
3 tablespoons extra-virgin olive oil, for frying
Directions
Pat the fish dry to remove all excess moisture. Add the fish to the bowl of a food processor or blender. With the processor or motor running, slowly stream in the milk, followed by the salt, spices, and starch. Process 2 to 3 minutes until a very smooth and a thick mixture is achieved. 

Dip a large spoon in warm water and scoop out large spoonfuls of the fish mixture into 12 equal round discs and flatten slightly. 

Heat a large non-stick fry pan over medium-high heat. Fry 4 fish cakes at a time with 1 tablespoon of olive oil for each batch. Cook for about 4 minutes per side, and until golden brown on both sides. When fully cooked through, the fish cakes should be firm to the touch in the center.

Serve hot with a side of tartar sauce or aioli, lemon wedges, and chopped fresh dill and parsley. These are great served simple as a snack or alongside a salad and potatoes!

 *Fish cakes keep well in an airtight container in the refrigerator for up to 4 days. 
Nutrition
Calories: 130kcal | Carbohydrates: 5g | Protein: 10g | Fat: 8g | Saturated Fat: 2g | Cholesterol: 30mg | Sodium: 300mg | Fiber: 0g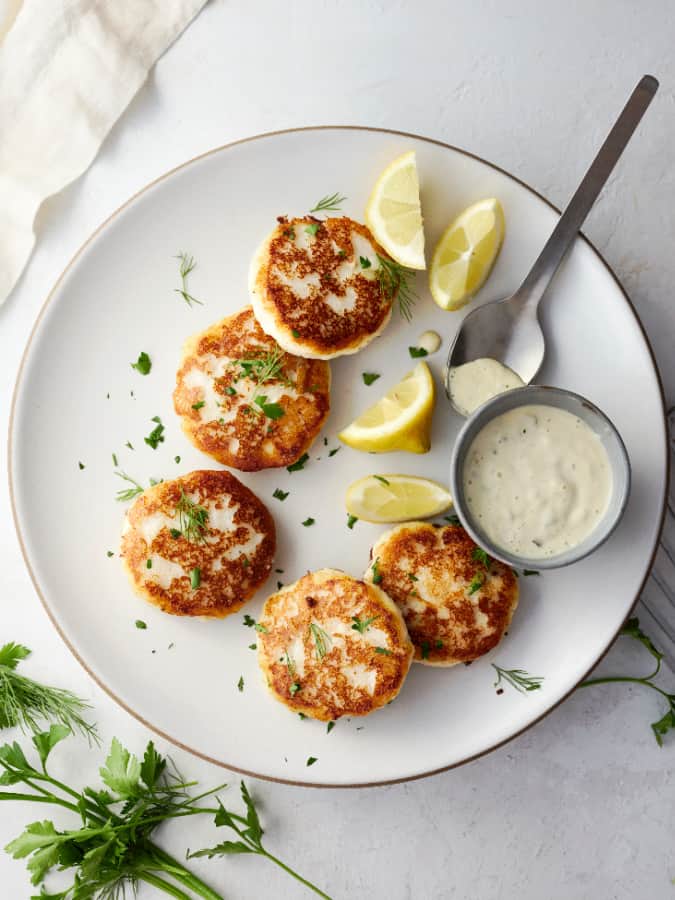 Explore these other flavorful fish recipes: