These sheet pan banana avocado pancakes are a fun alternative to your usual pancakes. They offer a healthy and tasty twist for a holiday brunch or any other morning you're looking for something different!
Looking for a recipe makeover to elevate your typical pancakes? Put your cookie sheet to work for a fun breakfast or brunch mix up. Boxed pancake mixes can contain high amounts of added sugar and low amounts of protein, but this healthy twist has smaller amounts of added sugar with a sweet natural boost from the banana. It also has healthy unsaturated fats from the avocado. Hesitant about avocados in your pancakes? Don't worry – you won't even taste them!
Sheet Pan Pancakes vs. Individual Pancakes
This adult and kid-friendly recipe can save time during a busy week because it can be prepared the night before. Since it's a sheet pan recipe, you don't need to spend time flipping individual pancakes, and it's easy to save any extras for later in the week for a snack. Plus, the banana avocado pancakes are made with better-for-you ingredients like part whole-wheat flour, mashed bananas, and avocados.
Benefits of Baking with Avocado
Think of avocados as your go-to ingredient to add nutrients and flavor when cooking and baking. They add creaminess and are a nutrient-dense food. Nutrient-dense foods are those that provide substantial amounts of vitamins, minerals, and other nutrients with relatively few calories. One-third of a medium avocado (50 grams) contributes nearly 20 nutrients, including vitamins, minerals, dietary fiber, and phytonutrients, making it a nutrient-dense food choice.
Rather than smothering these sheet pan banana avocado pancakes in syrup and butter, top with fresh avocado and sliced banana for a brunch dish that will keep you feeling your best.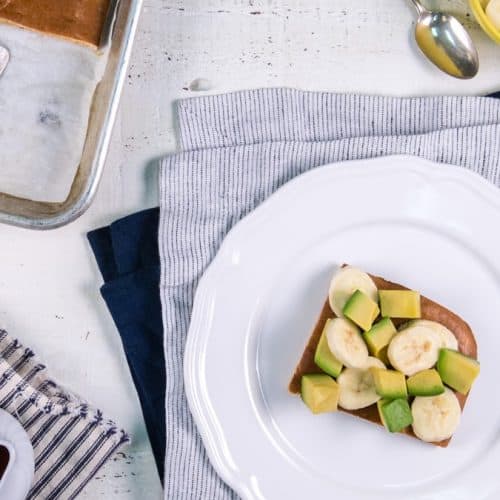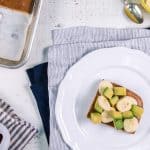 Prep Time 10 minutes
Cook Time 15 minutes
Total Time 25 minutes
Ingredients
1 cup whole wheat flour
1 cup all-purpose flour
1/4 cup granulated sugar
1 tablespoon baking powder
1 teaspoon kosher salt
2 large eggs
1 1/4 cups non-fat milk
1 cup ripe bananas, mashed (about 3 medium bananas)
1 medium ripe, fresh avocado, halved, pitted, peeled, and mashed
FOR TOPPING
2 ripe bananas, sliced
1 ripe fresh avocado, diced
Directions
Preheat the oven to 425°F. Line a 10 x 15-inch sheet pan with parchment paper. Coat with no-stick cooking spray.

In a large bowl combine flours, sugar, baking powder and salt. In a medium bowl combine eggs, milk, bananas and avocado. Pour wet mixture into dry mixture and stir until blended. 

Pour mixture onto prepared sheet pan. Bake 15 minutes until puffed and cooked through.

To serve, cut into 24 squares. Top with banana slices and diced avocado. Enjoy!

Recipe and image courtesy of Love One Today.
Nutrition
Calories: 180kcal | Carbohydrates: 32g | Protein: 5g | Fat: 5g | Saturated Fat: 1g | Cholesterol: 30mg | Sodium: 340mg | Fiber: 4g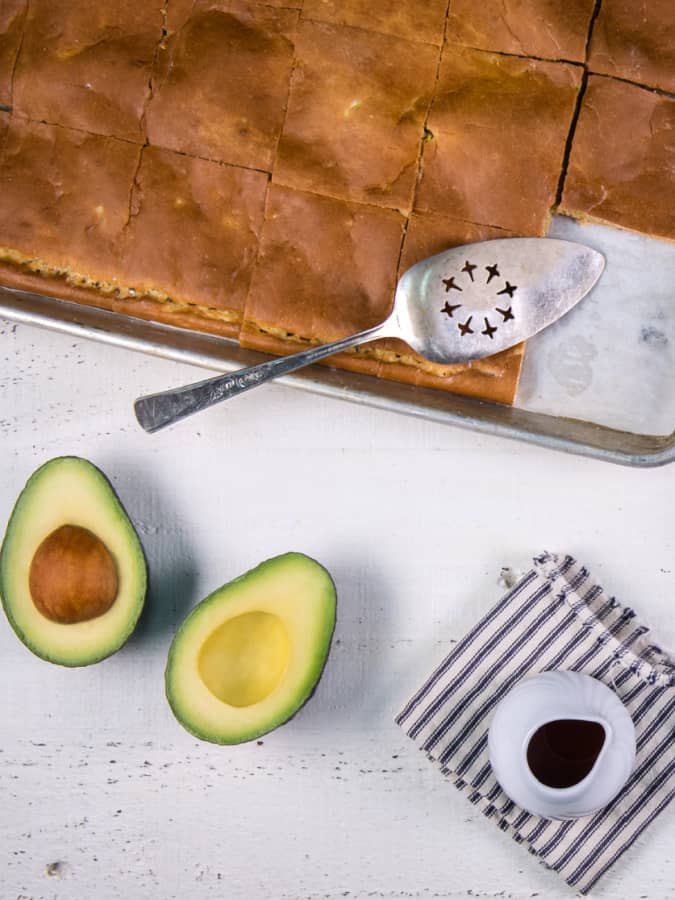 For more healthy breakfast and brunch inspiration like these banana avocado pancakes, give the following recipes a try: