Looking for a healthy dessert recipe that will make your tastebuds sing? These fudgy prune brownies made with prune purée will not disappoint.
When people think of making a typical baked good "healthy," it's common to be worried about decreasing the taste and enjoyment of that delicious food. However, the addition of the prune puree for these prune brownies is an ingredient swap you will barely notice!
The prune purée can make your favorite baked treats healthier by adding moisture while also decreasing the amount of sugar and fat in comparison to a standard brownie recipe. Plus, the unique flavor of prunes is truly indulgent and can satisfy any sweet tooth!
How to Make Prune Purée
To make the prune for these homemade brownies, simply blend 8 ounces of pitted prunes with ¼ cup warm water in a blender. That's it! Prune purée is so easy to make and can be used as an ingredient swap in sauces, jams, stews or baked goods.
Health Benefits of California Prunes
California prunes are an easy, whole fruit solution for building strong bones – and we know they're great for gut health – but they also taste delicious! As a bonus, they contain polyphenols, which are powerful antioxidants that help prevent cellular damage.
When you aren't using them in baked goods, enjoying them as a snack can offer sustained energy and studies have shown that prunes may help with satiety (a feeling of fullness) and weight management.
Why You Will Love Baking Brownies with Prunes
Prunes are great in baked goods because they add fiber and natural sweetness without messing up the texture. You can use prune puree in a 1:1 swap for added sugar when baking.
These brownies will not only indulge your senses and satisfy your sweet tooth, but they can easily pave the way to experiment in your kitchen with new ways to sweeten your recipes!
---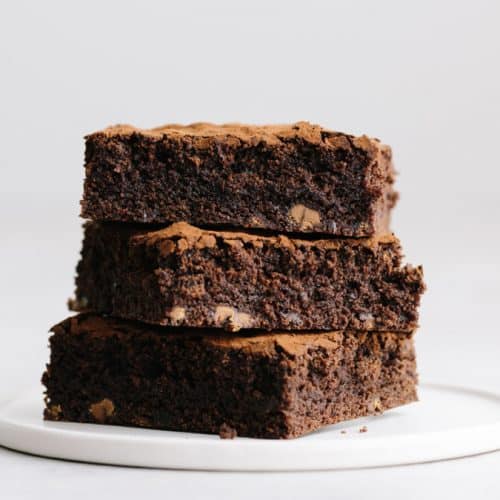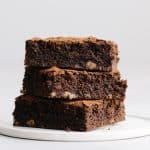 Prep Time 15 minutes
Cook Time 30 minutes
Total Time 45 minutes
Ingredients
prune purée
4 ounces pitted prunes
1/4 cup warm water
Directions
Make the prune purée: Add the pitted prunes and hot water to the blender. Pulse to combine, then blend until a paste consistency forms. If needed, use a soft spatula to scrape the sides of the blender. (Purée will store well in an airtight container in the fridge for up to four weeks.)

Make the brownies: Preheat the oven to 325ºF.  Spray an 8- X 8-inch baking pan with cooking spray and line with parchment paper, leaving the paper overhanging on 2 sides; spray paper with cooking spray. 

In large heatproof bowl, melt chocolate with oil over simmering water. Whisk in sugar and prune purée until mixed; whisk in eggs and vanilla. Fold in flour and salt just until blended; fold in walnuts. Scrape batter into prepared pan, spreading it evenly.

Bake about 30 minutes or until a cake tester inserted into the brownies comes out clean. Cool in pan at least 10 minutes; remove from pan and cut into 2-inch squares.

Recipe courtesy of California Prunes.
Nutrition
Calories: 176kcal | Carbohydrates: 20g | Protein: 3g | Fat: 10g | Saturated Fat: 3g | Cholesterol: 26mg | Sodium: 27mg | Fiber: 1g
Image of Prune Purée: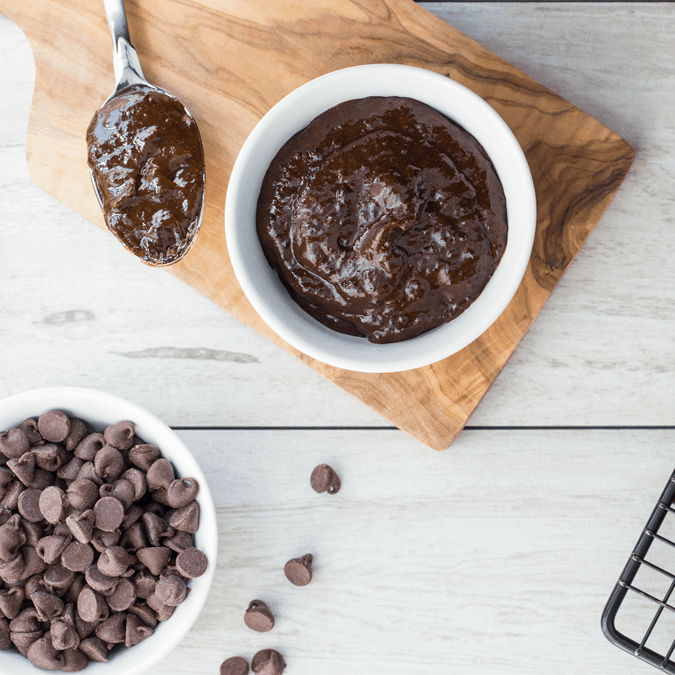 Image courtesy of California Prunes.
Looking for other healthy chocolate dessert recipes? Try some of the ones below: