These beef and mushroom meatballs are full of flavor and provide a more nutritious and sustainable meal.
This savory meatball recipe blends umami-rich mushrooms with ground beef for added flavor and nutrition. The mixture is seasoned to create the perfect Italian-style meatball. 
Nutrition Benefits of Mushroom Meatballs
The mixture of half mushrooms and half ground beef offers a healthier twist to traditional meatballs by decreasing the total saturated fat and caloric content.
Plus, mushrooms provide important immune-supporting nutrients like B vitamins, selenium, and vitamin D. The selenium in mushrooms protect the body from infection and damage caused by free radicals. 
Additional Advantages of Blending Mushrooms and Meat
Other than the health benefits, there are additional reasons cutting meat with mushrooms can have a positive effect. Mushrooms require minimal water, space, and electricity to grow, so they're a sustainable food to add to your meals.
Additionally, mushrooms are a relatively affordable food, so cutting your meat with mushrooms can extend the use of the meat you purchase, while helping your wallet too.
How to Serve these Mushroom and Beef Meatballs
These meatballs can be served with marinara and spaghetti or tossed with a Teriyaki sauce and serve as an appetizer. They are an instant crowd pleaser, and people will be surprised to know that mushrooms are added into the mix. The mushrooms will also help the meatballs hold their juiciness.
Homemade Three-Ingredient Tomato Sauce
You may never go back to jarred sauce once you get a taste of this simple homemade three-ingredient red sauce from my book, From Burnout to Balance. The butter gives it craveable richness.
Easy and Flavorful Substitutes
If you're a garlic lover, you can use 2 minced large garlic cloves in place of or in addition to the onion.
If you're a spice fan, you can add a couple of pinches of crushed red pepper flakes along with the salt.
If you're a basil lover, this supercharger is meant for you!
---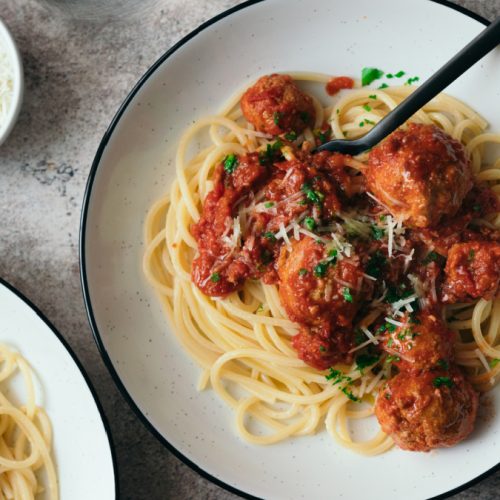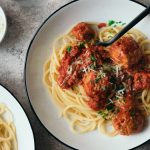 Prep Time 20 minutes
Cook Time 30 minutes
Ingredients
Three-Ingredient Red Sauce
1 (28-ounce) can whole peeled San Marzano tomatoes
1 yellow onion, halved
5 tablespoons unsalted butter or extra-virgin olive oil
1 teaspoon sea salt
1 cup packed fresh basil leaves (optional)
Blended Mushroom and Beef Meatballs
1/2 pound mushrooms, finely chopped
1 pound ground beef
1 teaspoon Italian seasoning
1 small onion, finely diced
1 clove minced garlic
1/2 cup breadcrumbs
1 large egg
Directions
Three-Ingredient Red Sauce:

In a medium saucepan, combine the canned tomatoes with their juices, onion, butter, and salt and bring to a boil over high heat. Reduce heat to medium-low, smash the whole tomatoes against the sides of the pan with a large spoon or spatula, and simmer uncovered until flavors are fully developed and the onion is soft and translucent, about 30 minutes.

Stir in the basil, if using, and simmer for 3 minutes more. Discard the onion before serving.

The sauce will keep well in the fridge for up to 5 days or in the freezer for up to 2 months. When reheating, warm in a large sauté pan over low heat.

Sauce recipe from my book, From Burnout to Balance.

Blended Meatballs:

Preheat oven to 400°F. Line baking tray with parchment paper.

Place the mushrooms in a food processor fitted with a metal blade. Pulse until finely chopped.

In a skillet over medium heat cook chopped mushrooms until brown and most moisture has been released, about 3-5 minutes. Set aside to let cool.

In a large bowl combine cooled mushrooms, beef, seasoning, onion, garlic, breadcrumbs and egg; mix all ingredients until incorporated. Shape mixture into 1½ inch meatballs. Place 1 inch apart on pan.

Bake 20-25 minutes or until meatballs reach 160°F, are cooked through and center is no longer pink.

Meatball recipe courtesy of The Mushroom Council.

To Serve:

To serve, toss meatballs with tomato sauce. Plate appetizer style with a toothpick in each meatball, make a meatball sub sandwich, or combine with your favorite cooked pasta for a family style main dish the whole family will love.
Nutrition
Calories: 330kcal | Carbohydrates: 16g | Protein: 16g | Fat: 22g | Saturated Fat: 10.5g | Cholesterol: 34mg | Sodium: 690mg | Fiber: 2g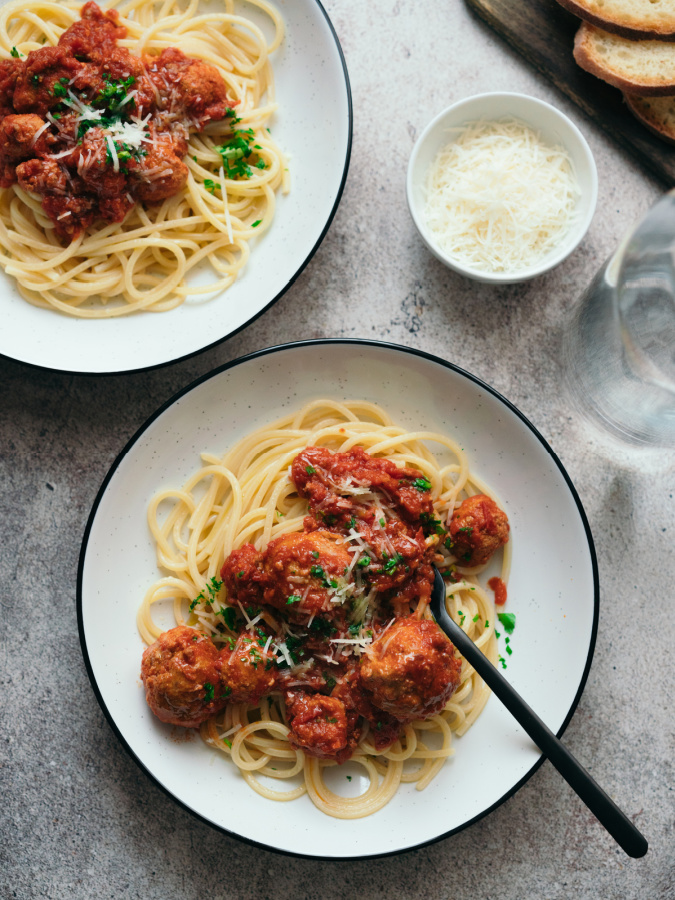 More Nutritious and Savory Mushroom Recipes
If you enjoy the warmth and heartiness of these blended mushroom and beef meatballs, explore these other mushroom recipes: